Recently Oxidation Tech updated our calibration chamber and process.  We have been using a smaller chamber or individual processes to calibrate each sensor we receive one by one.  With our new calibration chamber, we can calibrate as many as 10-15 ozone monitors at one time.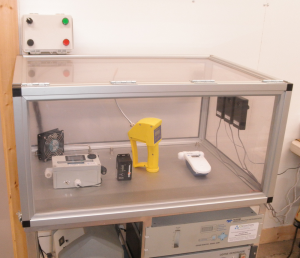 This calibration chamber still uses our Thermo Fischer Transfer Standard Ozone Analyzer to measure and control ozone levels inside the chamber.  However, with the use of an external ozone generator and automated control system a precise ozone level can be maintained inside the chamber at all times.  This saves time and potentially provides a higher quality, more accurate calibration for your device.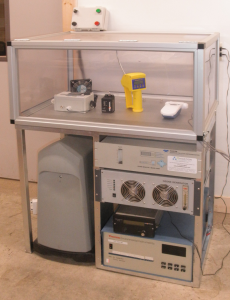 Our ozone calibration chamber can also be used to high range calibrations up to 1,000 ppm, or can be used for ozone exposure testing.  As this sealed chamber has great capacity and automation any device a customer may need to be exposed to ozone can be placed in the chamber to be exposed to known and tightly controlled ozone levels.
We also offer ozone exposure testing for higher range ozone levels, and lower range ozone levels in a smaller chamber.  Ozone exposure chambers are also a part of our standard product line as these are a popular requirement for many material testing facilities.
Should you have any questions on ozone calibrations, please contact our office.  We would be glad to help with any ozone monitor calibration.