Another great paper has been released for the use of ozone in the medical industry. See below, or click link HERE for original paper.
Wearable and Flexible Ozone Generating System for Treatment of Infected Dermal Wounds
Wound-associated infections are a significant and rising health concern throughout the world owing to aging population, prevalence of diabetes, and obesity. In addition, the rapid increase of life-threatening antibiotic resistant infections has resulted in challenging wound complications with limited choices of effective therapeutics. Recently, topical ozone therapy has shown to be a promising alternative approach for treatment of non-healing and infected wounds by providing strong antibacterial properties while stimulating the local tissue repair and regeneration. However, utilization of ozone as a treatment for infected wounds has been challenging thus far due to the need for large equipment usable only in contained, clinical settings. This work reports on the development of a portable topical ozone therapy system comprised of a flexible and disposable semipermeable dressing connected to a portable and reusable ozone-generating unit via a flexible tube. The dressing consists of a multilayered structure with gradient porosities to achieve uniform ozone distribution. The effective bactericidal properties of the ozone delivery platform were confirmed with two of the most commonly pathogenic bacteria found in wound infections, Pseudomonas aeruginosa and Staphylococcus epidermidis. Furthermore, cytotoxicity tests with human fibroblasts cells indicated no adverse effects on human cells.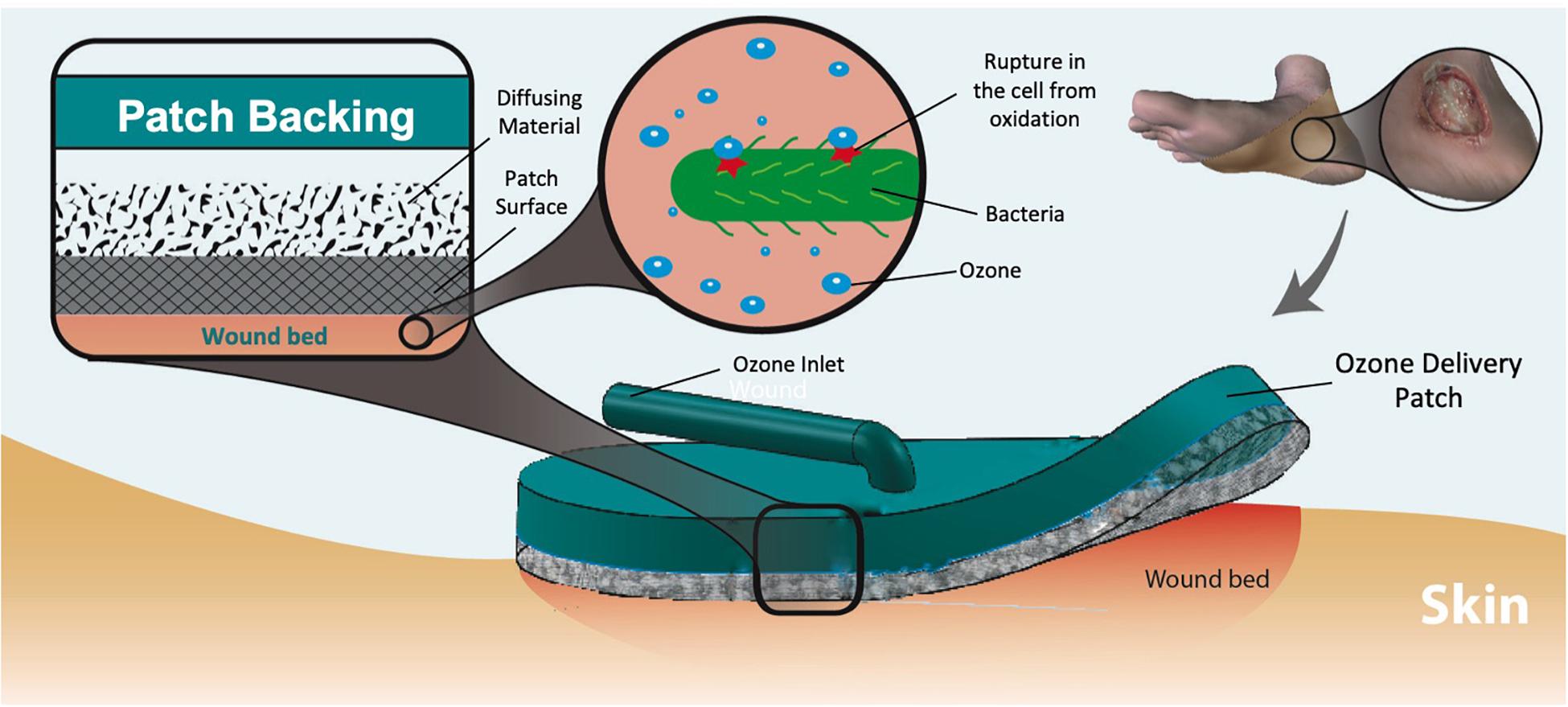 Introduction
Skin and soft tissue infections (SSTIs) are a major health and financial burden for millions of people worldwide. In 2016, SSTIs comprised 3.5% of all emergency room visits (Niska et al., 2016). Furthermore, the average cost of a hospital visit resulting from an SSTI is about $8,000 (SSTI, 2018). These numbers are only expected to rise in the years to come due to the aging population and the increasing prevalence of diabetes associate non-healing wounds and bedsores. To complicate the issue even further, many of these infections can be caused by bacteria that are resistant to common forms of treatment. Infections caused by drug-resistance bacteria have become a significant problem and now affecting over 2 million people in the US each year (Centers for Disease Control and Prevention, 2018). For instance, methicillin-resistant Staphylococcus aurous (MRSA), has been noted to kill more Americans every year than HIV/AIDS, emphysema, or homicide (Federal Bureau of Investigation, 2017; CDC, 2018; Kourtis et al., 2019; Lei et al., 2019). This alarming decrease in antibiotic efficacy has been brought on by a number of factors, but a primary culprit is the commonality of antibiotics usage in society today, especially for inappropriate or unnecessary indications (Ventola, 2015). Simultaneously, major drug companies have reduced the number of antibiotics they are developing. This is mainly due to a significantly reduced return on investment for antibiotic research and development compared to the drugs for chronic conditions such as diabetes, heart disease, and cancer (Ventola, 2015).
Recently, there has been increased effort toward the development of alternative (non-antibiotic) materials and treatments for bacterial infections (Kowalski et al., 1998; Laroussi et al., 2000; Fridman et al., 2005; Fontes et al., 2012; Guan et al., 2013; Korshed et al., 2016). For example, metallic nanoparticles of noble metals such as silver have shown to exhibit antimicrobial properties for a wide range of bacteria and utilized in various advanced wound dressings (Maneerung et al., 2008; Rujitanaroj et al., 2008). Despite having effective antimicrobial activity, many studies have also shown that silver nanoparticles are cytotoxic, and cause damage to cellular components such as DNA and cellular membrane (Korshed et al., 2016). Other materials include polyvinyl-pyrrolidone, a non-ionic synthetic polymer, which allows for gradual release of free iodine with antimicrobial effects. Yet, povidone-iodine and its different complex forms have also been shown to delay wound healing by inhibiting fibroblast aggregation and leukocyte migration (Álvarez-Paino et al., 2017). Free radical and ionized gasses generated by cold atmospheric plasma (CAP) have also shown to be an effective alternative therapeutic tools, providing both antimicrobial properties and help promoting wound healing, and tissue regeneration (through activation of growth factors and stimulation of angiogenesis) (Laroussi et al., 2000; Fridman et al., 2005). Although a promising approach, only a few devices and systems using CAP for wound treatment have been adopted by the patients or their caregivers. One major impediment of their widespread adoption is the system cost and complexity. These devices (e.g., Microplaster from Adtech Ltd) use plasma gun/torch that require high voltages, carrier gas (typically argon) and need to be operated by trained personnel in an outpatient setting. Similarly, smart wound dressings have been developed to help increase wound healing through delivery and sensing of factors such as oxygen, as well as drug delivery and providing optimal wound healing conditions (Gupta et al., 2010; Mostafalu et al., 2015; Ziaie et al., 2018).
Conclusion
Antibiotic resistant infections are a growing public health concern. A promising alternative to antibiotic therapy is utilizing the antimicrobial properties of topical ozone treatments. Developing a portable system designed to apply ozone to a targeted area will increase the options patients have in fighting infections that may otherwise be difficult to treat. In this work, we developed an ozone-releasing wound dressing consist of a disposable gas permeable hydrophobic patch with a reusable and portable ozone-generating unit. The patch incorporated a hydrophobic and highly ozone permeable outer layer and an inner dispersion layer for increased gas distribution uniformity. The antimicrobial effects of the system were tested against common antibiotic resistant strains of bacteria. The results indicated complete elimination of P. aeruginosa and significant reduction in the number of S. epidermidis colonies after 6 h of exposure. These tests also showed a high level of biocompatibility (low cytotoxicity) with human fibroblast cells during the same duration ozone treatment. The described patch is a promising tool in the management of chronic infected wounds.