10 g/hr Ozone Water System for rent
10 g/hr ozone injection system for rent by the month or longer term. Turnkey system is ready to use upon delivery, simple to set-up and produce ozonated water for your pilot test, or short term ozone need.
Call for availability and pricing on long-term rentals.
*If multiple quantities are added to cart – this is additional months or weeks. If multiple units are needed, please make this comment in the checkout process.
OXS-10 Ozone Injection System will produce 10 g/hr of ozone and dissolve into water flows up to 30 GPM. This is a great pilot system for short term ozone applications or pilot tests where having a turnkey ozone system on-site would be the best method of determining if ozone will work for your application.
See full details on the OXS-Series HERE
Rental Terms:
-Pre-payment required for all rentals - payment can be made via credit card online
-Rental period is for term paid for, shipping time to and from customers location is not included in rental term and is not billed
-Shipping both to and from the customer is paid by the customer - Ground shipping is okay
-Equipment gauranteed to arrive in working order, any damge to equipment will be billed to customer
-Rental term can be extended at any time during the rental
-Discounts for longer term rentals apply, arrangements must be made up front
The OXS-10 produces 10 g/hr of ozone from oxygen and introduces this ozone into water at up to 20 GPM. The OXS-10 is designed for point of use (POU) applications where high levels of ozone in the water are required. This system can also be used for water treatment applications where lower dissolved ozone levels are required with higher water flow rates. For help with application information call our ozone experts, we would be glad to help.
Expected Dissolved Ozone Levels

1.5 ppm ozone @ 15 GPM water flow
2.2 ppm ozone @ 10 GPM water flow
4.0 ppm ozone @ 5 GPM water flow
Dissolved ozone levels based on clean water with no residual chlorine at 50-deg F or below
Included Accessories

-ORP Monitor - measure ORP in water real-time and control ozone output based on ORP
-Ozone Destruct Unit - destroy all off-gassed ozone safely
-Internal Compressor - provide compressed air for the system internally
Optional Accessories

-UV Light - Destroy ozone in water for hydroxyl radical production
-Dissolved ozone meter - Measure dissolved ozone in water directly real-time
-High concentration ozone analyzer - Measure ozone production from the ozone generator
Contact our office for details on equipping the system with these options prior to shipping.
System Features:

-One-touch ON/OFF switch

-Adjustable ozone output 0-100%
-Generate ozone from oxygen with the integrated oxygen concentrator
-Oxygen concentrator uses an integrated compressor
-Ambient ozone safety sensor integrated into the central controller
-CPVC piping is used for maximum ozone resistance
-Stainless steel ozone compatible pump
Physical Requirements
Dimensions = 24" wide x 24" deep x 62" tall

Weight = 350 lbs
Electrical Power = 220 VAC, 20 amp, 60 Hz power required
How it Works:
Ozone is produced via corona discharge with the VMUS-10 Ozone Generator. Ozone is produced from oxygen with integrated 15 SCFH oxygen concentrator. Ozone and oxygen are pulled through the ozone generator, with a Mazzei venturi. The Mazzei venturi pulls ozone into water via vacuum and mixes this ozone efficiently with water. Water pressure differential across the venturi is produced with a stainless teel Grundfos water pump.

Ozone is mixed with the water in the ozone contact tank. After the ozone gas is pulled into the venturi the water is further mixed in a mixing pipe prior to entering the contact tank via a mixing diffuser. This tank will efficiently mix ozone gas with the water and provide excellent mass transfer of ozone gas with the water. All excess ozone will be off-gassed through the air vent on the top of the contact tank. Water will flow through the contact tank in a countercurrent flow from the ozone gas escaping from the tank. All process water must flow through this tank offering contact time with ozone and water and efficient mixing of ozone and water.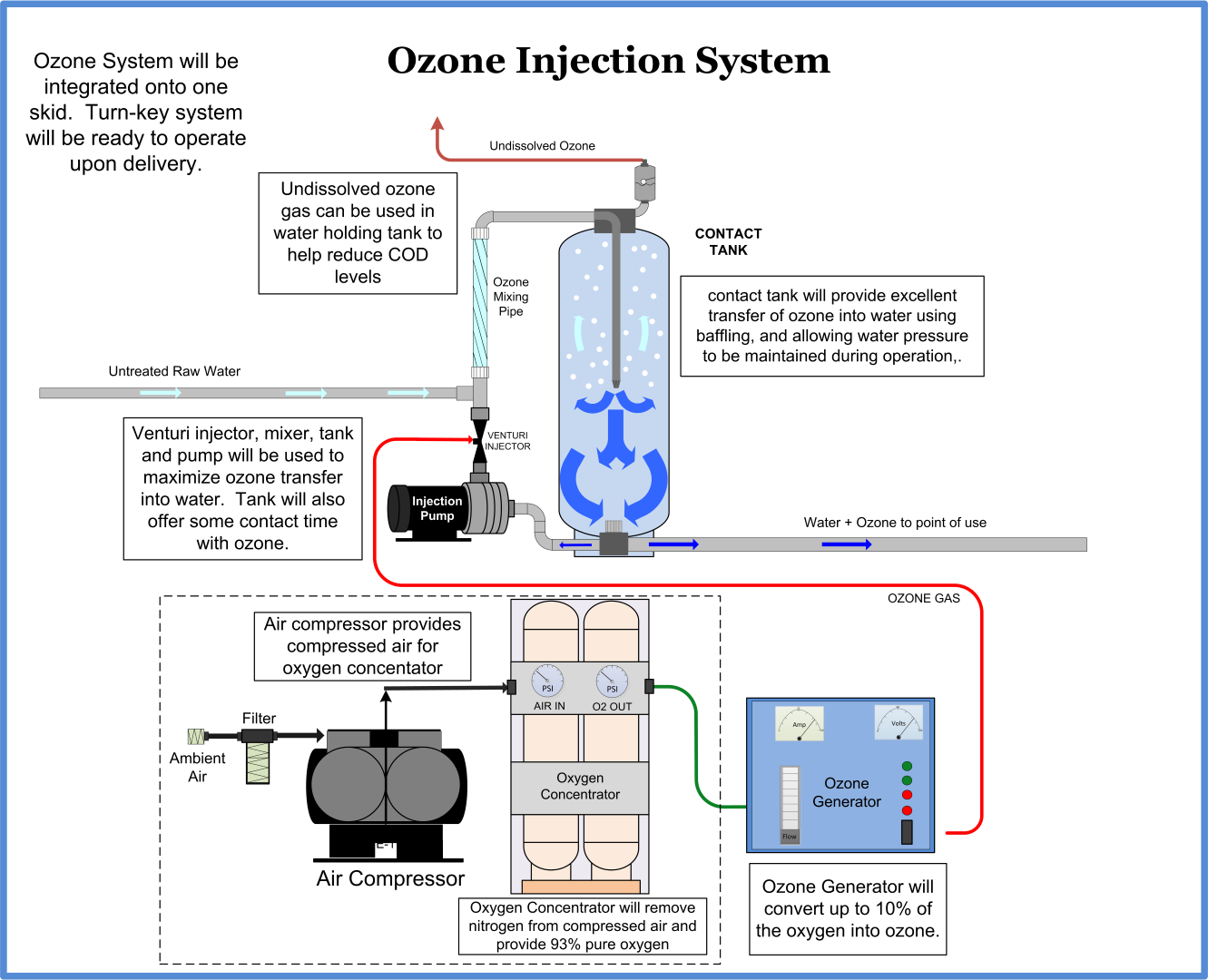 More Information

| | |
| --- | --- |
| Manufacturer | Oxidation Technologies |
| Call For Price | No |
| Size | 24" wide x 20" deep x 50" tall |
| Max Pressure | 50 PSI |
| Model | OXS-8 |
| Operating Pressure | 30 PSI |