12 lb/day Ozone Trailer Rental
Ozone trailer available for rent. 12 lb/day (225 g/hr) ozone production. Turnkey trailer requires only electrical power for operation. Available for rent by the month.
Call for availability and pricing on long-term rentals.
This ozone trailer is built and configured specifically for groundwater remediation applications. However, this trailer can be used for many applications for pilot tests or short-term ozone applications. If necessary we can also configure the trailer specifically for your application if custom control or delivery equipment is required. call us for details on the best setup for your process.
Ozone Trailer Specifications:
12 lb/day ozone production (225 g/hr)

100 SCFH oxygen production

10 CFM additional sparge air flow

Manifold with 20 ozone outputs each controlled by solenoid valve

50 PSI continuous oxygen/ozone pressure

65 PSI max oxygen/ozone pressure

100 PSI max air sparge pressure (breakthrough pressure)

Trailer size = 8' wide x 18' long trailer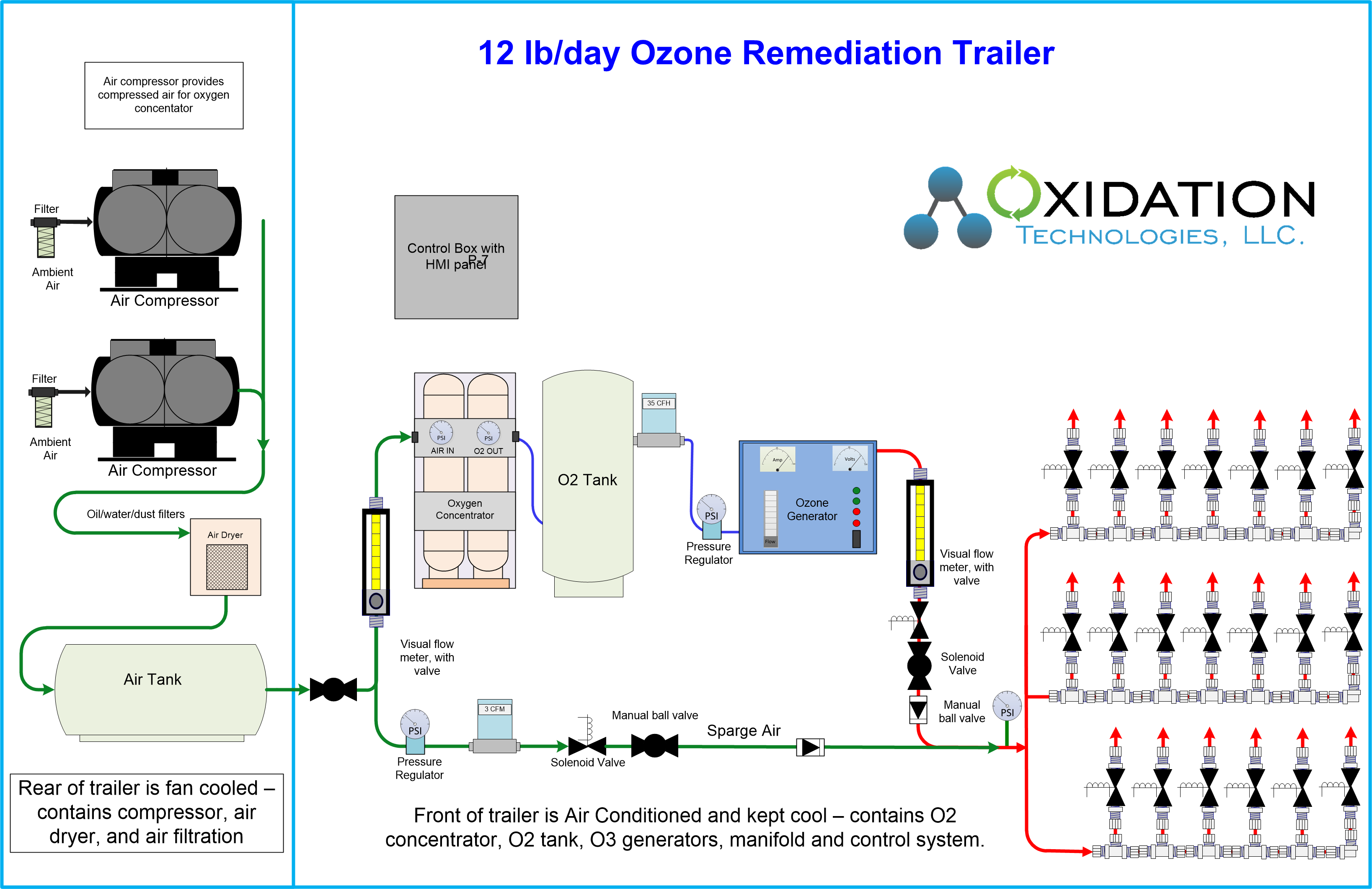 Ozone rental trailer features:
100 PSI sparge pressure (break-through) pressure


45 PSI operational pressure for full ozone and oxygen flow

20 individually controlled ozone outputs

Complete telemetry system using AT&T hotspot for connection.

Bumper hitch trailer with walk-in door and rear doors

Rotary Screw Air compressor - minimal maintenance

Refrigerant air dryer keeps air dry and system reliable

Control system with touch screen HMI for valve timing

All operational system logged


Digital oxygen mass flow meter shows oxygen/ozone flow remotely
Ozone Trailer Design and Layout:
Ozone system is installed in trailer for mobility and portability. The trailer offers a secure location for equipment to be installed that will protect equipment from weather and damage along with providing a mobile enclosure that can be moved from site to site without major costs.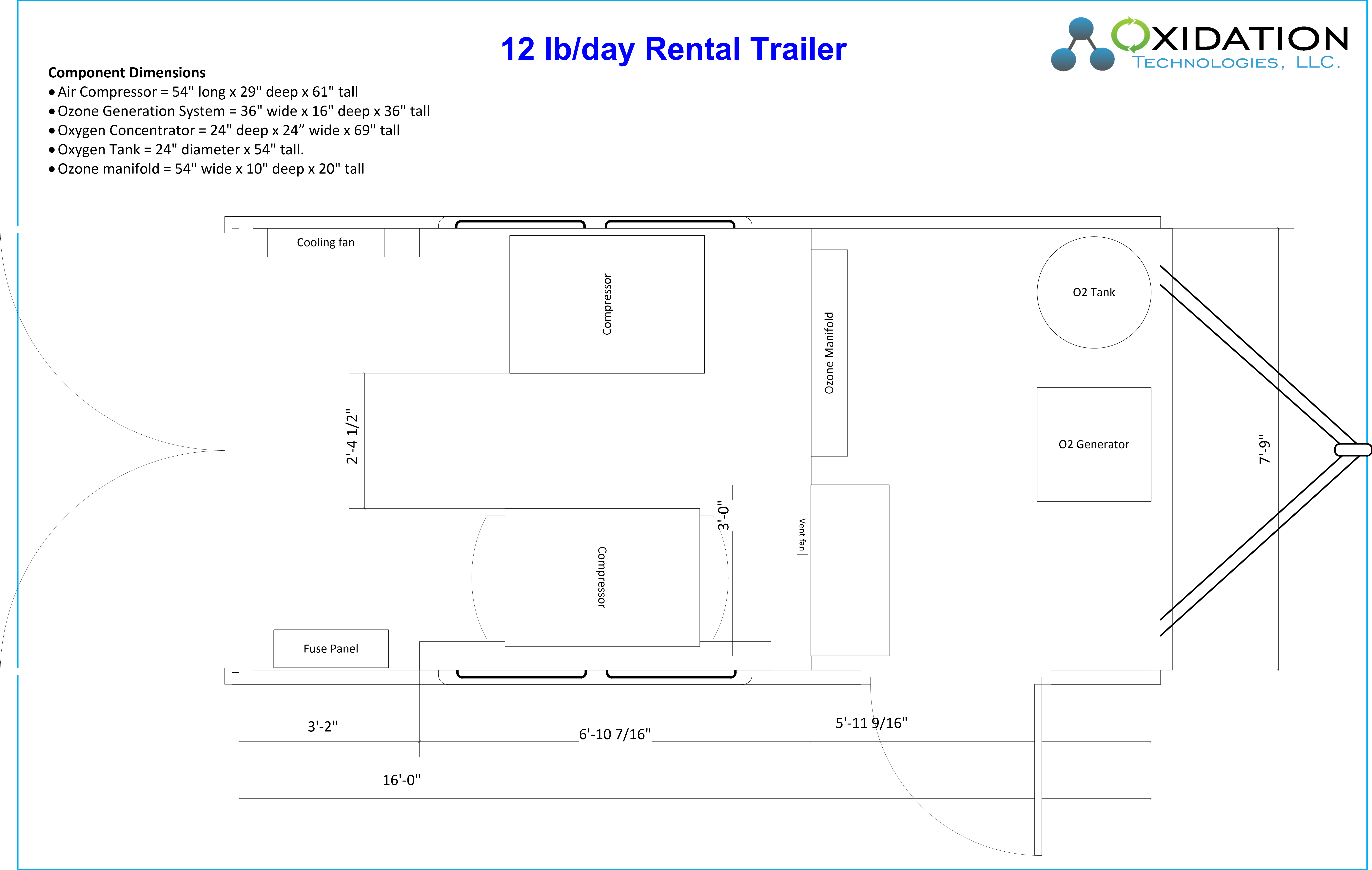 Ozone System Controls:
The Ozone System will be controlled by one central control system. This will control all components automatically for reliable and safe operation. Operation of system is performed with simple to use touch screen interface. All well timing, operation, and logging information is also performed on this touch screen panel for convenience.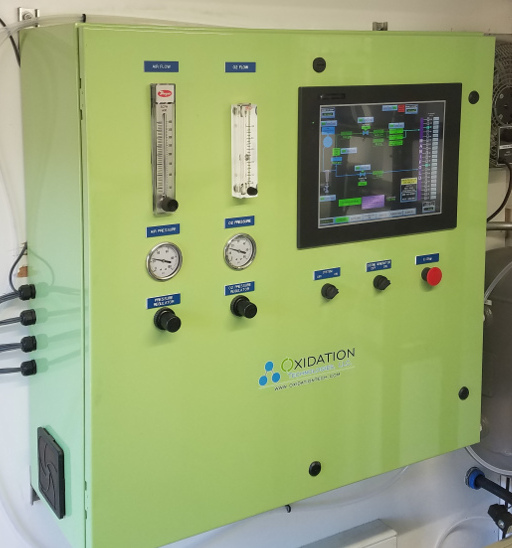 It is also possible to operate and monitor the system remotely via a telemetry system. The system can connect to the internet via wireless, wired, or cellular data connection. When operating the system remotely every operational parameter available while at the actual control panel is also available remotely. Logged data can also be downloaded remotely for reporting purposes. The system can be set-up to send e-mails for alarm conditions. Screens shown below are all visible and completly controllable via the remote telemetry.

HMI Main Screen
Main operation of HMI screen for system operation. All primary controls are controlled and viewed from this screen. Main components are turned ON/OFF on this screen.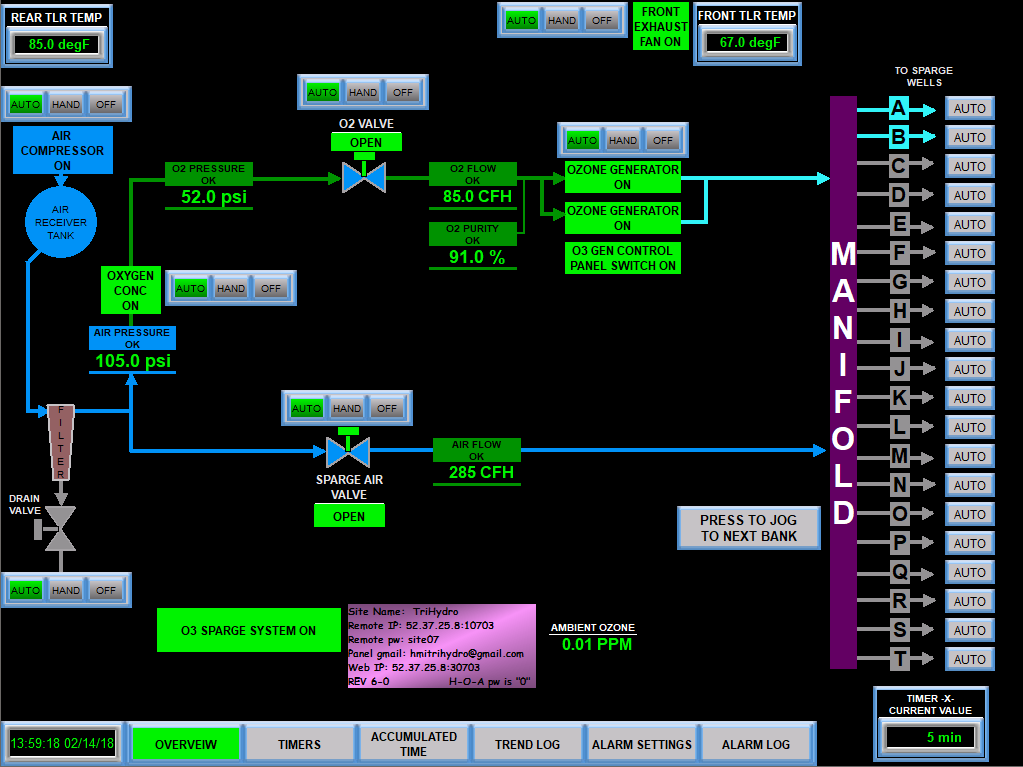 HMI Alarm Screen
Alarm screen for control system. Set operation limits and alarms using this screen: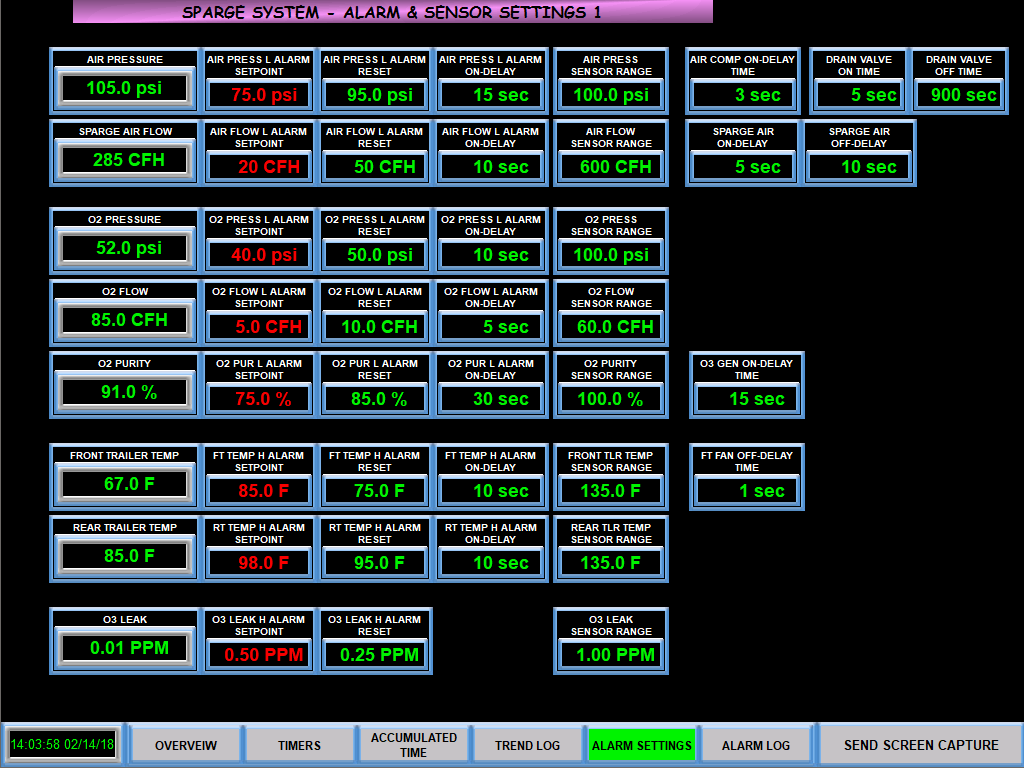 Well Timer Screen
Well timing is selected on this screen, accumlated timer data also indicated on this screen.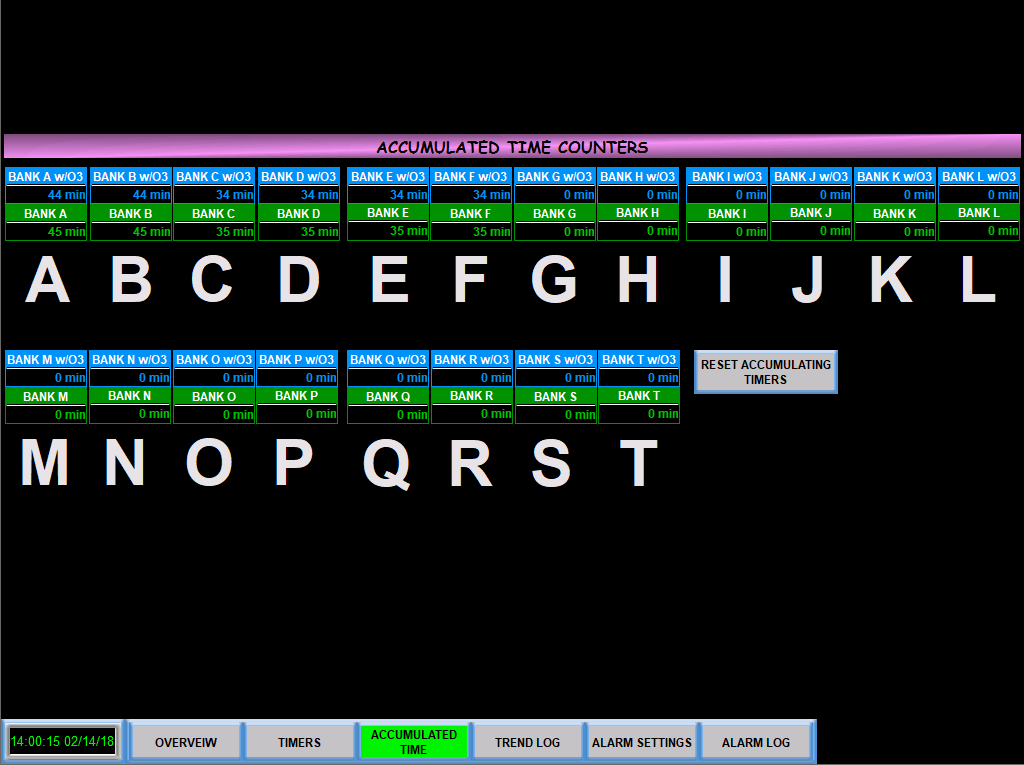 Alarm Log Screen
A log of past alarms is shown on this screen. This allows historica data to be viewed to identify and troubleshoot alarms.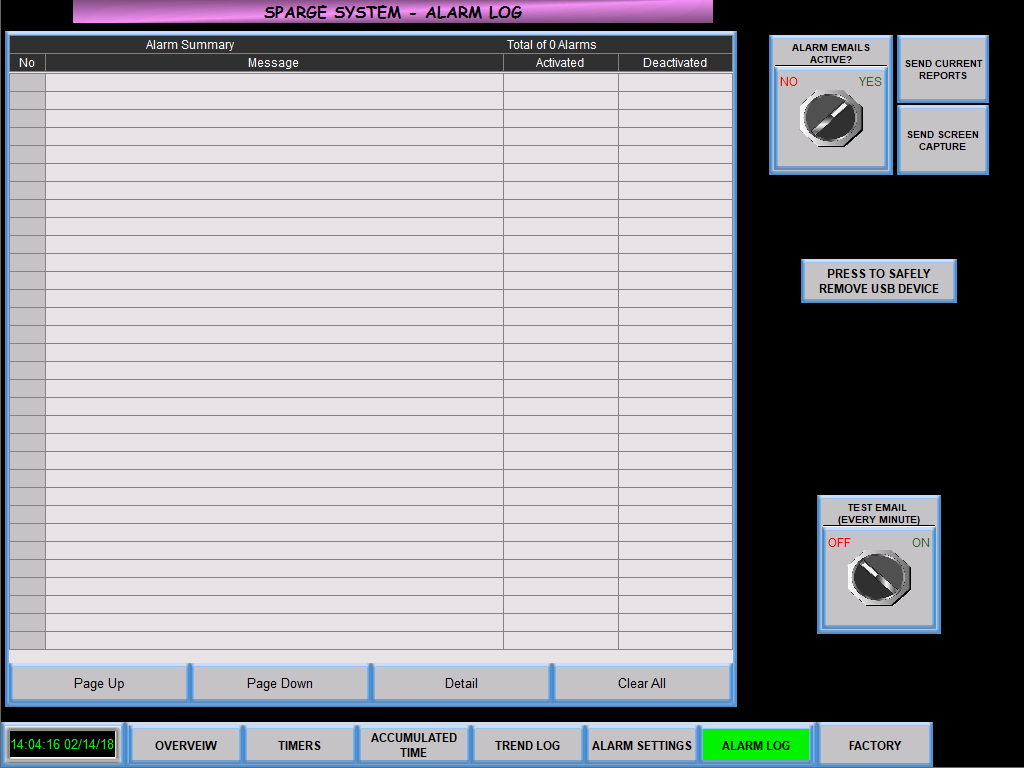 Trend Graph Screen
System operation trends are shown on the trend graph screen. This allows real-time data and past data on operational parameters to be shown. This allows quick viewing of past data.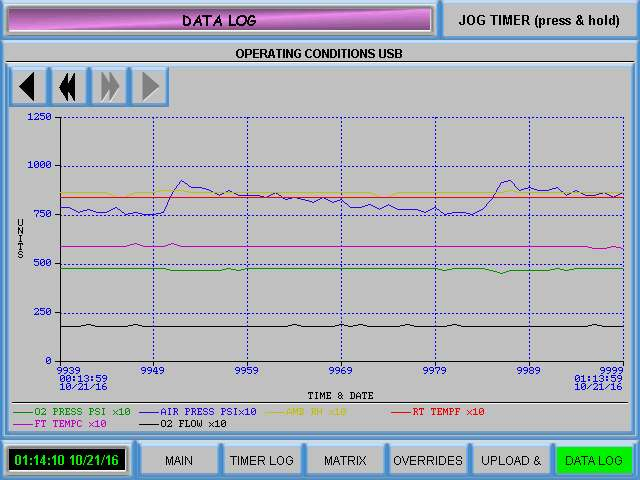 Downloads:
Operation Manual for 12 lb/day ozone trailer
More Information

| | |
| --- | --- |
| Manufacturer | Oxidation Technologies |
| Call For Price | No |
| Rental Period | Monthly |
| Max Pressure | 100 PSI |
| Model | Rental Trailer #3 |
| Operating Pressure | 50 PSI |
We found other products you might like!