UV-HCR Ozone Analyzer Rental
High Concentration ozone analyzer available for rental. Can measure ozone from 0-25% or 0-400 g/m3.
Choose a week or month depending on the time you need to use the unit.
The UV-HCR Ozone Analyzer is a high concentration ozone analyzer capable of measuring ozone concentration in g/m3 or % by weight. Rent for either a month or week depending on the time you need it.
This ozone analyzer is built by oxidation technologies using an API Teledyne M452 ozone analyzer. A wall-mount dust and moisture tight enclosure is used for the UV-HCR ozone analyzer. A clear hinged door is used to protect all sensitive equipment.
See NEW UV-HCR Product page HERE
Rental Terms:
Pre-payment required for all rentals - payment can be made via credit card online

Rental period is for term paid for, shipping time to and from customers location is not included in rental term and is not billed

Shipping both to and from the customer is paid by the customer - Ground shipping is okay

Equipment gauranteed to arrive in working order, any damge to equipment will be billed to customer

Rental term can be extended at any time during the rental

Discounts for longer term rentals apply, arrangements must be made up front
Specifications:
UV Source: 254 nm mercury lamp
Range: Standard range of 0-200 g/m3 or 0-15% by weight. Optional ranges of 0-5%, 0-10%, 0-20%, 0-25%, 0-100 g/m3, 0-300 g/m3, 0-400 g/m3
Outputs: RS-232, RS-485, 0-5 VDC
Accuracy: 1% full scale
Pressure compensation: up to 3 bar
Response Time: 2 seconds to 95%
Connections: Ozone/oxygen 1/4" compression fittings
Size:

8" wide x 12" tall x 6" deep

Weight: 6 lbs
Power requirement: 12 VDC at 400 mA.
Warranty: One year
The Model UV-HCR is a microprocessor-based gas sensor for measuring high concentrations of ozone in oxygen or air with accuracy and dependability.

The measurement principle is based on the absorption of UV light at 254nm. Readings are available in % by weight, or grams/Normal cubic meter. Temperature and pressure compensation up to 3 Bar Absolute is a standard feature (with pressure compensation up to 3 Bar Absolute dependent upon range). Its compact size allows for easy installation in process applications.

The flow pattern is a straight through design (eliminating turns and elbows), reducing exposed surface area. The UV-HCR uses detectors which have a very narrow band of spectral sensitivity, eliminating the need for UV band pass filters which are subject to deterioration by UV or humidity.

Two detectors are used: one for the ozone measurement, and the other to compensate for changes in UV lamp intensity. This unique design provides a sensor which will operate for extended periods without calibration or maintenance.

The sensor offers both analog and RS485/RS232 outputs as well as 4 opto-isolated status outputs to indicate sensor operation or failure modes. Input/output and power input connections are made through the 15-pin D-sub connector.
Diagram below shows an example of the UV-HCR in use: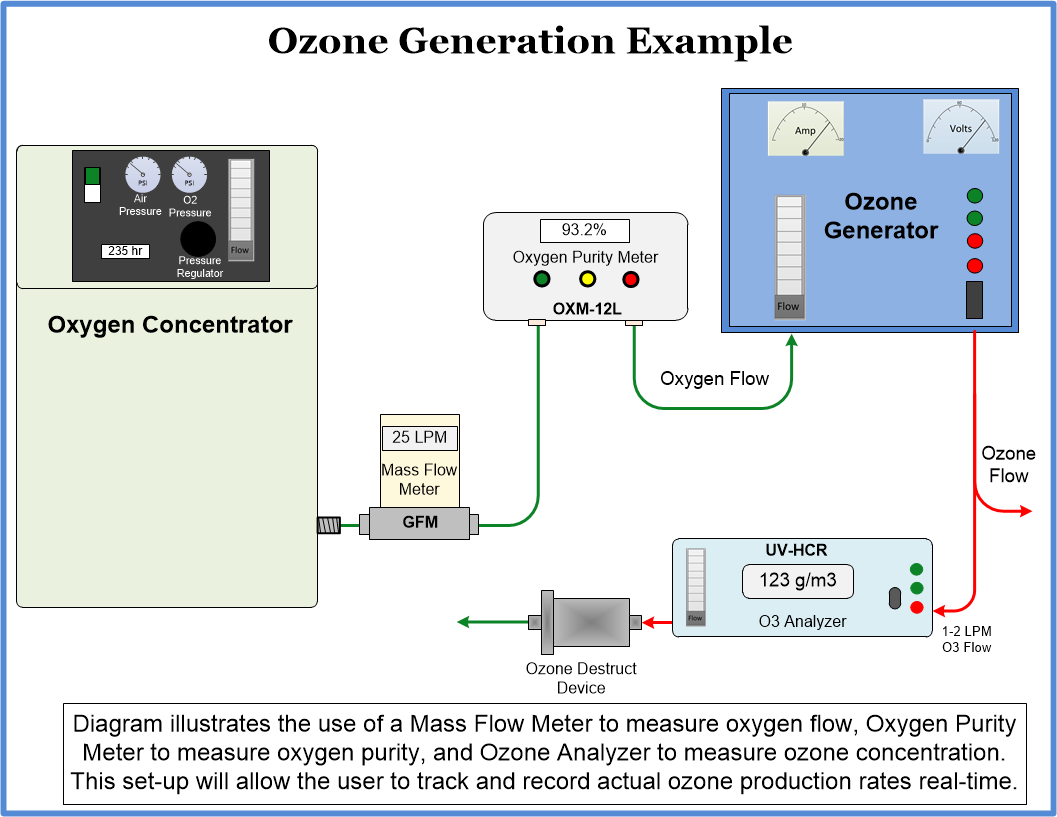 The UV-HCR will provide an accurate real-time measurement of ozone concentration from your ozone generator. When used witha mass flow meteran accurate calculation of ozone output (g/hr) can be performed. These are great tools to implement into an ozone system to verify ozone output real-time and ensure your system is operating at peak capacity at all times.
Downloads:
Test output of Ozone Generator with Ozone Analyzer
More Information

| | |
| --- | --- |
| Manufacturer | Oxidation Technologies |
| Call For Price | No |
| Gas | Ozone (O3) |
| Range | 0-900 ppm |
| Resolution | 0.001 ppm |
| Response Time | 10 seconds |
| Sensor type | UV Analzyer |
| Alarms | Relays |
| Power Requirements | 12 VDC with supplied adapter |
| Field Replaceable Battery | No |
| Warranty | 1 Year |
We found other products you might like!