The Journal of Hazardous Materials recently published a new paper on the use of ozone to inactive SARS-CoV-2, the virus responsible for COVID-19. The results aligned quite well with other work done on this topic with very comprehensive testing.
Abstract:
This study evaluated the inactivation of SARS-CoV-2, the virus responsible for COVID-19, by ozone using virus grown in cell culture media either dried on surfaces (plastic, glass, stainless steel, copper, and coupons of ambulance seat and floor) or suspended in liquid. Treatment in liquid reduced SARS-CoV-2 at a rate of 0.92 ± 0.11 log10-reduction per ozone CT dose(mg min/L); where CT is ozone concentration times exposure time. On surface, the synergistic effect of CT and relative humidity (RH) was key to virus inactivation; the rate varied from 0.01 to 0.27 log10-reduction per ozone CT value(g min/m3) as RH varied from 17% to 70%. Depletion of ozone by competitive reactions with the medium constituents, mass transfer limiting the penetration of ozone to the bulk of the medium, and occlusion of the virus in dried matrix were postulated as potential mechanisms that reduce ozone efficacy. RH70% was found plausible since it provided the highest disinfection rate while being below the critical RH that promotes mould growth in buildings. In conclusion, through careful choice of (CT, RH), gaseous ozone is effective against SARS-CoV-2 and our results are of significance to a growing field where ozone is applied to control the spread of COVID-19.
Inactivation rates of the SARS-CoV-2 virus were 99% or better in most cases. Both gaseous ozone and ozone in water were used with good results against the virus.
When using gaseous ozone relative humidity was also evaluated. As has been the case in other virus inactivation studies elevated humidity levels found higher rates of virus inactivation. In this test, humidity levels up to 70% were evaluated showing that realistic humidity levels can be used to achieve desired results but also leaving room for greater inactivation efficiencies with higher humidity levels.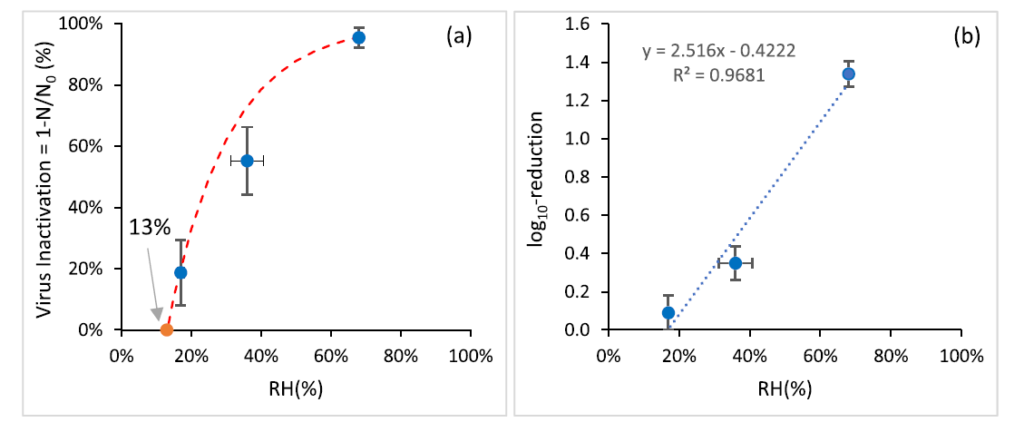 The most useful information from this particular study was the effectiveness of ozone gas in inactivating the SARS-CoV-2 Virus on surfaces. Ozone was very effective in virus inactivation on both stainless steel and glass surfaces in a dried state.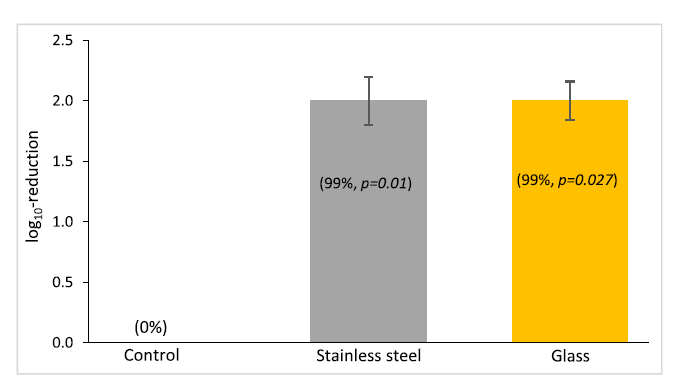 While the global pandemic caused by COVID-19 continues the research on how to combat the SARS-CoV-2 virus continues. We expect this will not be the last research paper reflecting great results on the use of ozone to destroy viruses.