Mazzei Venturi Injector for ozone injection into water:
The Mazzei Venturi Injector is simply the best device available to introduce ozone gas into water efficiently. Chart below shows all Black Kynar (PVDF) Mazzei Venturi's.
We do carry the full line of Mazzei venturis, if you don't see what you are looking for, please call our sales staff.
Replacement Parts for Venturi's
Click on image to view full specifications
How a Venturi Injector Works:
Click HERE to see a video on how the venturi injector works

A venturi injector pulls ozone/oxygen gas into the water stream under a vacuum and dissolves that ozone/oxygen gas into water very efficiently. A pressure differential across the orifice in the venturi creates a high-velocity jet stream of water. This high velocity of water results in a decrease in absolute pressure and creates a vacuum on the third leg, or gas suction let. This gas is quickly and efficiently dissolved into the water directly after this venturi.

Ozone/Oxygen gas is pulled into the water. The gas fills the void created by the suction action of the venturi to entrain the gas bubbles into water very efficiently.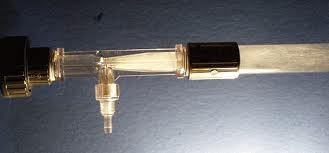 Tech Notes:
-Complete Mazzei Venturi Injector Performance Tables (all mazzei venturi's are in one table)
-Tech Note - Injector Troubleshooting Guide
-Tech Note - Injector Ozone to Water Mixing
-Tech Note - Correction Factor for Gas Flow When Gas is Under Pressure
-Tech Note - Injector by-Pass Assembly
-Tech Note - Supplemental Check Valves
-Tech Note - Handling Solids During Injector and Nozzle Mixing
-Tech Note - Installation Notes
-Tech Note - Pressurized Sprinkler Applications
-Tech Note - Pressurized Water Line Applications
-Tech Note - Removal of Hydrogen Sulfide by Aeration
-Tech Note - Removal of Iron and Manganese by Aeration
-Tech Note - Water-Well/Pressure Tank Applications
Additional Information: