Ozone dissolved in water can be used for a teat spray prior to milking to clean, sanitize, and disinfect the teats.
Ozone in water is not harsh and will improve teat health of the skin and teat, while offering the greatest sanitize available. This will reduce bacteria in the milker, reduce cross contamination, and reduce the potential of disease on each every cow.
Ozone is the most powerful oxidizer available, and one of the most powerful tools for sanitation, while also being one of the safest and least harsh chemicals you could use on your cows.
How It Works:
Ozone is dissolved into the water at a level of around 2.0 ppm. This water is then pumped and sprayed through your existing teat sprayer system as a pre-milking sanitation step, taking the place of a traditional pre-dip. No new equipment or steps in the milking process are necessary. Simply spray the cows udders as you normally would, and come back with a wipe.
Benefit of Ozone:
Ozone offers cost savings vs chemicals. Ozone equipment is a one-time purchase, with minor maintenance costs. Long term there are no chemicals to buy on a monthly basis
Ozone is a more powerful disinfectant than what you are currently using. This will lower teat illness, mastitis, and overall bacteria in the milking machine. Resulting in higher quality milk and healthier cows.
Ozone is safer for the teat than many chemicals used today. Ozone is produced from oxygen, and reverts to oxygen. Ozone and water is all you are spraying your cows udders and achieving greater disinfection.
Ozone is dissolved into water using an ozone injection system. The size of ozone system will be based upon your total water flow rate used. Total water flow may be based on other applications for ozone on your dairy. See diagram of ozone injection system below for information on how ozone is dissolved into water.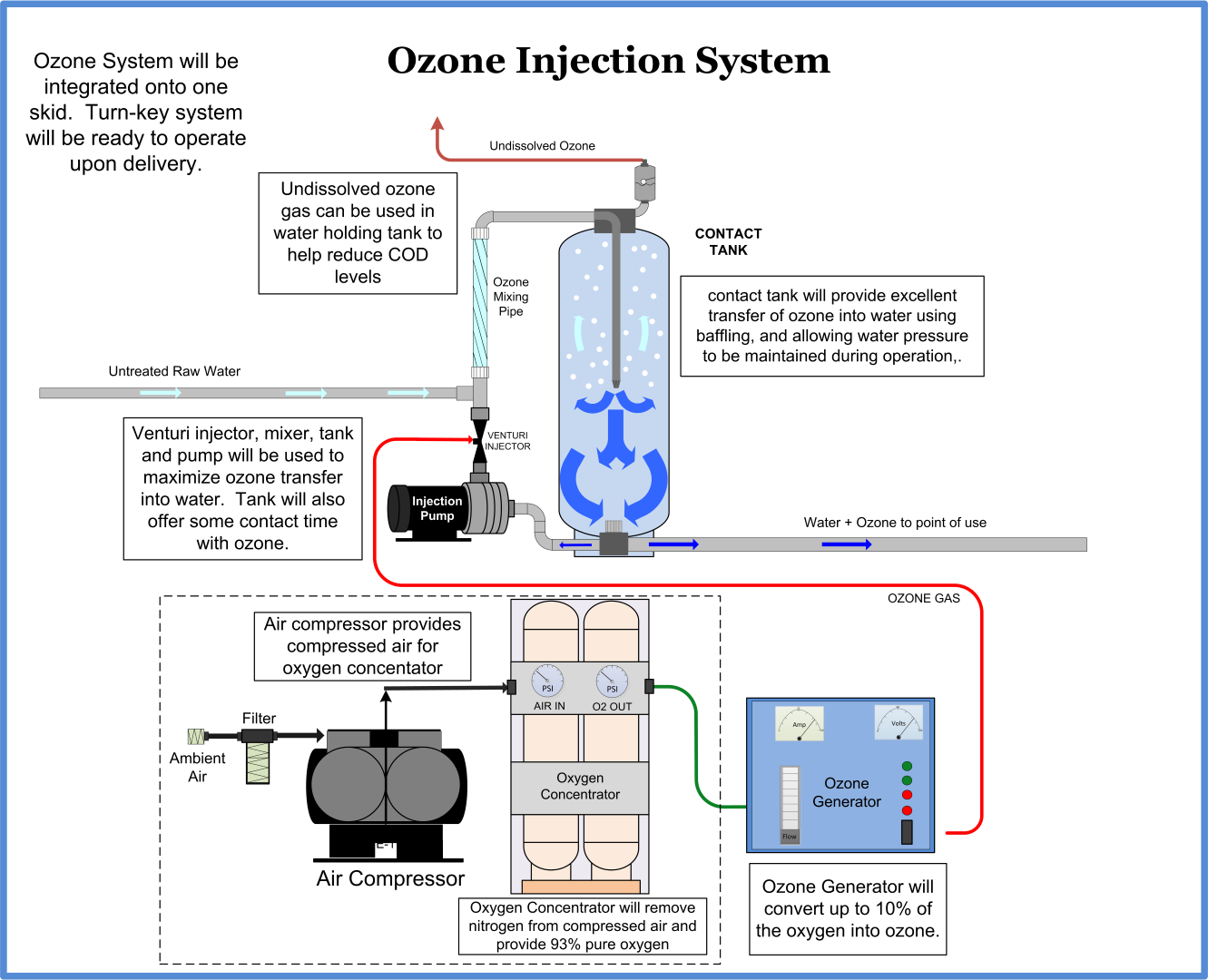 Examples of Ozone Water Systems Shown Below:
For more information on what system may be right for you, call our application engineers for help.