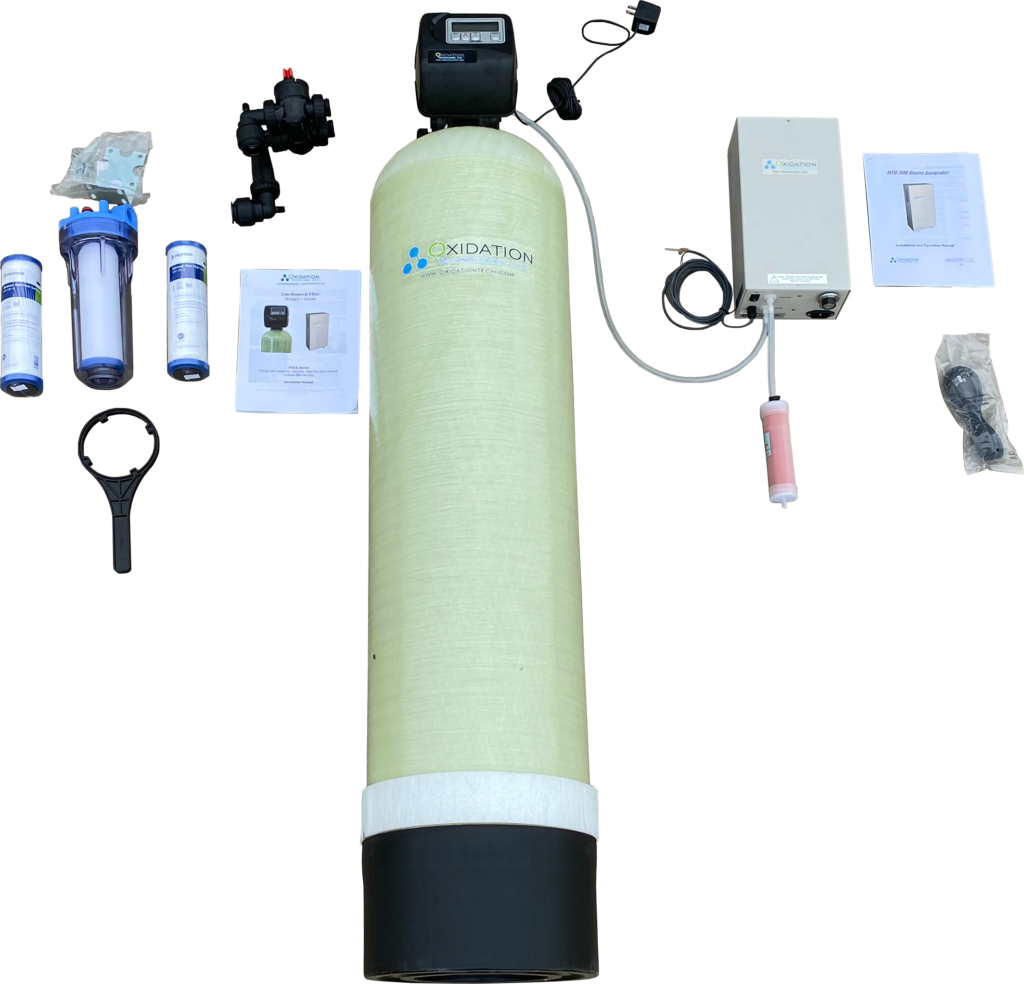 The FIOX iron removal filter oxidizes any dissolved iron in the water with oxygen and ozone. The oxygen is pulled in from ambient air and the ozone is generated on site with a small ozone generator. The oxidized iron is filtered out with the back washable sand filter. The I-OX filters utilize an air injection system to remove iron (ferrous or clear water), manganese, and sulfur from the water via both oxidation and filtration. Unlike other iron filter alternatives, I-OX technology is designed for use in a single tank and valve system configuration, reducing both acquisition and maintenance costs yet delivering years of trouble-free service. No chemical additives or air compressors are required for operation or regeneration with the I-OX filters advanced design.
How does the I-OX filter work? During system regeneration, an air pocket is created when air is drawn in through an injector located in the brine port. During service, untreated water passes through the air pocket oxidizing any iron, sulfur, and manganese. The particles are filtered out. Then the system's regeneration cycle backwashes the bed and replaces the air pocket, allowing the process to begin again.
Principles of Operation
The ozone component provides protection from the common problem of iron bacteria bio-film which will plug up iron filtration systems unless the bacteria are controlled. Ozone is an energized O3 form of oxygen which not only accelerates oxidation of iron, but also destroys bacteria in the process.
FIOX Tank Benefits
-Protect appliances and fixtures from staining
     -Low-cost – only requiring periodic backwashing
-No filter changing – Low maintenance
-High iron removal efficiency
     -Reduce hydrogen sulfide
Features
-Time-tested, hydraulically-balanced piston, seals and spacers control service flow and backwash
-Non-corrosive, fiber-reinforced polymer construction
-Electronic control
-Environmental cover
-Quick connect clip design
-Keeps the time-of-day during a power outage to eliminate the need of a service call to set the clock
     -Corrosion free bypass valve
More information on the FIOX System can be found here.
Contact Us Today to speak with an industry expert about your ozone needs.