The 6-OZ is part of the Monozone Ozone Generator family. These are high quality, high output UV based ozone generators built into a completely stainless steel case.
UV based ambient air ozone generator produces 12 g/hr ozone from 185 nm UV bulbs. Flows 326 CFM airflow with internal fan.
Rated to treat 6,525 ft2 room (at 3 air changes/hour)
The Monozone design has been carefully conceived to provide adequate germicidal
ultraviolet and ozone exposure for air disinfection of unoccupied areas by the means of
germicidal ultraviolet ozone lamps. These special lamps generate high levels of germicidal
ultraviolet radiation which is lethal to infectious microorganisms such as bacteria, mold, and virus. Ozone that is emitted will remove mold, smoke, and other strong odors.

The dosage, as it applies to ultraviolet and ozone disinfection, is a function of time, and the
intensity, of ultraviolet radiation, to which the air is exposed. Our UV application specialist
would be happy to perform the necessary calculations to ensure the equipment we provide
is appropriate for your particular application.
Advantages
Effective- Virtually all pathogens are susceptible to ozone ultraviolet disinfection.
Economical - System requires very little power to operate, no major maintenance.
Fast- Disinfects air in seconds, ozone reacts quickly and reverts safely back to oxygen.
Easy- Simple installation and maintenance.
Automatic – Continuous disinfection.
Durable – Polished Stainless Steel and Aluminum. Long lasting design, high quality construction.
Specifications
| | |
| --- | --- |
| Ozone Production: | 12 g/hr (12,000 mg/hr) |
| Fan airflow: | 326CFM |
| Number of lamps: | 4 |
| Lamp length: | 21-7/8"  |
| Ultraviolet output: | 8.5 watts |
| Max room size @ 3 air changes/hr: | 6,525 ft2 |
| Max room size @ 6 air changes/hr: | 3,263ft2 |
| Electrical Requirements: | 2.3 amps @ 120 VAC |
| Dimensions: | 47-5/16" long x 14" wide x 12" deep |
Operation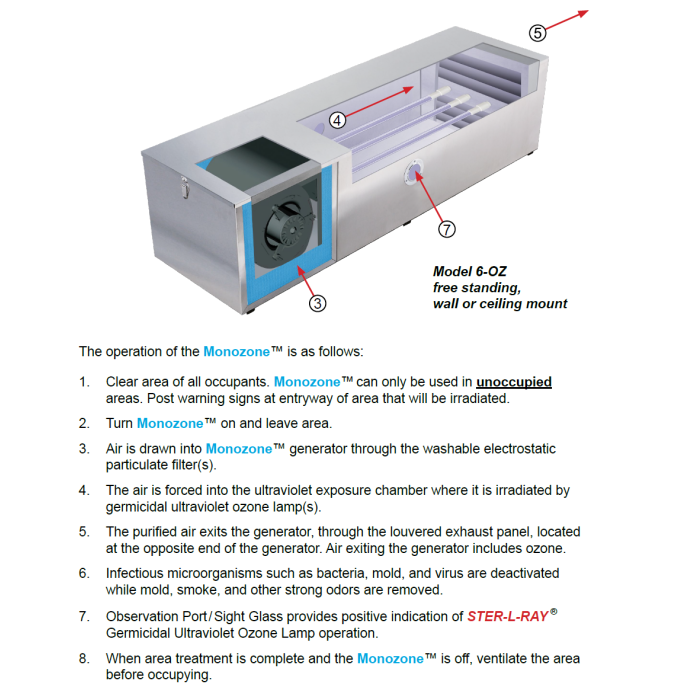 The Monozone ozone generator should be used in an unoccupied area.  Place the ozone generator near the middle of the room, or at the intake of the HVAC system with the fan set to ON.  Allow ozone gas to flow throughout the room and fill the room thoroughly.  After treatment is over, either turn the ozone generator automatically with a timer, or turn OFF from outside the room.
The louvered exhaust of the Monozone ozone generator restricts ultraviolet radiation from passing into the area, but allows circulation fo the ozone that will effectively remove smoke, mold spores, air borne pathogens or other strong odors.
Site Glass: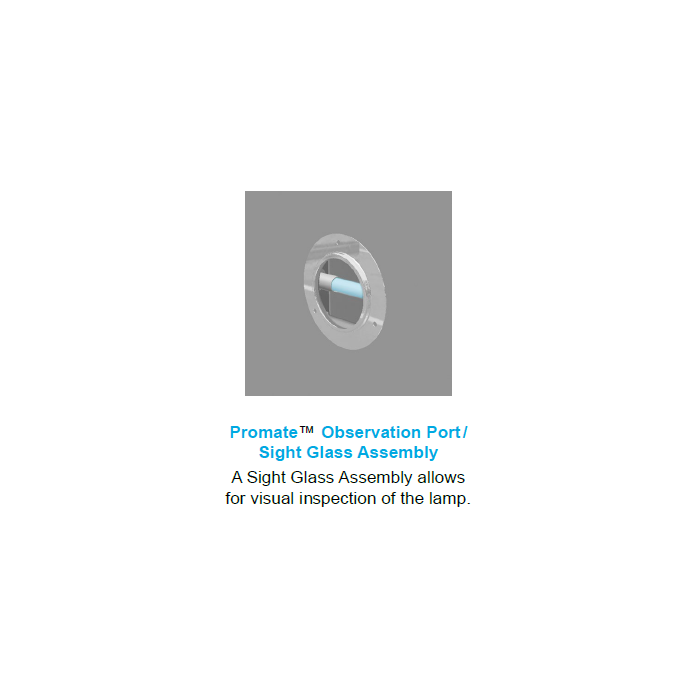 Optional Lamp indicator: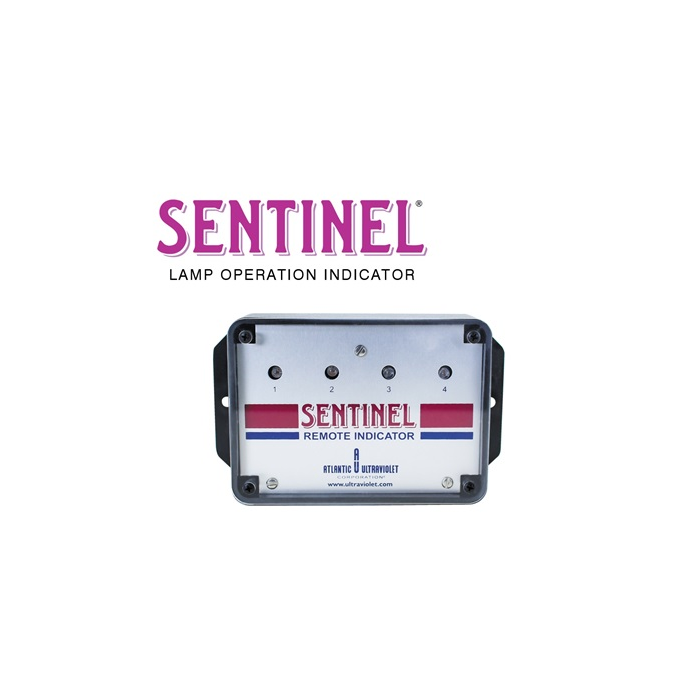 The Monozone ozone generator can be equipped with the optional UV lamp indicator.  This indicator can be mounted on the ozone generator, or remotely to indicate the operation of the lamps without the need for visual indication.
Install

The Monozone can be installed permanently with the wall mounting brackets, (sold separately) or can be left mobile and moved from one area to another as required.
Internal Components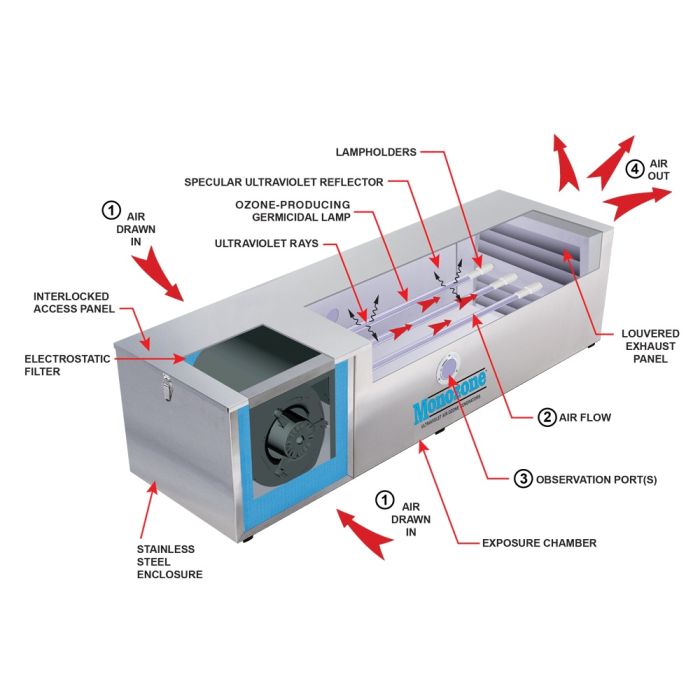 Monozone Features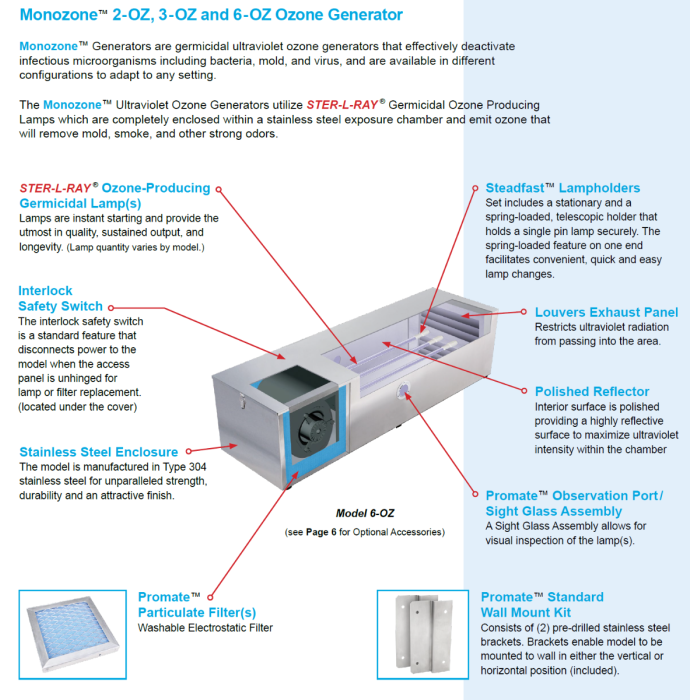 More Information

| | |
| --- | --- |
| Call For Price | No |
| Ozone Output | 12 g/hr (12,000 mg/hr) |
| Feed Gas | Ambient Air |
| Nominal Gas Flow Rate | 326 CFM |
| Operating Pressure | NA |
| Max Pressure | NA |
| Manufacturer | Misc |
| Cooling Method | Air Cooled |
| Corona Cell | UV Lamp |
| Gas Connections | Ambient Air |
| Dimensions | 47.3" long x 14" wide x 12" deep |
| Operational Temperature Range | 35 - 110 deg F |
| Max O3 % | Below 3% |
| Power Requirements | 120 VAC, 5 amps (220 VAC optional) |
| Lead Time | 2-weeks |
| Warranty | 1 Year |
| Country of Origin | USA |
| Description | 326 CFM airflow - 4 UV lamps |