We recently set-up some equipment for a customer to perform his own bench testing with ozone.  Below is a description of this set-up and the parts used.  Hopefully, this helps you learn more about the possibilities with ozone and how you can set this up yourself.
More info on ozone bench-test set-ups at this link.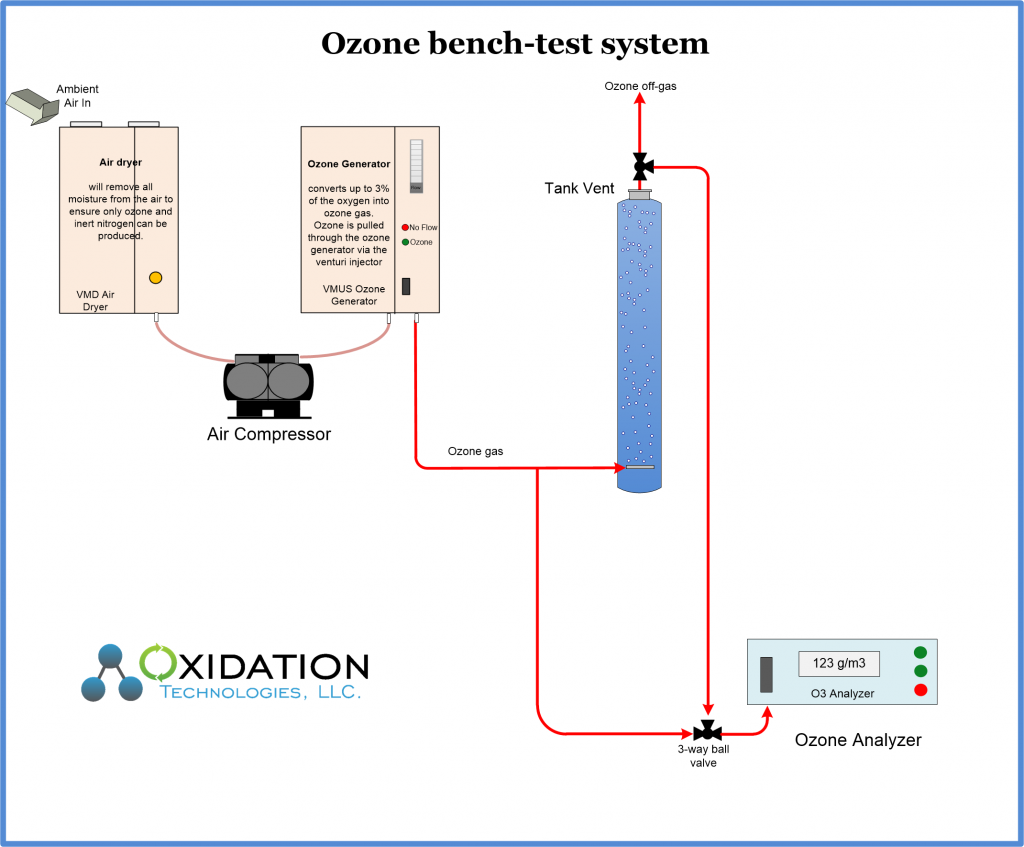 The above diagram shows the equipment used and basic plumbing of this equipment. This specific set-up was designed to use ozone gas to treat a dry product. The test column in this application would have a dry edible product in it, ozone would be used to provide disinfection of this food product. Using the ozone analyzer the actual level of ozone passing through the column can be verified, also the ozone analyzer could measure ozone leaving the column to determine the level of ozone consumed by the product.
This system uses an air dryer and a larger air pump as gas flows up to 30 LPM will be used. Target ozone levels of 20 – 200 ppm will be used in this gas flow through the product. The high gas flow and tall colum will help "float" the product to achieve great contact with ozone gas and the product being tested.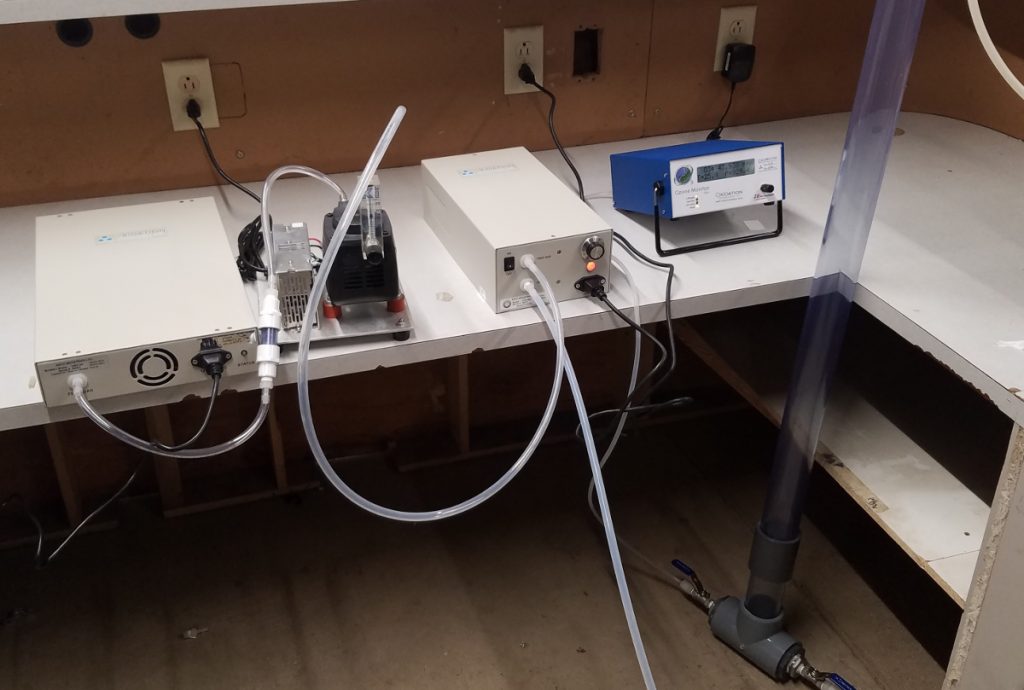 The images above and below show the actual products used.  These are the same components shown in the diagram above.  As usual, real-life is not as seamless and tidy as a diagram.  This does give a great example of how this can be set-up in your lab and how much space this may consume.
The ozone products used are:
The VMD-30 air dryer is a vacuum driven heat regenerative air dryer that will provide air dried to -40-deg F dew point at a flow up to 30 LPM.  Perfect to ensure the air fed into the ozone generator is dry, and consistent.  This will ensure reliable ozone levels and measurements.
The HTU-500 ozone generator is a great small lab-scale ozone generator.  This unit will operate on air or oxygen, and at pressure or vacuum.  Great versatility for lab scale project.
Measures ozone in air using UV absorption technology.  This unit will measure ozone up to 1,000 ppm accurately with a resolution of only 0.01 ppm.  This great tool can be used for this bench-test set-up and later when this system goes to full scale.
Compressor
A basic diaphragm compressor was used for this application.  We added a flowmeter with a valve to adjust air flow between 0-30 LPM.  It is important the compressor used does not leak air into itself so we can ensure the dry air is pushed through the ozone generator.
Ozone test column
The ozone test column, shown below, is constructed of 2″ clear PVC and CPVC fittings.  This same column can be used for water tests with only minor differences.  The height of this column ensures ozone gas will pass through the product or water placed in the column for a great distance, this ensures better contact or mass transfer of the ozone.  The cap on top can ensure safety and catch any excess ozone to be measured by a UV ozone analyzer.  A stainless steel diffuser is placed in the TEE at the bottom of this column.  This diffuses the ozone gas into the air or water to ensure great mixing.