Read full and original article HERE
Ozone gas can be dissolved into pressurized, flowing water via a simple static mixer. Pressurized Ozone gas can flow into a water stream using a TEE provided the ozone gas pressure is greater than the water pressure. A downstream static mixer can then be used to thoroughly mix the ozone gas into the water.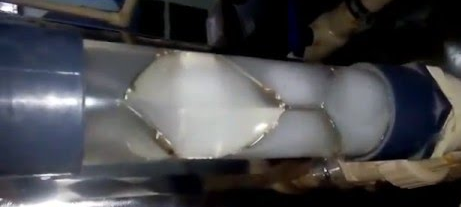 Water should be pressurized when using a static mixer to aid solubility of ozone gas into water. Therefore, the ozone gas must be under pressure to force into the water flows. We have found that water pressure around 30 PSI is ideal for mass transfer, however higher or lower pressures can also be used.
Advantages:
– Simple, effective system design with no moving parts
– Great option for pressurized water
– More energy efficient than a venturi as a pressure differential across the mixer is not requied
– Easier to contain ozone gas and maintain a safe environment due to ozone off-gassing
– Can work with water that may plug or obstruct a venturi injector
Disadvantages:
– Higher risk of water back-flow into ozone generator due to pressurized water
– Requires flowing, pressurized water
– Greater risk of water backing up into the ozone generator as the water is pressurized
Ozone gas is partially soluble into liquid. However, using proper methods and equipment high mass transfer efficiencies can be realized with any method of dissolving ozone into water. Review the tips below to help design a proper system using a static mixer in your ozone application.
Fundamentals of Ozone Solubility:
-Lower temperatures increase the solubility rate of ozone gas into liquid
-Higher pressures increase the solubility rate of ozone gas into liquid
-Higher ozone gas concentrations increase the solubility rate of ozone gas into liquid
Design considerations for your ozone system using a venturi injector:
Static mixer installation tips
Install static mixer shortly after the ozone injection point, within 12-inches if possible. Typically ozone bubbles will shear as they enter the water but combine again into a large air-pocket in the top of the pipe. Take advantage of the smaller bubbles as soon as possible.
If flowing water into a tank, install the static mixer within 12" from the tank
If flowing water into an un-pressurized tank, consider using an orifice to create back-pressure on the static mixer to improve solubility
Ensure proper flow-rate of water to achieve optimum water velocity for the mixer in use
Read full and original article HERE
Learn more about ozone solubility HERE