Grundfos 3.4 HP, Ozone compatible water pump for use in ozone injection system, or pumping ozone in water efficiently. Centrifugal Pump flows 30 GPM of water at 65 PSI of pressure.
Stainless steel centrifugal pump with ozone resistant seals is completely ozone resistant. When used with the proper venturi injector this pump will efficiently dissolve ozone into water. This is a great pump for pumping ozone water, or mixing ozone gas with water efficiently.
This pumps is a dual voltage pump capable of operating at 120 VAC or 220 VAC power. All whetted parts are stainless steel, Viton, and other ozone resistant materials. Pump rebuild kits are available for this pump if ever necessary. These pumps are easy to work on, and can be serviced.
Water discharge is shown at the top, however it can be rotated by loosening the 4 front bolts on the pump head. No need to completely disassemble the pump head, simply loosen bolts and rotate the pump head.
Our experience with this pump is excellent. Even in application with very high ozone levels longevity of pump seal kits is excellent. This pump replaced the CHI series pump from Grundfos a few years ago. In that time we have used many of these pumps with much better reliability and ozone resistance than the previous CHI series pumps. We highly recommend the use of this pump on any ozone water systems.
We suggest using this pump with the Model 1583 Venturi Injector for ozone injection into water. Water flow rates in most applications will be about 10 GPM when used with the Model 1583 venturi. This will allow the pump to be used to circulate water within an ozone water system that under city water pressure effectively and efficiently. See image below for example.
Example of pump in use on Ozone Water System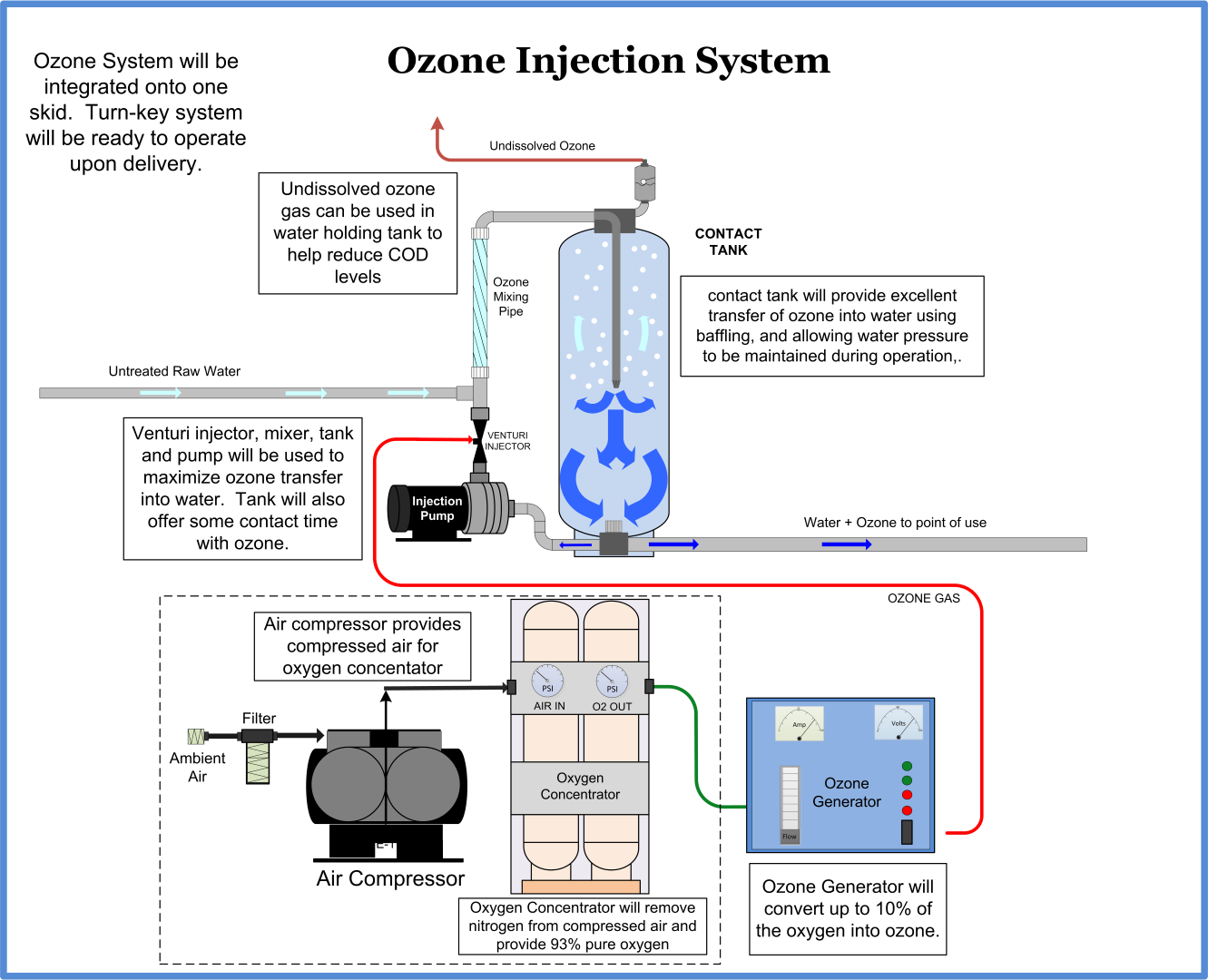 Click on image to enlarge
Pump performance of the CM5-3 will be dependent upon pressure. Maximum water pressure from this pump is 57 PSI when inlet pressure is 0 PSI. Water flows up to 30 GPM are possible. See pump curve below for full details.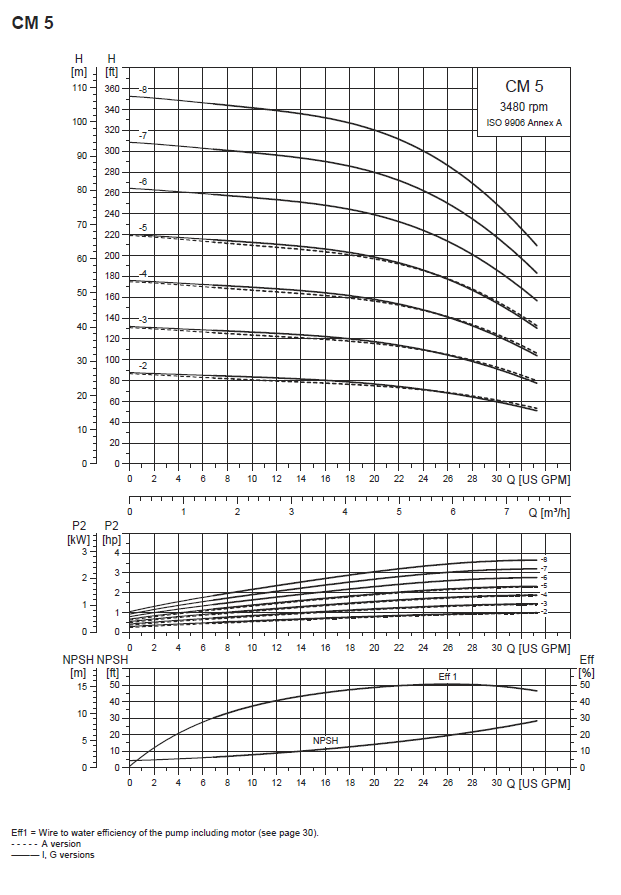 Pump curve shows water flow and pressure from all CM-5 series Grundfos pumps. For help choosing the right pump, call our application engineers. We would be glad to help.
Dimensions for CM-5 series pumps shows in chart below: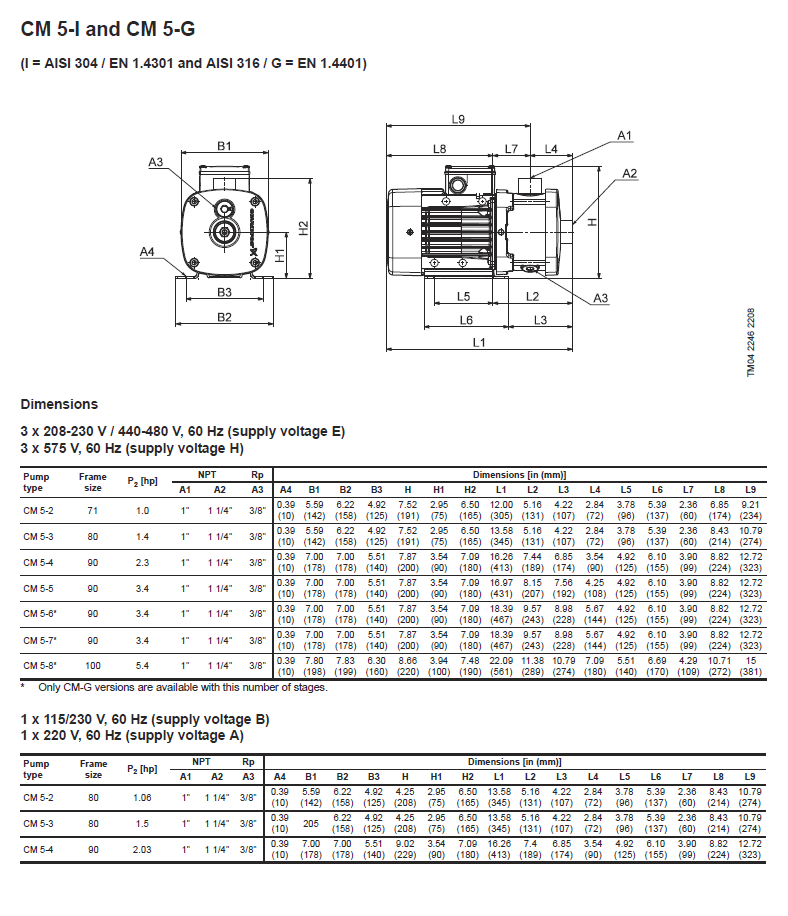 More Information

| | |
| --- | --- |
| Manufacturer | Grundfos |
| Call For Price | No |
| Typical Water Flow | 30 GPM @ 65 PSI |
| HP | 3.4 |
| Max Pressure | 95 PSI |
| Material of construction | Stainless Steel |
| Lead Time | In stock |
| Dimensions (LxWxH) | 16.9" Long x 7.9" wide x 7.52" tall |
| Country of Origin | USA |
We found other products you might like!