Megatron Ultraviolet Systems
Megatron Ultraviolet Water Purification Systems use germicidal ultraviolet lamps to purify water using ultraviolet radiation. These systems can purify from 90-450 gallons (depending on the model) without exposing it to heat or chemicals.
Why Use UV?
Ultraviolet radiation is lethal to virtually all bacteria, viruses, and fungi. This short wave radiation produced by germicidal ultraviolet lamps can quickly destroy these harmful substances and microorganisms in water. Because no chemicals are added, there is no danger of overdosing or contaminating the water through this process. No unwanted tastes or scents are present after purification and the water is ready for use immediately after it leaves the purifier. 
To learn more about UV light as a cleaning solution and how it interacts with ozone, click here.
How does it work?
 1. Water enters one end of the purifier and flows through the space between the quartz-sleeved germicidal ultraviolet lamp and the chamber wall.
2. A wiper system stirs the water to guarantee that the microorganisms within are evenly exposed to ultraviolet rays.
3. The exits from the other end of the purifier ready for use.
A translucent sight port allows you to verify that the germicidal lamp is operating correctly. When running, its glow will be visible through the port. 
Maintenance & Installation
In the event that your Megatron system requires maintenance or the replacement of key components, they are designed to disassemble completely without the use of special tools or fixtures. The end caps are specially designed so that they can be removed by hand and new lamps or sleeves can be installed in a matter of minutes. It is recommended that the lamp be replaced after 10,000 hours of operation (about 14 months of continuous use). A dual-action assembly allows periodic cleaning of the sleeve without the need to disassemble the product or interrupt its operation.
Germicidal Lamp Details
Approximately
95% of the ultraviolet energy emitted from the germicidal lamps is at 254 nanometers, the region of germicidal effectiveness most destructive to bacteria, mold, and virus.
Caution: Exposure to direct or reflected germicidal ultraviolet rays will cause painful irritation to the eyes and reddening of the skin. Those who may be subject to this exposure should wear a suitable face shield, gloves, and protective clothing.
Applications
Megatron UV Water purifiers can be used in a wide variety of settings. Here are some examples:
Institutional
Laboratories
Labor & Delivery Areas
Universities
Hospitals
Pathology Labs
Schools
Clinics
Kidney Dialysis Labs
Veterinary Clinics
Maternity Areas
Nursing Homes
Transient Systems
Resorts, Hotels,& Motels
Water Park
Fountain Water Feature
Ships, Yachts, Boats
Amusement Parks
Ornamental Ponds
Campgrounds
Golf Course Water Holes
Fish Ponds
Community
Apartment Complexes
Villages, Towns, Cities
Fish Farms
Condominium Complexes
Farms & Ranches
Mollusk Hatcheries
Trailer Parks
Animal Husbandry
Water Preserves
Rural Water
Aquariums
Well Water
Industry
Pharmaceutical Mfg.
Water Vending Machines
Edible Oils
Electronic Production
Laundry Water
Liquid Sugar
Cosmetic Production
Pure Wast Water
Sweeteners
Cooling Tower
Bottled Water
Water-Based Lubricants
Power Generation
Beer, Wine
Dairy Processing
Food Industry
Soft Drinks
Cistern Applications
Ice Makers
Fruit Juices
Pulp & Paper Production
Bottling Facilities
Specialized
TOC Reduction
Ozone Reduction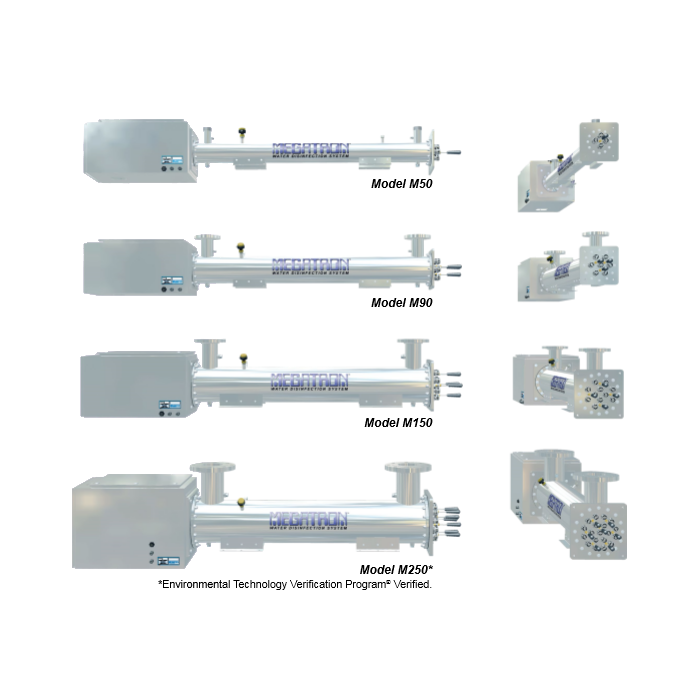 Full List of Megatron Systems
| | | | | | | | |
| --- | --- | --- | --- | --- | --- | --- | --- |
| Model | Voltage | GPM** | Inlet/Outlet | Number of Lamps | Height | Length | Width |
| M50 | 120 | 70-100 | 2" NPT | 4 | 14" | 100" | 16" |
| M90C | 120 | 115-190 | 3" Socket Weld Flange | 7 | 16" | 100" | 16" |
| M150 | 120 | 200-325 | 4" Socket Weld Flange | 12 | 18" | 100" | 18" |
| M250 | 120 | 335-560 | 6" Socket Weld Flange | 19 | 26" | 102" | 21" |
**GPM is determined by water quality
More Information

| | |
| --- | --- |
| Manufacturer | Oxidation Technologies |
| Call For Price | No |
| Dimensions | Dimensions Vary |
| Warranty | 1 Year |
| GPM | 1+ |
We found other products you might like!