Ozone Compressor Common applications:
- Pull ozone gas from an ozone generator + air dryer that produce ozone from a vacuum
- Boost low ozone pressures for lab or small-scale testing applications - filling a vessel or tank is common
- Push ozone gas into a pressurized water line where a venturi is not an option - home water systems are common
- Push ozone gas into a force-main from a lift station into wastewater for odor and corrosion control
Vacuum Driven air-fed ozone generator:
A common use for an ozone compressor is pulling ozone gas from an ozone generator under vacuum. Ozone can be produced from dry air efficiently with a vacuum-driven air dryer. Ozone gas can then be pushed to the point of use with the ozone compressor. This equipment has the potential of lowering capital cost vs an ozone system capable of higher pressures and is very flexible.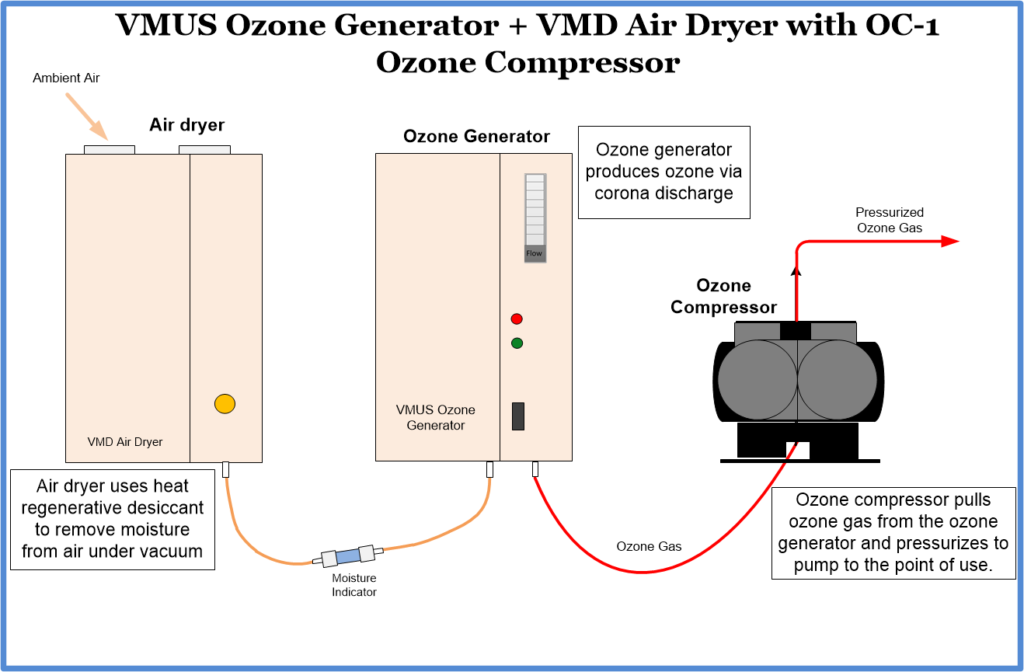 Ozone used for wastewater force-main:
Ozone gas can be used in force-mains within a wastewater system to lower odors, reduce chemical use and lower corrosion from H2S. Force-mains commonly operate at very high pressures, above 50 PSI. This will require the use of a boost compressor to increase the ozone pressures to a pressure above the force-main.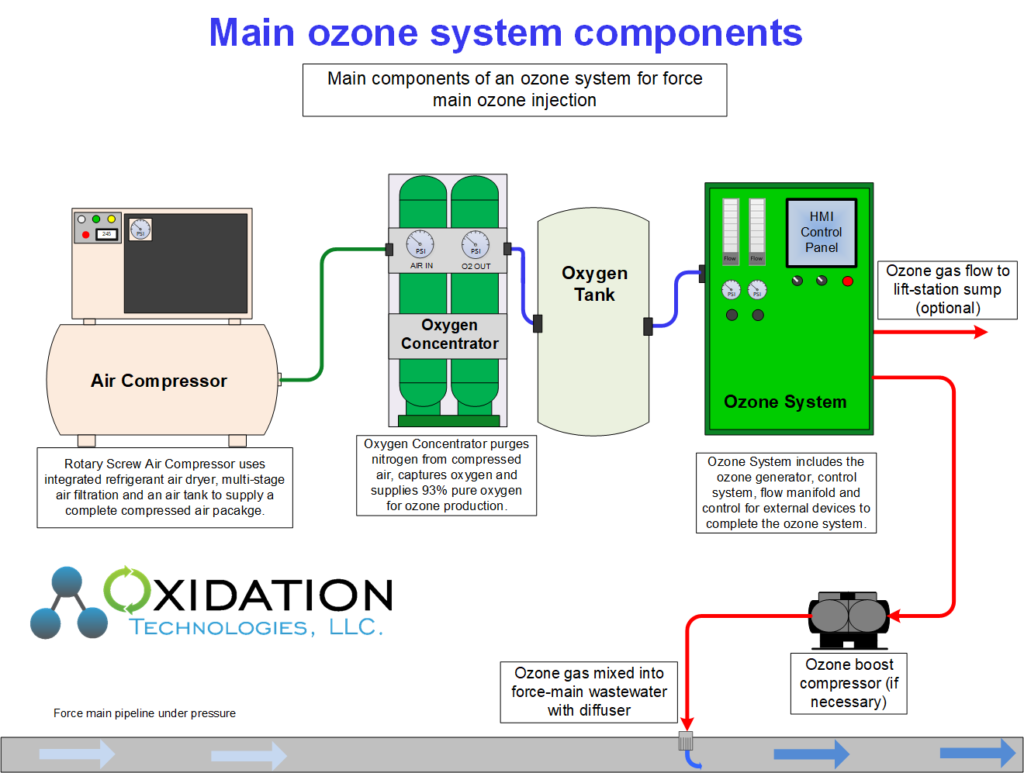 Consider:
- Heat destroys ozone, the compressor does create heat during operation. Therefore this process will decrease the ozone concentration slightly. A higher ozone production rate may be needed to compensate for these losses.
- If the ozone compressor is pulling a vacuum and creating pressure both forces must be taken into account when choosing the proper compressor for your flow.
- The OC-Series ozone compressor are available with aluminum and stainless steel heads. Aluminum should only be used with oxygen-fed ozone generators as the aluminum will be corroded with air-fed ozone generators. However, aluminum does dissipate heat less and will conserve ozone better through the pressurization process.
- When the compressor is used to boost pressure, for example, 10 PSI at the ozone generator inlet/compressor outlet and 50 PSI at the compressor outlet, this must be taken into account when reviewing the appropriate performance chart.
- The OC-Series compressors will re-start under pressures, however, this is limited, contact us with questions.