CWS Ozone Water Filtration System
Complete Water Treatment System integrating ozone and filtration. Customizable ozone systems capable of 8 to 100 g/hr ozone production and water filtration flow rates up to 100 GPM. With additional options for further customization these systems will meet most every water treatment need.
For questions on specific configuration, feel free to contact our office.
Complete Water Treatment Systems integrate ozone and filtration for a turnkey solution to your water treatment needs. Ozone can be used to oxidize many minerals and metals from water efficiently, however filtration is required to effectively remove oxidized contaminates from water. These systems incorporate ozone production, ozone mass transfer into water, and water filtration on one turnkey skid.
CWS Ozone Water Filtration Systems include the following primary components as standard equipment:
Oxygen Concentrator

Ozone Generator

Ozone Injection Pump

Ozone Venturi and mixing system

Ozone contact tank

Water pre-filter

Redundant Back-washable sand-filters

Water post-filter

Main system control panel

System skid and necessary tubing/ancillary equipment
Diagram below shows the components of the CWS Water Treatment Systems.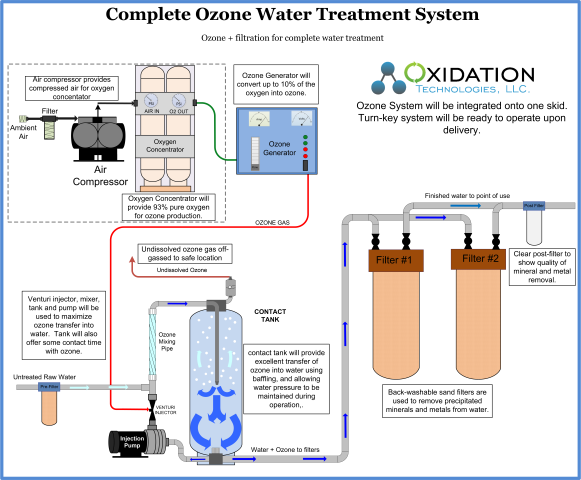 Common Applications

More Information

| | |
| --- | --- |
| Manufacturer | Oxidation Technologies |
| Call For Price | No |
| Ozone Output | 8 g/hr |
| Feed Gas | Oxygen |
| Nominal Gas Flow Rate | 4 LPM |
| Warranty | 1 Year |