Q45H/64 Ozone Transmitter
Dissolved Ozone Monitor, Measure ozone with ppb resolution or, up to 200 ppm. 4-user selectable ranges. 4-20 mA output and digital display to show dissolved ozone levels in water.
Online Monitoring & Control for Ozonation Systems:
The Q45H/64 Dissolved Ozone Meter is the ideal choice when accurate dissolved ozone levels are required to be displayed locally via an LCD display, or remotely via a 4-20 mA output. The Q45 system offers all the same sensor and range features as the Q46 system but without the integrated PID loop, relay control, or multiple 4-20 mA outputs.
There are 4 User Settable Ranges to choose from on Q45 Ozone Monitor:
- 0-200 ppb (1 ppb resolution)
- 0-2.000 ppm (0.001 ppm resolution)
- 0-20.00 ppm (0.01 ppm resolution)
- 0-200.0 ppm (0.1 ppm resolution)
All ranges are user settable with display panel on the Q45.
Sensor Type
Membrane-covered Polargraphic (flow type or submersible)
Range
0-200.0 PPB, 0-2.000 PPM, 0-20.00 PPM, 0-200.0 PPM (mg/l)
Response Time
90% in 60 seconds
Accuracy
+0.5% of selected range or 0.02 ppm
Repeatability
0.3% of selected range or 0.01 ppm
Sensitivity
0.05% of selected range
Analog Output

2-Wire unit: Single 4-20 mA DC, 450 ohms maximum

External DC: Two 0-2.5 VDC, 50K ohms minimum

Power Requirements

2-Wire unit: 17-30 VDC, 25 mA maximum

External DC: 5-17 VDC, 10 mA maximum

Output Isolation
600 V Galvanic isolation
Enclosure
NEMA 4X (IP-66) Polycarbonate, V-0 flammability
Display
4 digit, 0.75" numeric LCD with 12 digit second line, LED back light
Weight
1 lbs. (0.45 Kg)
Wetted Materials
PVC and Titanium
Sensor Cable
25 ft. (7.5 m) standard, 100 ft. (30 m) max. with junction box
Sample Temperature
0-50° C
Sample Pressure
0-50 PSIG (Pressure controlled to fixed value)
Temperature Sensor
Internal Pt100 RTD
Flowcell Materials
Acrylic with barb fittings
Sample Flowrate
7-15 GPH (0.5-1.0 LPM)
Sample Connections
1/4" I.D. hose barb inlet, 1/2" I.D. hose barb drain for standard flowcell
Certifications
CE marked to BS EN 61326-1:2006 Standard UL and CSA General Purpose
Size
4.4"H x 4.4"W x 3.5"D (111 x 111 x 90 mm)
Mounting Options
Wall or pipe mounting bracket supplied
Conduit Entry
Two PG-9 cord grips, 0.16-0.31" diameter cable
Ambient Temperature
Operating: -40° to + 60°C Storage: -40° to + 70°C
Ambient Humidity
0-95%, Non-condensing
Notes:
All systems are supplied with one package of membranes, one 120 cc bottle of electrolyte, and one spare parts kit containing 3 each of all o-rings and special screws.
Flowcell for Dissolved O3 / pH Combo system should be kept within 25' for monitor.
Q45H/64 Features:
- Wide Detection Ranges - User Settable ranges from 0-200 PPB up to 0-200 PPM provide maximum application flexibility.
- Loop Power or External DC Power Options - 2-wire loop powered unit standard (17 - 30 VDC), or external DC power (5-17 VDC)
- Analog Output - Isolated 4-20 mA output is standard
- Clear Display - Back-lit large LCD display provides clear visibility in any lighting conditions. A scrolling second line on the display provides additional information and programming prompts.
- pH Input Option- Enables monitor to measure both ozone and pH. One analog output may be assigned to the pH measurement, allowing remote monitoring and recording of both ozone pH simultaneously.
- Flexible Mounting - NEMA 4X (IP-66) enclosure is suitable for wall, pipe, or panel mounting.
Sensor & Flowcell Options:
Sealed Flowcell

The sealed flowcell allows for a controlled flow of water that can then be pushed under slight pressure to a drain location. Water flow must be well controlled externally to a flowrate of about 400 cc/min. Variable flowrate or pressure will cause unstable readings in the sealed flowcell. A special flow control element can be purchased ahead of this device. It is part number 55-0048.

Slight pressure, up to 2 PSI is acceptable on the cell to allow water to drain to a remote location through tubing.

Constant Head Flowcell

The dissolved ozone sensor will provide the best performance when used with the constant-head flowcell. When monitoring ozone levels below 0.5 ppm this method should always be used. Water pressure on the sensor and water flow are automatically controlled via the gravity flow chambers in the flowcell. Water flows of 400 - 500 cc/min will be used.

Low-Flow Flowcell

Low-flow sensor flowcell is used to reduce the amount of water used for ozone detection in water. This is a great option for applications where low water flow rates are required. Sample water flow rates of 150 – 300 cc/min can be used with the low-flow flowcell.

Passages in the low-flow flowcell are very small, therefore, clean water is required. Flow rate can be measured and controlled by a rotometer installed on the inlet side of the flowcell. Water flow should not vary more than 5 cc/min.

Flowcell Sensor

The Flowcell Sensor is used for each of the flowcell systems shown above. There are threads on the sensor body that allow the sensor to thread into the low-flow sensor flowcell and the sealed flowcell. The long smooth end will fit snugly in the constant-head flowcell and seal with o-ring seals integrated into the constant-head flowcell.

Submersion Sensor

For submersible applications we offer the submersion sensor. This sensor can be dropped into a tank of water for ozone measurements in water. This sensor could also be mounted into the side of a tank permanently.

Ensure no more than 2-3 PSI of water present is pressure on the sensor at any time. Water pressure must also be consistent for accurate measurements of ozone in water.
Calibration:
The Q45H Ozone Sensors must be calibrated on-site with the customers' water in process. As pressure and water flow will affect the calibration it is important to perform the calibration in the specific process the sensor will be used to measure ozone in.
Calibration frequency will depend upon ozone concentration in the water and water quality. Higher dissolved ozone levels will consume the electrolyte solution and membrane quality quicker than low levels of ozone. At ozone levels below 2.0 ppm we find the Q45H can maintain stable readings for 6-months at a time between calibrations. However, at ozone levels greater than 20 ppm calibration should be performed at least monthly and ozone levels greater than 100 ppm will require weekly or even daily calibration.
A bottle of electrolyte solution and a pack of 10 membranes are shipped with each Q45H Dissolved Ozone Meter.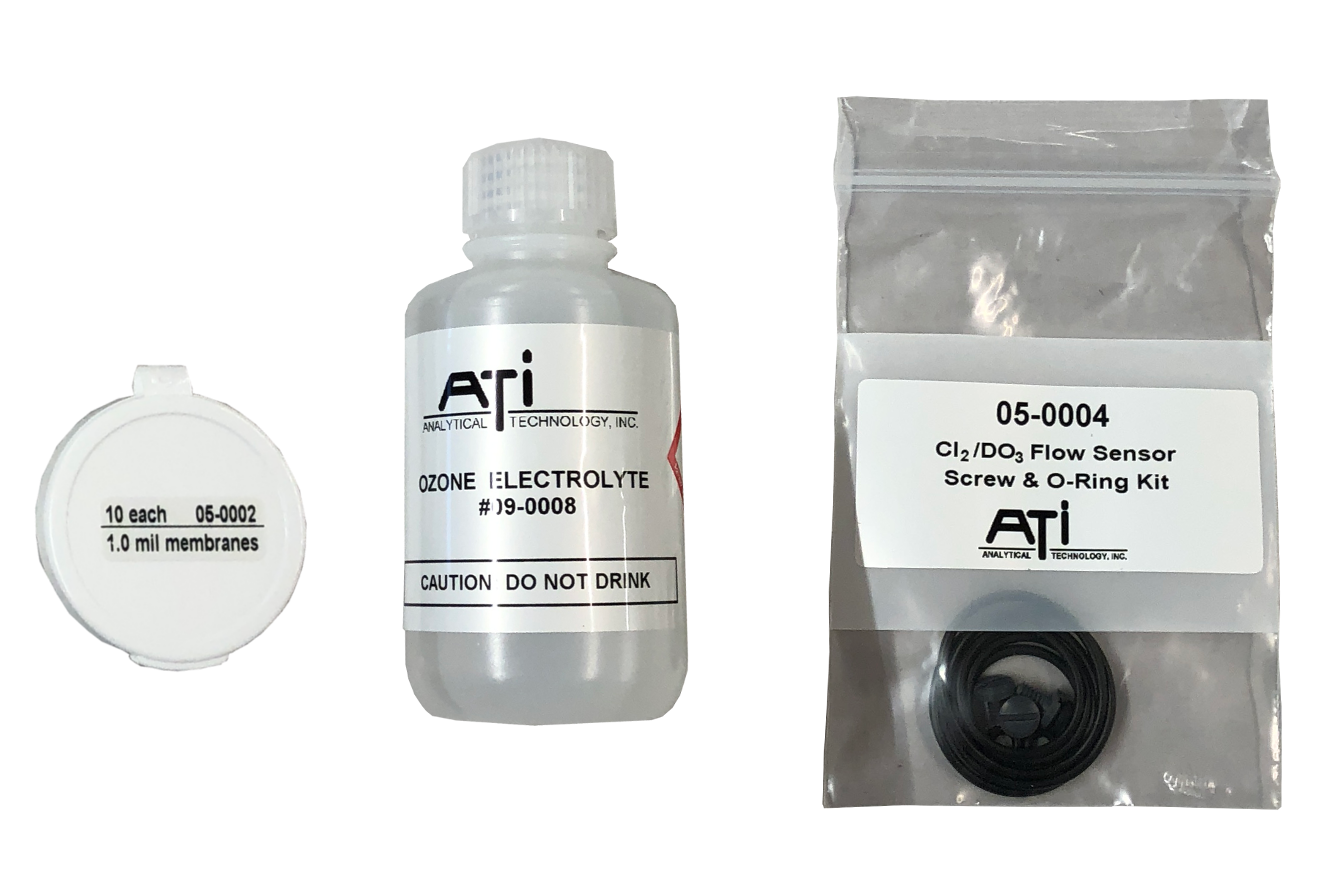 Calibration should be performed with a colorimetric dissolved ozone test kit. Below are a few kits we suggest and the potential applications for each.
I-2022 SAM Dissolved Ozone Meter
Best for low level detection of ozone, below 0.75 ppm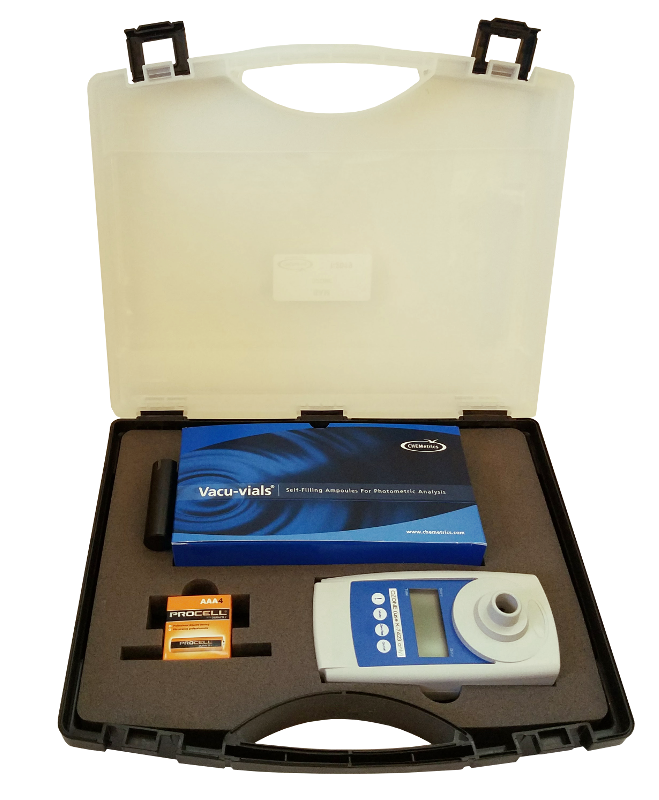 I-2019 SAM Dissolved Ozone Meter
Best for high level detection of ozone, direct read to 5.0 ppm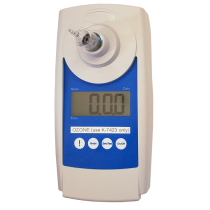 K-7404 Dissolved Ozone Kit
Low cost option to measure ozone from 0 - 3.0 ppm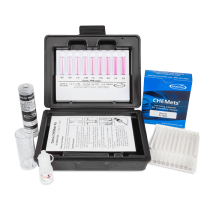 Interference-Free Dissolved Ozone Measurement
Q45H/64 monitors use a polarographic membrane sensor to accurately measure Ozone in water. The sensor operates much like a battery, generating current that is linearly proportional to the concentration of chlorine dioxide in solution. An Ozone permeable membrane isolates the sensor from the measured sample and insures that the measurement is interference free.
Two versions of the sensor are available, a sensor intended for installation in a flowcell and a sensor intended for submersion applications. Requiring minimal maintenance, sensors are easy to use and easy to maintain. An integral RTD provides temperature compensation and allows temperature to be displayed and transmitted from the monitor.
Sensor Stabilization
Ozone sensors require 2 to 4 hours of stabilization time when first installed or after membrane change. ATI offers a battery powered polarizer that can be used to stabilize a spare sensor so it is ready to run within a few minutes of installation. Polarizers simply plug into the sensor connector and require no adjustments.
Sensor Polarizer can be added to the Q45H in the options section above. Separate polarizers are available for the submersion and flowcell style sensors.
Downloads:
More Information

| | |
| --- | --- |
| Manufacturer | ATI |
| Call For Price | No |
| Gas | Ozone (O3) |
| 4-20 mA Output | Yes |
| Relays | 2 Alarm Relays + 2 Control Relays |
| Voltage Output | None |
| Power Requirements | 12-30 VDC, 120 VAC or 220 VAC 50/60 hz. please specify desired voltage when ordering |
| Datalogging | No |
| Warranty | 1 Year |
We found other products you might like!