Aeroqual Series 200 Monitor (S-200) with Ozone Sensor Head
The Aeroqual Series 200 Gas Monitor with Ozone Sensor Head is their entry-level portable. The Series 200 comes equipped with any one of the sensor heads given in the list below, and options include a Temperature and Relative Humidity add-on. Additional Sensor heads can be purchased to expand the functionality of your monitor for other ranges or gases (see the "Replacement Sensors" link above).
The Aeroqual Series 200 Monitor with Sensor Head is a portable gas monitor that is capable of measuring a wide-range of gases, depending on which sensor head you choose. It can be purchased with any of the sensor heads found in the drop-down list above, and additional sensor heads can be purchased to expand the functionality of your monitor to other ranges or to entirely different gases.
The Aeroqual Series 200 features an easy to read, digital display capable of Min, Max, Avg readings, field-replaceable sensor heads and a rechargeable battery that is also field-replaceable (users can purchase additional batteries to use as spares or as replacements.)
How to Order:
Step-1: Choose your gas sensor from the Sensor Head drop down box. For more information on gas sensors see our Replacement Sensors page.
Step-2: Choose your options and required related products. Note: the Aeroqual sensors are extremely versatile and customizable. Should you have questions, feel free to call or e-mail.
Step-3: Add to cart, the monitor and options necessary. When in the cart you can continue shopping to add additional Sensors to your order.
The Series 200 monitor is a cost-effective portable monitor that can accurately measure a range of gases commonly found in indoor or industrial environments. It is an entry level monitor designed for carrying out spot checks of problem areas, personal exposure monitoring, and identifying leaks.
The display can be configured to show the real-time gas concentrations or to display the minimum, maximum and average readings. Users can also carry out a zero baseline adjustment which ensures more accurate measurements in between calibrations.
All sensors feature active fan-driven sampling and come loaded with advanced signal processing firmware.
The monitor can be fitted with any of the sensor heads listed on the Sensors tab. Because the calibration data is stored in the sensor head, the process of swapping sensor heads is extremely quick and can be done by anyone anywhere. It also makes recalibration and servicing easy – simply return the sensor head to the factory or purchase a new one.
A lithium battery allows for a full day in the field and quickly recharges when the battery has been depleted.
Benefits:
-Fits comfortable in the hand
-One monitor to measure many toxic gasses
-Compatible with 30 different sensors
-Long life lithium battery
-Large display gives min, max and average readings on the display
Applications:
-Source and leak detection
-Checking indoor air pollution "hot spots"
-Health and safety monitoring, personal exposure monitoring
-Indoor air quality
What's Included:
-Monitor base
-LCD digital display
-Lithium battery and charger
-Configurable Min, Max, Average readings
-Zero Calibration capability
Calibration:
For those wanting to recalibrate on site the Series 200 allows adjustment of zero and span. Together with the R42 Calibration Accessory and an ozone generator this function allows the sensor head to be fully recalibrated without having to return it to the factory. Alternatively the sensor head can be returned to Aeroqual for a factory calibration which includes a renewed calibration certificate. The sensor should be calibrated annually, and then replaced when the sensor fails. (Sensor Life: approx. 2 years)
Every sensor head we send out comes with a calibration certificate. Click here to see a visual explanation of the contents of your calibration certificate.
Interchangeable Sensors:
Sensor heads for the Series-200 are interchangeable, allowing you to detect many gasses with one device. Using the optional carry cases you can keep your Series-200, optional accessories, and spare sensor heads all in one safe, portable case.
Each sensor head will fit each handheld device. Simply pull the sensor out and put a different sensor in its place. The S-200 will recognize the sensor and display the proper range and gas on the screen.

Replacement (or additional) sensor heads are available for all of the gases listed above. You can find their details and pricing on our Replacement Sensors page!
Note: sensors for the optional enclosure, R13, outdoor enclosure, or environmental enclosure are all calibrated specifically for an enclosure. Please specify when ordering if you are using sensor in an enclosure.
Environmental or Outdoor Enclosures:
The Series-200 can be ordered for outdoor, or harsh duty uses with a variety of options.
Note: When using an enclosure the sensor is calibrated specifically for use inside that enclosure. Portable capabilities of the device will be lost. However additional heads calibrated for portable use are available. Keep this in mind when ordering.
The R-13 Remote Sensor adapter will allow the gas sensor to be placed in a remote area while the base unit is in a safe, protected environment. Perfect for applications where outdoor gas measurements are desired and indoor data logging and recording is possible. The R-13 is capable of measuring gasses accurately in slightly windy and dusty environments. Some protection from sun, and rain will be required with the R-13.
The R-13 Adapter can be purchased as a separate accessory when you purchase the Series-200.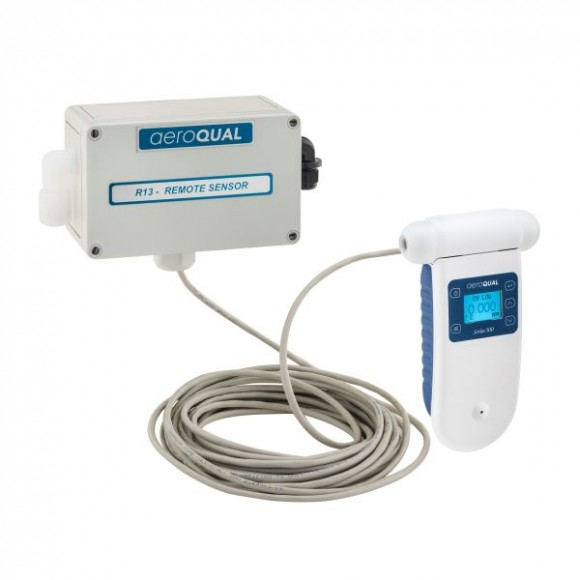 The Industrial Enclosure will allow the Series-200 to be placed in similar environments as the R-13 sensor head adapter. With the clear cover gas readings from the Series-200 will still be possible. In wet, or dusty environments this enclosure is the perfect method to implement the features of the Series-200 into your facility. This is great for food processing applications where ozone or other gasses are used in wet and wash-down environments.
The Environmental Enclosure can be added to your order of the Series-200. We will configure and install the Series-200 and sensor heads in this enclosure prior to shipping.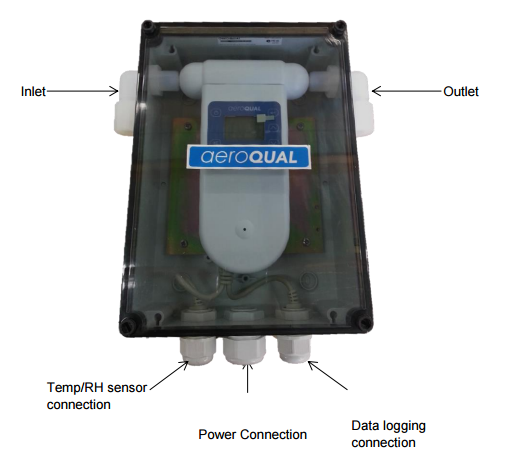 Battery Replacement:
The Series-200 ships with a rechargeable and replacement battery. Extra batteries can be purchased to keep as a spare with your Series-200. This will allow long term field measurements. See image below for battery location and replacement.

Compare the Series 200, 300, 500 monitors:
| | | | |
| --- | --- | --- | --- |
| Compare the Aeroqual handheld devices | | | |
| Interchangeable sensor head | Yes | Yes | Yes |
| Digital LCD Display | Yes | Yes | Yes |
| Min, Max, Average readings on screen | Yes | Yes | Yes |
| Field Replaceable Battery | Yes | Yes | Yes |
| Remote Sensor Capability | Yes | Yes | Yes |
| Temp and HR Sensor optional | Yes | Yes | Yes |
| External Control Outputs | No | Yes | Yes |
| Audible Alarm | No | Yes | Yes |
| High and Low Alarms | No | Yes | Yes |
| 0-5 VDC Analog output | No | Yes | Yes |
| Zero Calibration capability | Yes | Yes | Yes |
| Span Calibration capability | No | Yes | Yes |
| Internal Data Logging Capability | No | No | Yes |
| PC connection cables and capability | No | No | Yes |
View a brochure with specifications on the Series-200, 300, and 500.
Sensor Specifications for Handheld Aeroqual Series-200, 300, and 500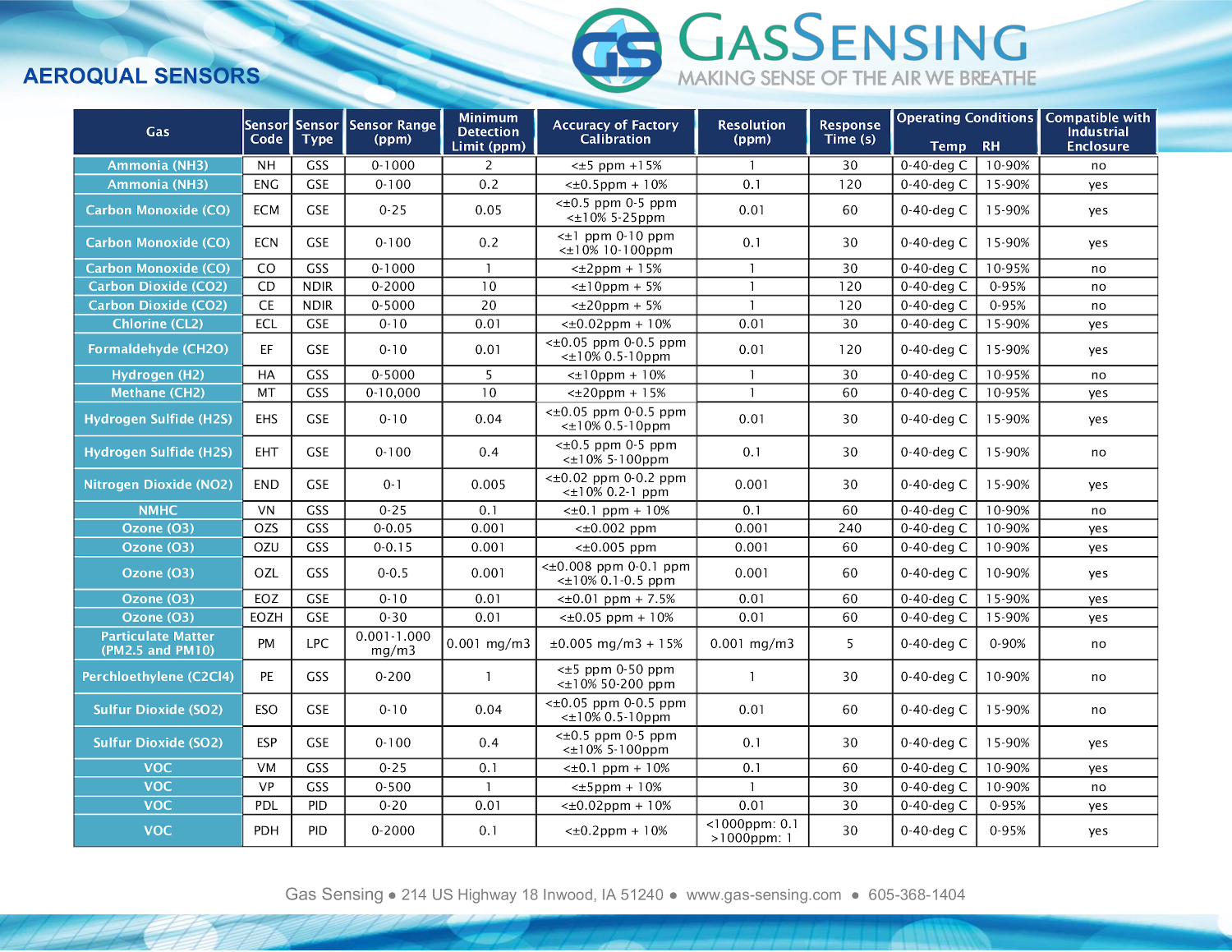 Click on image for full size image
-Full list of technical information and specifications for all Aeroqual sensors
Downloads:
-Portable Air Quality Monitor Information
Links to more info:
-Tech info and Specifications on each available Gas Sensor
Video unboxing the S-200 Ozone Monitor:
Video Showing the Min, Max, Average function:
More Information
Manufacturer
Aeroqual
Rental Period
Weekly
Call For Price
No
Gas
Ammonia (NH3), Carbon Dioxide (CO2), Carbon Monoxide (CO), Chlorine (Cl2), Dual - CO, CO2, Formaldehyde (CH2O), Hydrogen (H2), Hydrogen Sulfide (H2S), Methane (CH4), Nitrogen Dioxide (NO2), NMHC, Ozone (O3), Perc (C2Cl4), Sulfur Dioxide (SO2), Triple, CO, CO2, VOC, VOC
4-20 mA Output
No
Relays
1 Alarm Relay + 1 Control Relay
Field Replaceable Sensor
Yes
Min, Max, Avg
Yes
Voltage Output
0-5 V
Power Requirements
12V DC via supplied adapter
Datalogging
Yes
Rechargeable
Yes
Field Replaceable Battery
Yes
Warranty
1 Year
Audible Alarm
Yes
Calibration
Annually
Sensor Life
2 Years
Range
Gas Dependent
Unit Features

-Backlit LCD Display

-Min., Max, Avg., Logged

-Field Replaceable Sensor

Sensor Range

0-0.05 ppm

0-0.15 ppm

0-0.5 ppm

0-10 ppm

0-30 ppm

Resolution
Gas Dependent
Sensor Range

Gas Dependent
We found other products you might like!