The ODC-1 Ozone Disinfection Chamber is a turnkey ozone generator that supplies, measures, and controls ozone gas into an existing room or chamber.
Harness the power of ozone gas to disinfect materials without any chemical residual left over.
Most commonly used for:
Personal Protective Equipment treatment.
Details
The ODC-1 Ozone Disinfection Chamber is a turnkey ozone generator that supplies, measures, and cotrols ozone gas into an existing room or chamber.
This system sources ozone to an existing sealed off room or chamber, all while measuring and controlling the ozone level.
The ODC-1 has a very simple touch screen interface allowing users to enter Ozone and Exposure Time set points.
Each exposure test can record the data and be exported to a computer.
| | |
| --- | --- |
| Specifications | |
| Ozone Measurement Range | 0 -1,000 PPM |
| Ozone Measurement Resolution | 0.01 PPM |
| Ozone Measurement Principle | UV absorption |
| Ozone Measurement Accuracy | +/- 2% |
| Ozone Generation | Corona Discharge |
| Voltage | 120 Vac 50/60 Hz (8 amps) |
| Mounting | Wall Mount |
Features
Automated Operation
Completely automated operation - choose your desired ozone level and treatment time, then press START. Touch screen user interface will display current and past operation during operation; however, ho human interaction is required during the process.
Ozone Control
Ozone levels are automatically maintained using PID control in the control system.
Infinite Ozone Range
Any ozone level desired can be selected with the touch screen use interface. Enter any level of ozone from 0 - 1,000 PPM.
Precise Ozone Measurement
Ozone levels in the room or chamber are measured by a UV based ozone analyzer. Ozone detection accuracy of 2% is standard with a resolution of 1 ppb. Ozone levels are displayed on the user interface and logged for later review. The ozone measurement obtained by the UV ozone analyzer is used by the PLC control system to increase or decrease ozone levels in the chamber by altering power output to the integrated ozone generator.
Integrated Data Logging
Data logging is a standard part of this system. Trend graphs will be available on the color display to visually determine past ozone levels and temperatures. Data can also be downloaded to your PC and saved as a .CSV file for reporting purposes. All alarm conditions and potential faults are also logged on the system
Remote Monitoring
Optional remote monitoring allows the system to be connected to the internet and controlled remotely from any location in the world. The complete color display is available on your PC, tablet, or even smartphone. The same operations performed while in front of the machine can be performed remotely. All logged data can also be viewed and downloaded remotely if desired.
Ozone Destruct Cycle
When pre-set testing time is complete the ODC-1 Ozone Disinfection Chamber automatically enters an ozone destruct cycle. In this cycle, the ozone inside the room or chamber is safely catalyzed back to oxygen with an ozone destruct device. The user interface display will provide an ambient ozone level inside the chamber and alert when it is safe to enter the chamber.
Minimal Maintenance
Maintenance on the ODC-1 is very minimal. No major replacement parts are required. Regular filter changes, and monitor calibrations are required annually.
Made in the USA
The ODC-1 is assembled completely in the USA. The Ozone Generator, UV ozone analyzer, and control system are all built in the USA with the highest manufacturing standards. Service and support is available from our service reps and distribution network.
Operation
Operation of the ODC-1 Ozone Disinfection Chamber is simple and automated. Place the objects to be treated inside the room or chamber, then shut the door. On the touch screen user interface, choose the ozone level required, set the desired ozone treatment time, and press START. The system will automatically generate and maintain the proper ambient ozone level for the required time interval. When the treatment time is finished, an ozone destruct cycle will begin to safely catalyze all ozone back to oxygen quickly.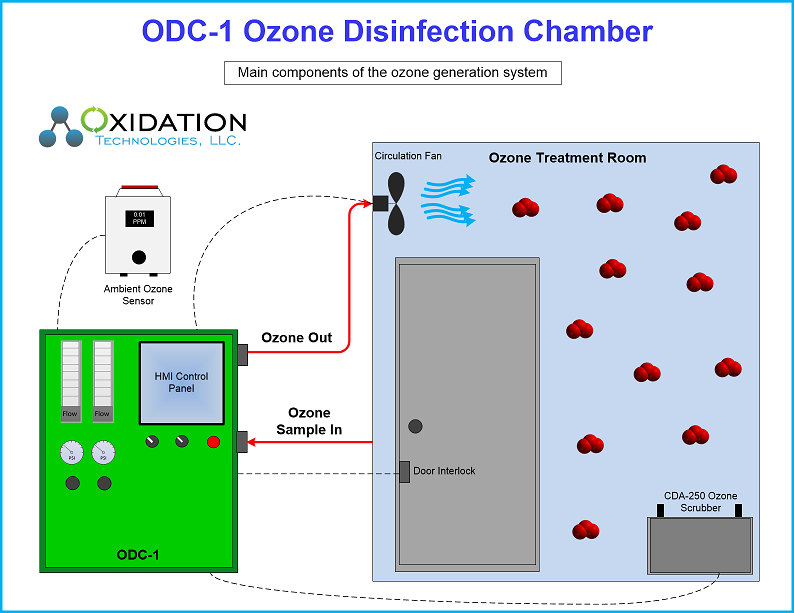 Treatment Room or Chamber Considerations
Safety - Ozone gas is harmful to breathe, door interlocks wired to the ODC-1 is ideal. Ambient ozone alarms outside of the treatment roon should be implemented.
Volume - The room or chamnber volume is an important consideration when using with the ODC-1. The larger the room, the more ozone is required. Consult with our technical sales reps to determine how much ozone is required for the treatment space.
Air Movement - The room should have sufficient air movement inside to ensure ozone is displaced properly throught the room.
Air Sealed - The treatment room should be completly sealed up to avoid ozone leaks.
Compatible Materials - The room should be constructed of materials that will not degrade quickly with ozone.
Applications
Personal Protective Equipment treatment

Odor removal / Restoration
More Information

| | |
| --- | --- |
| Manufacturer | Oxidation Technologies |
| Call For Price | No |
| Material of construction | Stainless Steel |
| Power Requirements | 120 VAC 60 Hz or 220 VAC 50 Hz |
| Mobile | Fixed |
| Datalogging | Yes |
| Feed Gas | Oxygen |
| Gas Connections | 1/4" Compression Fitting |
| Temperature Control | None |
| Ozone Range | 0-1000 PPM |
We found other products you might like!