OGS-20 Oxygen Generation system is a high turnkey oxygen generator providing 20 SCFH of oxygen at up to 90 PSI of pressure
The OGS-20 oxygen generator is a turnkey oxygen production and delivery system capable of providing oxygen pressures up to 90 PSI. Designed for constant oxygen flows of 20 SCFH, but can provide higher oxygen flows for short periods of time.
Available in either a horizontal or vertical configuration, the OGS-20 will fit conveniently in most spaces.
Features:
Automated Operation:
The oxygen storage tank is maintained at preset pressures to provide constant oxygen flow and pressure for your application. As the oxygen tank pressure drops below the low limit the system will automatically turn ON and replenish oxygen supply. As the oxygen tank pressure rises above the high limit the system will automatically turn OFF. All you need to do is use oxygen, and the system will turn ON when necessary. No human oversight or operation is ever necessary.
Dependable:
OGS-20 units are built to provide thousands of hours of continuous, reliable service. Oil-less compressors are used that require no periodic maintenance other than a rebuild after 8,000 hours of use. Zeolite sieve beds are sealed and require no maintenance for at least 2-years of operation.
Durable
The OGS-20 is built to last. With an oxygen cleaned steel tank, steel enclosure, and all oxygen cleaned brass fittings these components are built to last. Every part on the OGS-20 is repairable and replaceable to ensure you will keep this unit in operation for many years beyond the first maintenance interval.
Made in the USA
Every PLC-controlled generator is assembled and tested in our North Tonawanda, NY production facility.
Horizontal or Vertical Configuration

The OGS-20 is available with either a horizontal or vertical oxygen storage tank. Either configuration is available at no extra charge, you can choose what configuration best fits your application and space available.

Horizontal Set-up
40" W x 17" D x 46" H
Weight 195 lb (approx.)
Vertical Set-up
24" W x 19" D x 69" H
Weight 195 lb (approx.)
What is Pressure Swing Adsorption (PSA)
Clean, dry compressed air is fed into the first molecular sieve bed. Nitrogen is adsorbed, while oxygen is allowed to flow through. When the sieve in the first bed becomes full of nitrogen, the airflow is then directed into the second bed. As the second bed separates the oxygen from the nitrogen, the first bed vents its nitrogen into the atmosphere. Compressed air is once again fed into the first bed, and the process is repeated continuously. A constant flow of oxygen is reliably produced.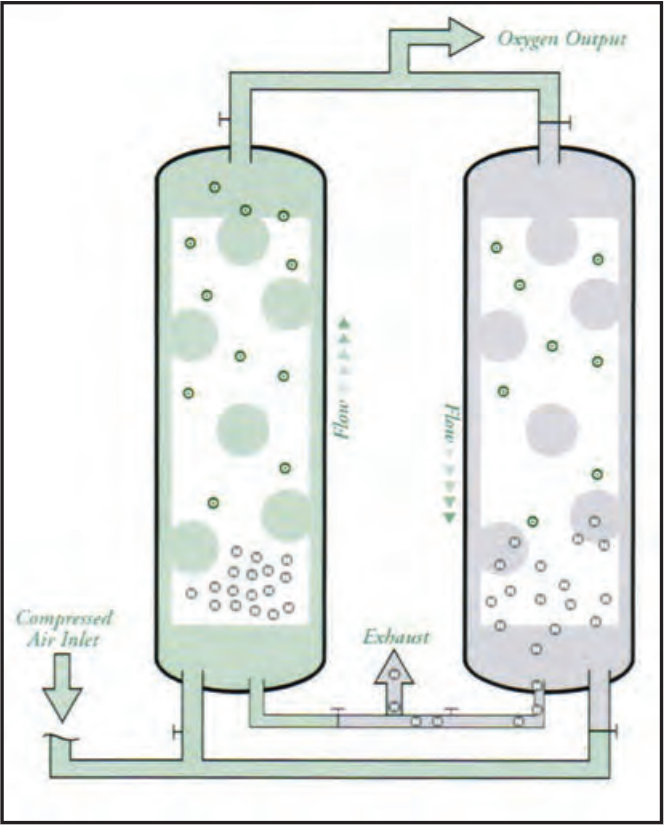 The OGS-20 Oxygen Concentrator requires compressed air for operation. Typical installation of entire system is outlined below.
-Integrated air compressor will supply compressed air for system
-Particulate filter will remove most dust, and oil from air stream
-Refrigerant air dryer is used to remote moisture from air and provide 40-deg F dew point
-Coalescing filter will remove any final oil mist and moisture from air flow
-Air storage tank is necessary to provide sufficient air storage for oxygen generator purging
-Oxygen Generator will purge nitrogen from air and capture oxygen
-Oxygen storage tank will store oxygen and provide consistent oxygen flow and pressure to point of use
-We also suggest installing an oxygen filter downstream of the oxygen storage tank to filter any zeolite dust from the oxygen concentrator
Downloads:
OGS-20 Drawing (vertical configuration)
OGS-20 Drawing (horizontal configuration)
Oxygen Purity Switch:
Optional oxygen purity switch can be added to the oxygen concentrator as an alarm. Simple oxygen purity monitoring. Provides relay contacts to alert of potential problems in your oxygen generation system
-Powered and wired to oxygen generator for automated operation
-Can be mounted to front panel of oxygen generator or remote mounted
-Oxygen plumbed through unit, no oxygen losses

-Reliable ultrasonic sensor technology
-Dual DPDT relay outputs, alarms triggered at > 85% O2 and > 75% O2 respectively.
-1/4″ FPT gas connections. (custom gas connections available on request)
-100 psi maximum operating pressure.
More Information

| | |
| --- | --- |
| Manufacturer | OGSI |
| Call For Price | No |
| Listing Description | 20 SCFH @ 90 PSI |
| Oxygen Production | 20 SCFH |
| Internal Compressor | Yes |
| O2 Delivery PSI | 45+ PSI |
| Nominal Gas Flow Rate | 20 SCFH |
| Operating Pressure | 1-90 PSI |
| Max Pressure | 100 PSI |
| Gas Connections | 1/4" Female NPT connection (barbed fitting is supplied) |
| Dimensions (LxWxH) | 17" x 40" x 46" tall |
| Operational RH Range | 0-85% humidity |
| Operational Temperature Range | 35 - 95-deg F |
| Power Requirements | 120 VAC, 60 Hz, 1-phase, 6amp (220 VAC optional) |
| Lead Time | 1-week |
| Warranty | 1 Year |
| Country of Origin | USA |
| Description | Built-in compressor, designed for higher pressure oxygen applications |