RAP-2 Alarm Panel provides a visual and audible alarm to alert that ozone levels are unsafe. The RAP-2 can be placed in a separate room than the primary gas sensor, or in the same room for an extremely visible alarm.
The RAP-2 Remote Alarm Panel is for alarming when signals from gas monitors reach preset limits or set-points. The alarms are a red strobe light and a loud audible alarm.
The RAP-2 also outputs its input signal in 4-20 mA form for building automation systems and other applications requiring long signal paths. The RAP-2 is powered by 14-30 VAC or DC. This remote alarm panel was designed for use with the Eco Sensors C-21, C-30ZX, EE-2, and OS-4. However, it can be used with most any gas monitor.
The RAP-2 is extremely versatile offering many features that can be useful for a gas monitor control system.
The RAP-2 can be used for the following:
-Remote visual alarm (user settable alarm point)
-Remote audible alarm (user settable alarm point)
-Convert voltage input 0-2 VDC to 4-20 mA output
-Provide fail safe dry relay contacts for external alarm (user settable alarm point)
-Power monitor 14 - 30 VDC from the RAP-2
-Can operate from 14-30 VDC or 14-30 VAC
Connections of the RAP-2 Shown below: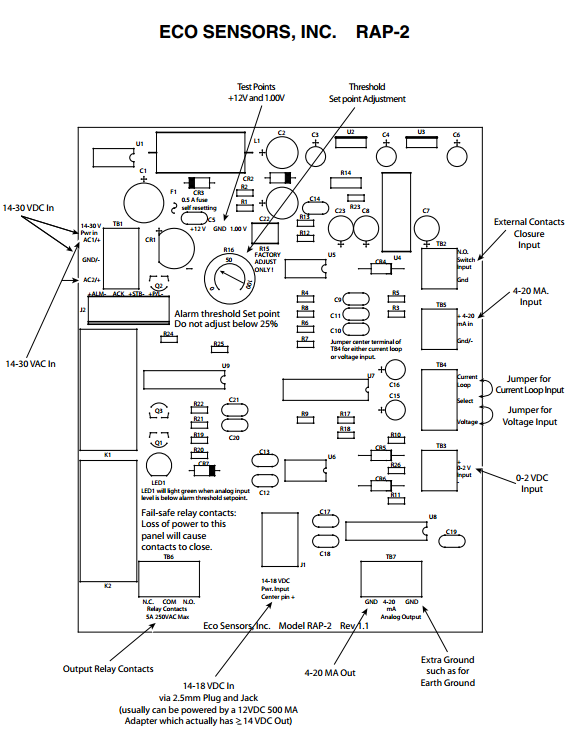 Internal view of the RAP-2 Shown below: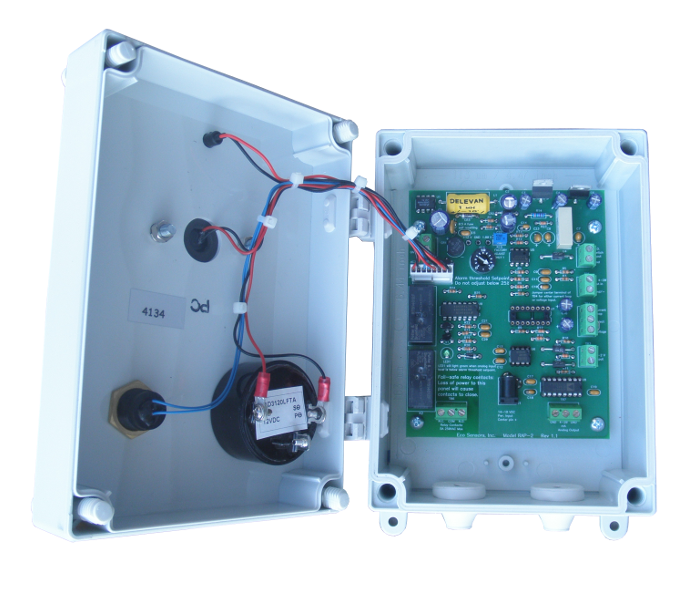 Typical Applications:
-Swimming pools.
-Laundries using ozone.
-Large noisy factory environments.
-Casinos and other ozonated public areas.
-Agricultural storage areas.
-Farms.
-Food processing plants.
Features:
-Rugged polycarbonate enclosure with hinged door.
-Accepts input of 0-2 VDC, 4-20 mA and relay closure.
-Loud pulsating audio alarm with silencing button.
-Very bright red strobe light.
-4-20 mA signal and relay outputs.
-Alarm set-point adjustment.
-Uses easily available 14-30 VAC or DC power.
-Signals from instruments can be transmitted by inexpensive twisted pair.
-125 × 175 × 77 mm (5 × 7 × 3 in).
More Information

| | |
| --- | --- |
| Manufacturer | Eco Sensors |
| Call For Price | No |
| Warranty | 1 Year |
| Monitor Type | C-21, C-30ZX, F12, OS-4, OS-6, SM-70 |
We found other products you might like!