NEW Electrochemical sensor, 0-50ppm range, RS-232 transmitting module, 10% or better accuracy, humidity compensated, eliminates most VOC interferences, pre-calibrated field replaceable sensor.
The SM-7 Sensor can be used as a stand-alone oem solution with RS-232 communications, or used as the sensor module with the OS-4 or OS-6 Ozone Monitors.
The SM-7 boasts the SM-EC Electrochemical sensor with a range of 0-20ppm or 0-50 ppm. This sensor will be more accurate, and work better in high humidity areas than the standard SM-X sensor used in the SM-6 Sensor Module. This is a great option for food storage and other industrial applications where cross-sensitivity to ozone is a concern from other gasses in the area.
For calibrating your SM-7, you should replace the sensor annually.
Typical Applications:
-Laundries using ozone.
-Large noisy factory environments.
-Casinos and other ozonated public areas.
-Agricultural storage areas.
-Farms.
-Food processing plants.
Features:
-25ppb sensitivity with 5ppb resolution.
-Wide operating range (.02-50ppm).
-Electrochemical Sensor
-Wide detection range
-Low Power
-Low Maintenance
-Uses easily available 8-24 VDC power.
-Small enough to mount almost anywhere.
The SM-EC is an electrochemical ozone sensor module for use with our OS-6 digital instrument. This new technology from Eco Sensors provides accurate ppb-level detection and resolution over a wide (.2-50 ppm) concentration range. The sensor module is compensated for temperature and humidity effects, with little to no cross sensitivity to VOC's. The SM-EC makes our digital instruments more accurate at both ppb and high ppm levels of ozone, enabling improved monitoring and control for our users.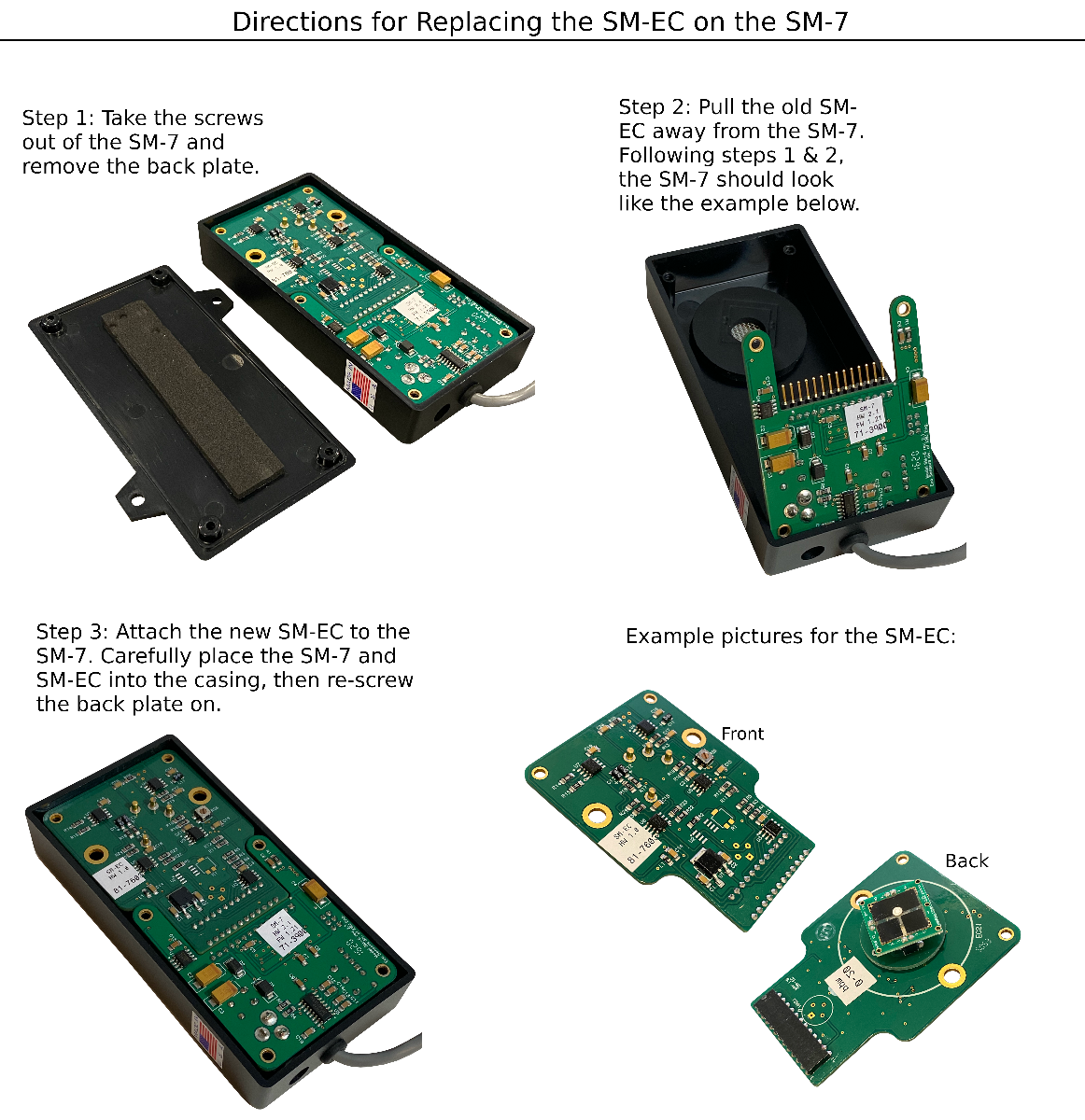 Links:
EcoSensors Calibration information
General Calibration Information
More Information
Manufacturer
Eco Sensors
Call For Price
No
Gas
Ozone (O3)
Resolution
0.01 ppm
Integrated Relays
No
Response Time
1 second
Sensor type
Electrochemical
Sampling Method
Diffusion
Alarms
no
Operational Temperature Range
35 - 100 deg F
Operational RH Range
0 - 85% RH
Power Requirements
12 VDC
Field Replaceable Battery
No
Warranty
1 Year
Audible Alarm
No
Calibration
Replace with Pre-Calibrated Sensor Annually
Sensor Life
1 Year
Range
0-50 ppm
Unit Features

-RS-232 Transmitter

-Field Replaceable Sensor

Sensor Range

0-20 ppm

0-50 ppm

Sensor Range

0-20 ppm (O3)

0-50 ppm (O3)
We found other products you might like!