Oxidation Technologies builds a wide variety of ozone injection systems. However, we also customize our wide range of systems with standard optional equipment we offer on any one of our systems. Below are a few examples of custom systems we have provided recently.
OST-40 Ozone Injection System with options:
Dissolved ozone meter 0-10 PPM
ORP monitor
Water flow switch – turn system ON/OFF based on water flow
Ozone off-gas scrubber
High ambient temp alarm
Internal air compressor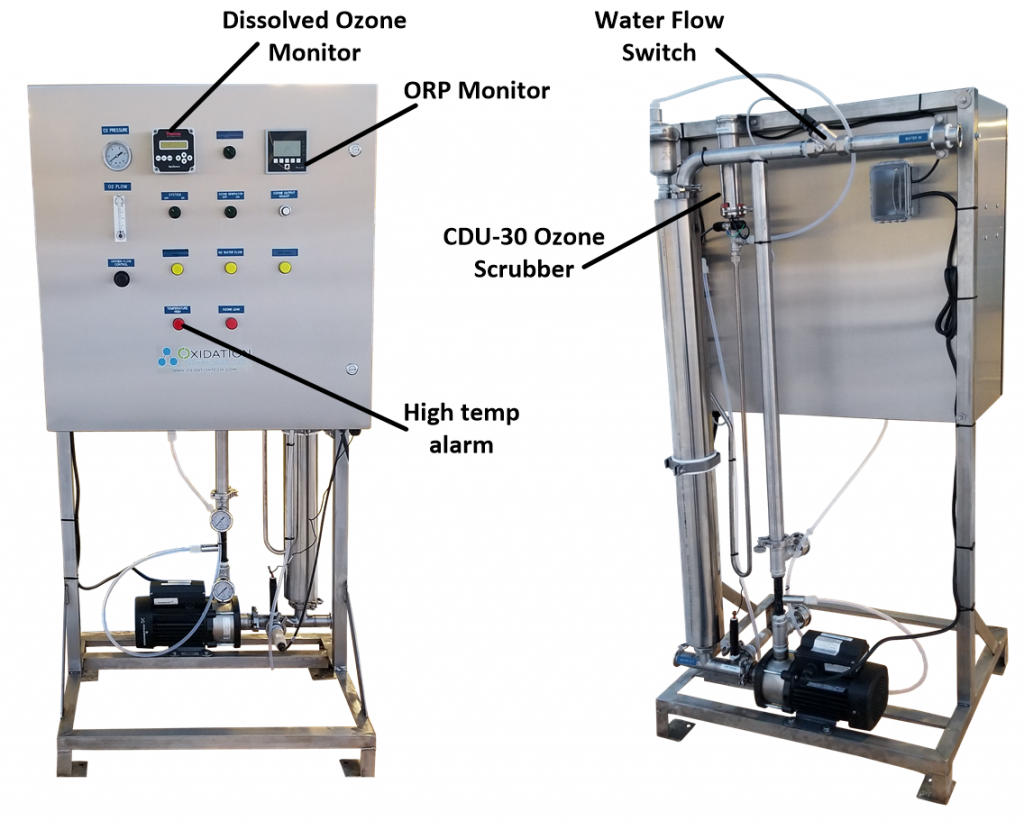 Ozone levels in water can be controlled with either the Dissolved ozone meter, or the ORP meter, or both. The ozone generator will turn OFF when high limit ozone in water, or ORP limits are reached.
An internal air compressor is used to provide compressed air to the system, only electrical power is required for this system. Due to the internal compressor and potential environment, the high temp alarm was also added.
OST-20 with Ozone gas control options:
Dissolved ozone meter 0-10 ppm
Ozone gas output valves x10
HMI touchscreen for ozone level and timer controls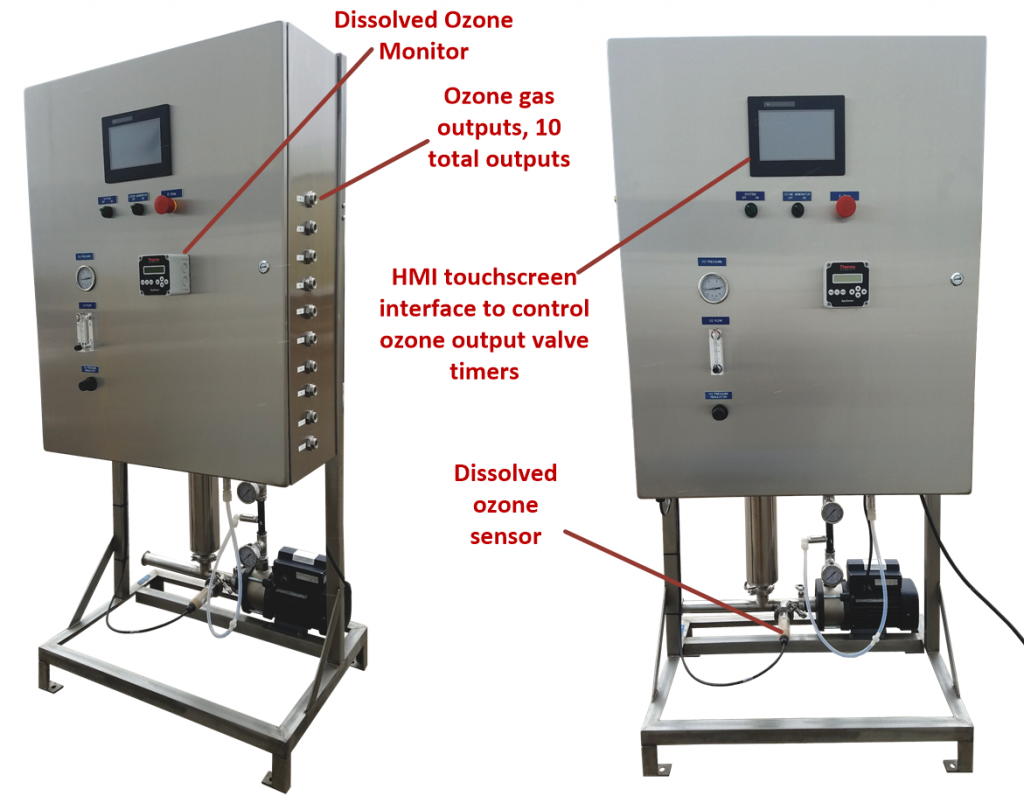 This system features ten ozone output valves to distribute ozone to 10 separate cold storage rooms. Ozone gas levels are measured and controlled with remote ozone meters, ozone levels are displayed on the HMI panel. Both controlled ambient ozone levels, and timers are controlled on the HMI panel. This data can all be viewed remotely from any location via an internet connection.
OST-30 Ozone System with two injection systems:
Second ozone injection loop for 2 water streams
Larger 30-gallon ozone contact tank for water disinfection
Dissolved ozone meter 0-10 ppm for surface sanitation loop
ORP meter for water disinfection loop
CDU-30 ozone scrubber
High ambient temp alarm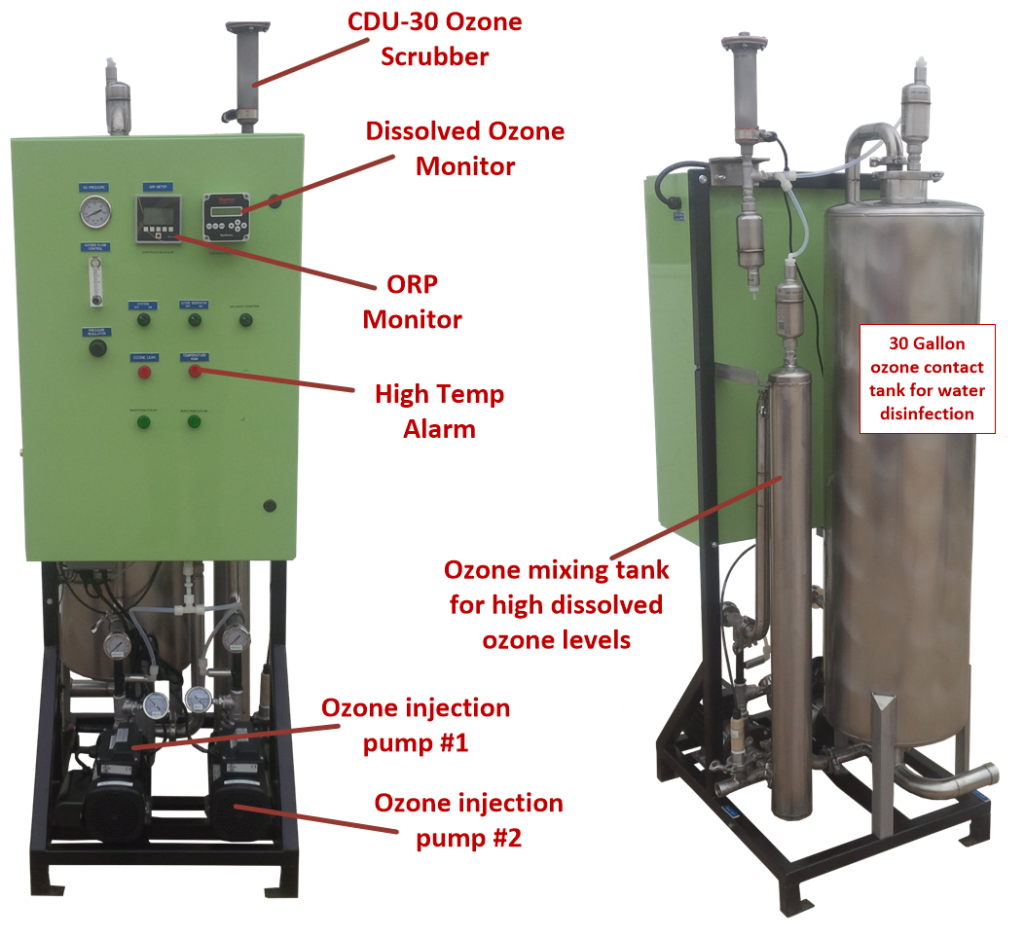 One ozone injection system with two separate injection loops.
Injection loop #1 features a 30 gallon ozone contact tank and an ORP monitor for water disinfection. An ORP level of 800 or higher is maintained in this tank to provide disinfection in up to 30 GPM of water.
Injection loop #2 features a standard ozone mixing tank with a high range dissolved ozone meter to provide up to 20 GPM of water with ozone levels of 2.0 – 3.0 for surface sanitation applications.
Additional features of this system include a CDU-30 ozone scrubber for ozone off-gas and a high-temperature alarm. A UV-light system was also provided with this system to be used with the water disinfection ozone injection loop. This removes ozone from water and provides disinfected water with no ozone residual for a sensitive downstream process.
OST-60 Ozone System with 50 gallon ozone contat tank:
50-gallon ozone contact tank
Dissolved ozone meter 0-10 ppm
Oxygen purity meter
Water flow switch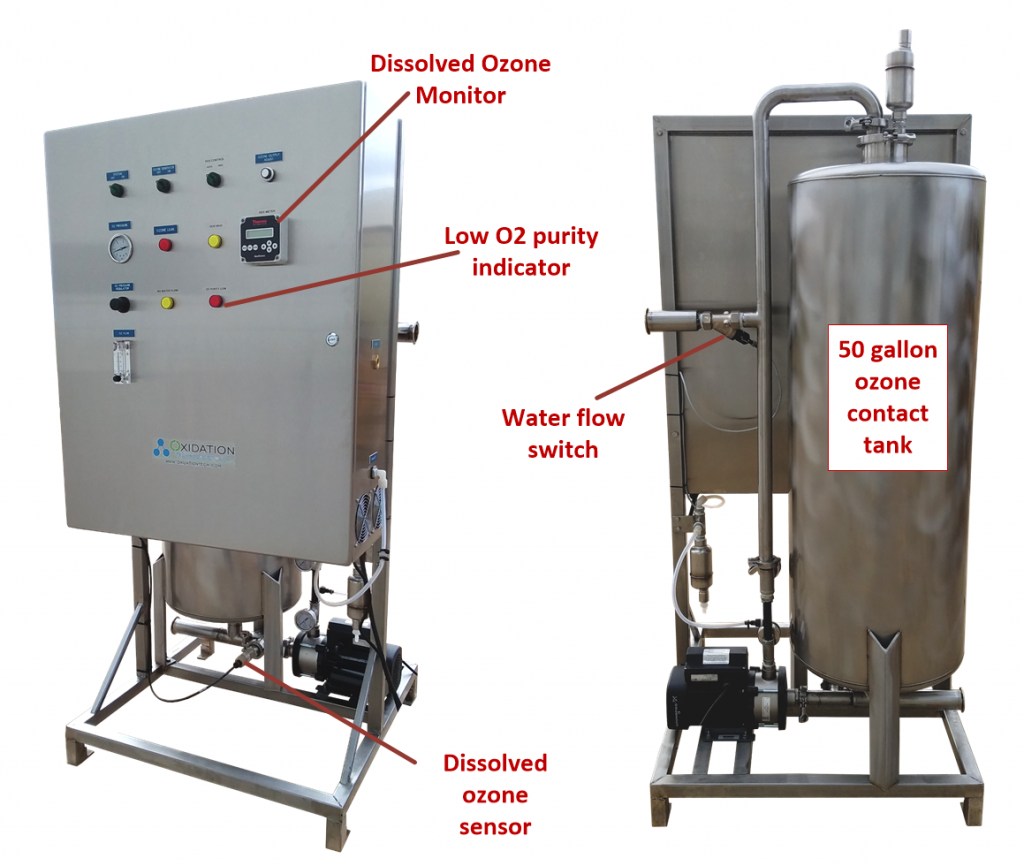 This system features a 50 gallon ozone contact tank to provide additional contact time with ozone and water. A dissolved ozone meter verifies dissolved ozone levels and offers control. The system can be turned ON/OFF with a water flow switch.
An oxygen purity meter is built into this system. This meter provides a digital reading of actual oxygen purity inside the cabinet. A low O2 purity indicator is provided on the enclosure as an alarm.
OST-100 Ozone System options:
50 gallon ozone contact tank
Low-range dissolved ozone meter
ORP monitor
Sanitary ozone transfer pump with VFD and power disconnect
Water flow meter
HMI touchscreen for automated system operation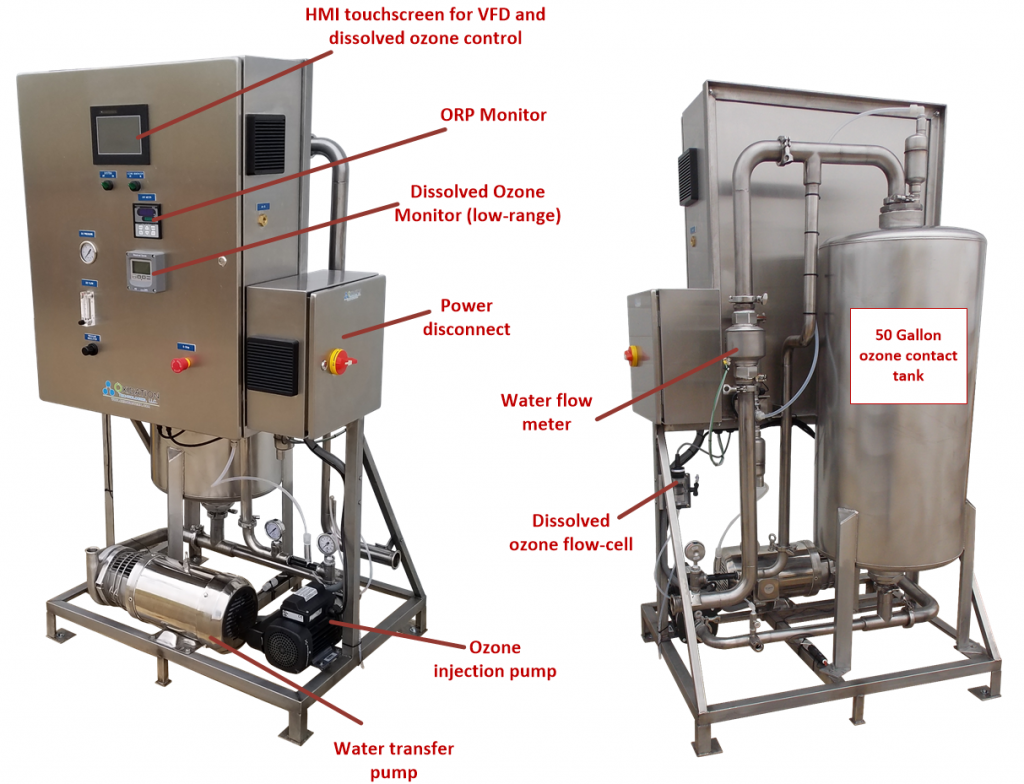 This custom system was built to specific requirements by this customer. A 50 gallon ozone contact tank was provided on the system. A large ozone transfer pump with a sanitary impeller was provided with a VFD to achieve a specific water flow-rate through the system. This water flow rate was measured with the water flow meter. Dissolved ozone and ORP are measured and controlled on this system based on water flow-rate and customers' needs. All this control and set-up is performed with the touchscreen HMI panel built onto this system.