Ozone Therapy in India successfully treats patients with TB.  

Great

news story out about the use of ozone for the treatment of patients with TB.

Bhavesh Thakkar has been holed up in the depressing surgery ward of Asia's largest tuberculosis hospital in Sewri for over a year. Thakkar, 39, developed Empyema, collection of pus in the pleural cavity. The condition requires drainage of pus from the chest every day.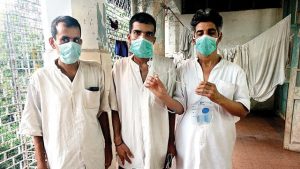 "The drainage bag would fill with a litre of pus every day. I had no strength to stand, and had lost hope," Thakkar said. Ozone therapy, however, has turned around his deteriorating condition.
"Recently, doctors brought in a machine, and started me on a saline wash for the lungs through an incision on my chest." After 20 sessions, the leaking pus has stopped, and efforts are on to make Thakkar infection-free. He is on anti-TB medication and may need surgical intervention for damaged lungs.
Bisleri International Pvt Ltd donated the ozone therapy contraption to the Sewri TB Hospital two years ago. It lay gathering dust until a month ago when a group of surgeons felt that it could be useful for critical TB patients.
The machine emits ultra-violet light sparks which split oxygen into free molecules and generate two per cent ozone and 98 per cent oxygen. "Basically, oxygenated ozone is sent through a tube mixed with saline. A saline wash is administered to infected wounds," said Dr Lalit Anande, Chief Medical Officer, Sewri TB Hospital.
"Ozone has worked on patients on their death bed. It works as painkiller and an anti-inflammatory, has immunity-boosting anti-oxidants, and kills germs. About 40 patients have benefited from the therapy so far," said Dr Anande.
Ozone therapy can also be administered through drinking water route for all TB patients and hospital staffers to boost their immunity, Dr Anande said.
The therapy was used during World War I to disinfect wounds, but somehow it has not seeped into the Indian fabric of treatment, says Dr Kuntal Pal, a leading pulmonologist from Mumbai. "We will need to study the patients who are being administered the therapy at the Sewri TB Hospital to understand how well it works," he said.