CDU-30 Ozone Destruct Device
Ozone Catalyst Destruct Device will safetly destroy ozone in gas flows.
30 LPM in wet, off-gas applications

60 LPM in dry off-gas applications.
True Catalytic Ozone Destruct Device will safely catalyze ozone to oxygen reliably with no consumables.  All CDU ozone destruct devices are compatible with wet or dry ozone gas.  For use with wet ozone gas a heater element is required.
The CDU Ozone Destruct Device uses a simple design with all stainless steel and Teflon materials touching ozone gas.  This will provide excellent material compatibility and longevity. 
The inlet of the CDU is on the bottom, air flows up through the catalyst bed to the outlet on the top.  Both inlet and outlet use 1/2" Female NPT connections for secure connections.  An air gap is used on the inlet to ensure no short circuiting of the ozone gas and room for any potential condensation to be converted safely to vapor form in the heated area of the destruct unit.  This ensures the catalyst is not damaged by water droplets on the catalyst material.
Flow capacities:
30 LPM (63 SCFH) in wet, off-gas applications (with optional heater element)
60 LPM (127 SCFH) in dry off-gas applications
Wet air is considered an off-gas from ozone water systems or ozone processes containing water.  Ozone off-gas is commonly passed through the Catalyst Destruct Unit to safely remove ozone from the off-gas and catalyze to oxygen.  As this gas is wet and humid a greater contact time between the catalyst material and gas stream is required.  This results in a lower air flow rating.
Dry air is considered a part of an ozone process where ozone gas is produced from oxygen, or dry air and ozone destruction is necessary as part of that process.
Ambient air applications may have some humidity and will fall somewhere between wet and dry process air classification.  We suggest for humidity levels above 30% the wet air flow rating is used.  Humidity levels above 50% should also use the optional heater element.  For questions on your specific application please contact us.
Replaceable Catalyst:
The catalyst material used in the CDU Ozone Destruct Device is completely replaceable.  While the catalyst is expected to have a life of many years in dry gas applications and at least 1 year in wet gas applications it will become contaminated with impurities in the air and loose effectiveness over time.  Replacing the catalyst material is very simple.  The top cap of the CDU is easily removable with a screen and gasket in place.  Old catalyst can be poured out of the top, and replaced.  Complete maintenance should take no longer than 30 minutes.
A complete catalyst replacement kit is available that includes the required catalyst material, replacement screens, and a new gasket.  Follow this link for details and to purchase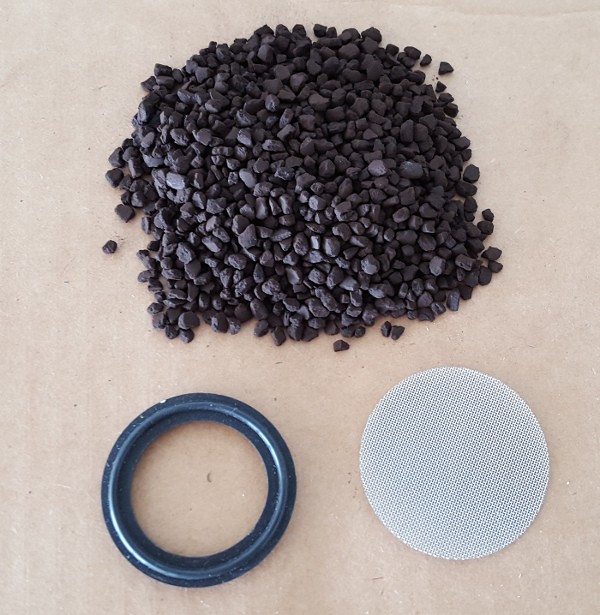 Carulite 200:
The CDU Ozone Destruct Device uses Carulte 200 granular catalyst for ozone destruction.  Carulte 200 is a safe material that is landfill approved and is not considered a hazardous waste. 
CDU-30 Options:
The CDU-30 Ozone Destruct Unit is configurable with the options shown in the purchasing section of this page.  These are detailed below.

Heater Element

For wet gas applications, or off-gas situations the CDU-30 must be equipped with the heater element.  This ensures the moisture in the air passes through the unit as a vapor.  Water droplets on the catalyst material will hinder the ozone destruction efficiency and shorten the life of the catalyst.  The heater option includes a spacer inside the CDU-30.  By heating the open chamber at the inlet of the unit this is resolved. 

Wall Bracket

A wall bracket can be added to the CDU-30 for easy mounting to the wall.  Threaded studs will be provided that will ensure any heat generated from the device will be dissipated. 

The CDU-30 can also be mounted directly with the inlet and outlet fittings in-line with ridged stainless steel piping.

 

 Water Trap

A water trap can be added as an option to remove bulk moisture.  This is recommended for off-gas situations where a common air vent is used for off-gassing.  Large quantities of water can be safely drained with the water trap and extend the life the catalyst material in the CDU-30.
Larger units and custom units are available upon request.
Downloads
More Information
Manufacturer
Oxidation Technologies
Call For Price
No
Operating Pressure
-5 - 10 PSI
Gas Connections
1/2" Female NPT inlet and outlet
Dimensions
2" diameter tube
10" long
Nominal Gas Flow Rate
30 LPM Max
Operational Temperature Range
0 - 125-deg F
Power Requirements
120 VAC (with optional heater), 0.2 amps
Lead Time
1-week
Warranty
1 Year
Country of Origin
USA
We found other products you might like!