OXP-Series ozone generators are air cooled, oxygen fed ozone generators that are versatile and rugged to meet a wide variety of ozone generation needs.
OXP-10 produces 10 g/hr ozone from 2.2 LPM oxygen at 5.1% by weight. Higher ozone production possible at higher oxygen flow-rates while higher ozone concentrations are possible at lower oxygen flow-rates. See performance chat below for full ozone production details for the OXP-10 ozone generator.
Note: All OXP-Series Generators are painted steel enclosures, there is an option below for a stainless steel enclosure.
The OXP-10 is a rugged and versatile ozone generator designed to operate reliably in a wide variety of ozone applications. Optional equipment is also available to further customize these ozone generators to meet your specific needs. Review optional equipment details below to see what customization is possible.
Key Features:
Painted Steel, wall-mount enclosure is rugged and industrial

3/8" Compression fittings for oxygen inlet and ozone output

Variable ozone output with integrated potentiometer, 0-10 VDC input, or 4-20 mA input (all standard)

Ozone output adjustable from 5 – 100%

10 – 30 PSI standard operating pressure, can tune standard unit for pressures up to 50 PSI.

Optional high pressure unit will operate at up to 80 PSI of oxygen pressure

Cell rated for 100 PSI oxygen pressure

Includes ozone flow-control needle valve to adjust and control ozone gas flow

Air cooled ozone generator requires no cooling water for operation, built-in fans provide cooling

High frequency operation is silent corona discharge, no audible high pitched whine

UL listed ozone generator assembly

Thermal protection

Can operate on 50 or 60 hz power with no changes or alterations needed

Microprocessor based electronics with "smart" inverter to protect ozone generator cell from damage. Ozone generator cell power will be turned OFF if contamination is detected in the ozone generator cell.

Wall mountable with 4 stainless steel mounting tabs
The OXP Series ozone generators are sold to be used in many industries and many applications where a rugged, air cooled, oxygen fed ozone generator can be used. Therefore, we offer various options to customize these ozone generators for specific customer applications. Primary options available for online ordering are detailed below. Should you have other needs, please let us know, we do our best to fit our customers specif ozone generation needs.
Ozone Generator Options:
Oxygen pressure gauge: 0-30 or 0-60 PSI oxygen pressure gauge mounted to the control panel to indicate oxygen pressure real-time

Oxygen gas flow-meter: Oxygen gas flow-meter to indicate oxygen gas flow through the ozone generator real-time

Power meter: Amp meter mounted to the control panel to indicate ozone generator power draw real-time

High Pressure Option: Standard ozone generator can be tuned for operation up to 50 PSI. Optional high pressure option increases operational pressures to 80 PSI.
Ozone Production Charts: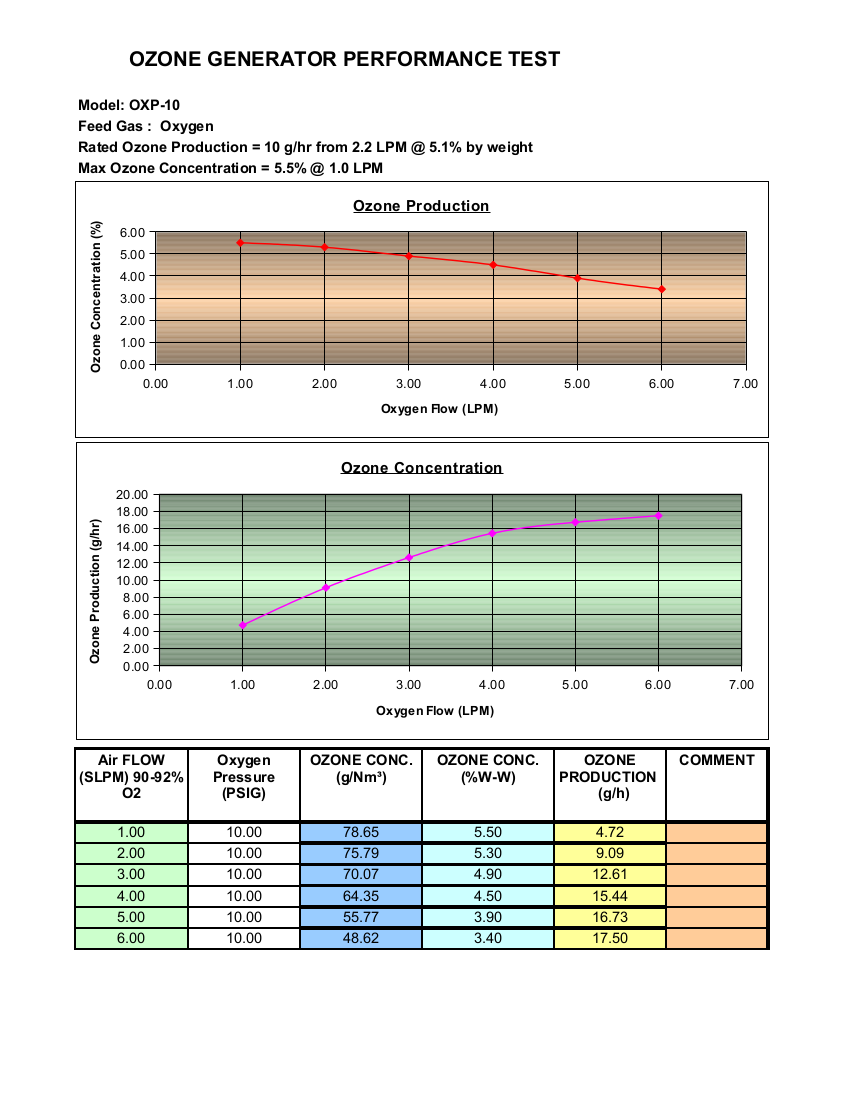 More Information

| | |
| --- | --- |
| Call For Price | No |
| Ozone Output | 10 g/hr |
| Feed Gas | Oxygen |
| Nominal Gas Flow Rate | 2.2 LPM oxygen to produce 10 g/hr ozone |
| Operating Pressure | 20-30 PSI |
| Max Pressure | 50 PSI |
| Manufacturer | Oxidation Technologies |
| Cooling Method | Air Cooled |
| Corona Cell | Aluminum |
| Gas Connections | 1/4" compression fittings |
| Dimensions (LxWxH) | 10" x 14" x 18" |
| Operational Temperature Range | 20 - 105-deg F |
| Max O3 % | 5% - 7.5% |
| Power Requirements | 120 VAC, 60 Hz, 1-phase, 10amp (220 VAC optional) |
| Lead Time | 1-week |
| Warranty | 1 Year |
| Country of Origin | USA |
| Description | 14" wide x 10" deep x 18" tall |
| G/HR | 10 |
We found other products you might like!