This turnkey ozone generator includes the ozone generator and oxygen concentrator integrated into one system. OXG-20 produces 20 g/hr ozone from integrated oxygen concentrator. Air cooled, wall mount, or floor standing generator is extremely versatile and easy to use.
The OXG line of ozone generators are turnkey ozone generators with integrated oxygen concentrators. Simply plug into electrical power and produce both oxygen and ozone from one device. Easy to use, and powerful ozone generator for multiple industrial applications.
The OXG-20 produces 20 g/hr ozone from oxygen at 4% by weight. Only 7 LPM of oxygen is required to produce the 20 g/hr ozone.
Key Features:
-Turnkey ozone generator with integrated oxygen concentrator
-Produces 20 g/hr ozone from oxygen
-Produces 7 LPM oxygen for ozone production
-Can produce high concentrations of ozone at lower flow rates
-Wall mountable
-Flow meter is standard
-Adjustable output Standard
-Easy to install and operate
Ozone Production from Oxygen: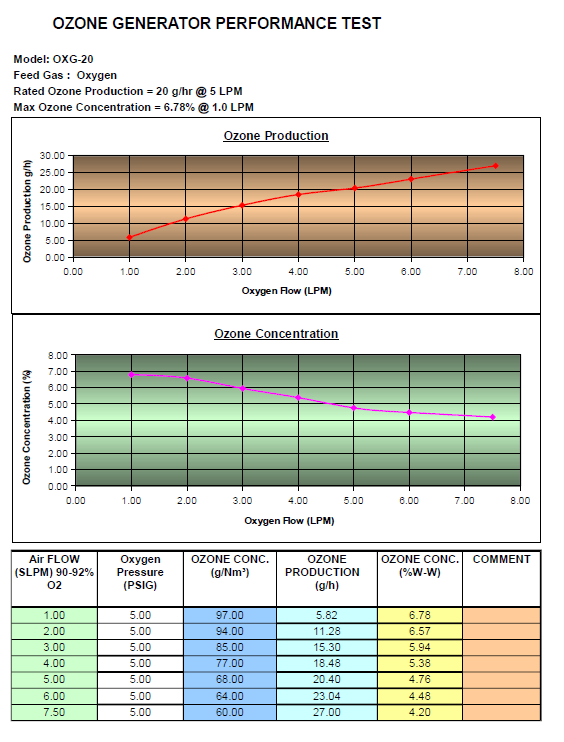 Common Applications:
-Water treatment
-Laundry
-Odor control
-Agricultural applications
-Ultrapure water applications
Options are available for the OXG-20 to configure in any way you need. Standard options for ordering online are listed blow. For other options, you may require please contact our office for help to ensure we configure exactly to your needs.
Options:
-External Compressed Air - the OXG ozone generators incorporated an oil-less compressor to provide compressed for the ozone generator. In very humid or poor air quality environments it is preferred to use compressed air for your high-quality source. We will remove the compressor, and replace with air solenoid valve, pressure regulator, and 2-stage air filtration.
-Ozone Leak Sensor - for safety an ozone leak sensor should be used with every ozone generator. We can incorporate this sensor directly into the ozone generator.
-Stainless Steel Enclosure - standard enclosure is a reinforced poly/fiber material. This can be upgraded to a stainless steel enclosure for applications that require the look, or durability of stainless steel.
Replacement Parts:
Viton O-ring and Kynar sealing ring
Downloads:
More Information

| | |
| --- | --- |
| Call For Price | No |
| Ozone Output | 20 g/hr |
| Feed Gas | Built-in O2 Concentrator |
| Nominal Gas Flow Rate | 7 LPM oxygen to produce 20 g/hr ozone |
| Operating Pressure | 5 PSI |
| Max Pressure | 10 PSI |
| Manufacturer | Oxidation Technologies |
| Cooling Method | Air Cooled |
| Corona Cell | Quartz , Stainless Steel |
| Gas Connections | 1/4" compression fittings |
| Dimensions (LxWxH) | 12" x 26" x 36" |
| Operational Temperature Range | 35 - 95-deg F |
| Max O3 % | 3% - 5% |
| Power Requirements | 120 VAC, 60 Hz, 1-phase, 10amp (220 VAC optional) |
| Lead Time | 1-week |
| Warranty | 1 Year |
| Country of Origin | USA |
| Description | 26" wide x 12" deep x 36" tall |
We found other products you might like!