RMU-DG4 Ozone Generator produces 40 g/hr ozone from 8 LPM oxygen. Air cooled, rack mount ozone generator uses double glass dielectrics to produce pure ozone without any potential from contamination.
The RMU-DG4 produces ozone from oxygen using double quartz dielectric. There is no stainless steel or any metal contacting the ozone/oxygen stream inside the RMU-DG series ozone generators. This ensures a pure ozone supply with no contamination. This also ensures a reliable, long lasting corona cell that will not corrode over time if/when poor quality oxygen feed gas is used.
The RMU-DG4 is a rack mount or benchtop Ozone generator which produces up to 40 g/hr of ozone from 6 l/min of oxygen. This generator utilizes corona discharge technology. This unit is typically used in water bottling plants, self-contained site remediation systems, and air systems for commercial buildings.
The RMU series ozone generators are rack mountable in a standard 19" rack. This allows for flexible mounting and modular design allowing for the addition of additional ozone generators if required at a later time without major modifications.
Key Features:
-Produces Up to 40 g/hr ozone from oxygen efficiently
-Double Quartz Technology produces pure ozone
-Rack mount or benchtop mount
-Flow meter is standard - with valve
-Adjustable output Standard
-Pressure Switch Standard
-Detachable power cord
-Easy to install and operate
-Powder coated Al. cabinet
Ozone Generator performance on both dry air and oxygen feed gas shown below.
Ozone Production from Oxygen:
| | | |
| --- | --- | --- |
| O3 Output | O2 Flow | O3 Concentration |
| 20 g/hr | 2.3 LPM | 150 g/m3 - 10% |
| 30 g/hr | 4 LPM | 120 g/m3 - 8.5% |
| 40 g/hr | 8 LPM | 82 g/m3 - 5.7% |
| 50 g/hr | 15 LPM | 55 g/m3 - 3.9% |
Using the RMU-DG4 with Oxygen:
We provide a variety of oxygen concentrators that could be used with the RMU-DG4. Our recommendation would be the OG-20 Oxygen Concentrator. The OG-20 will produce 10 LPM of oxygen, this is more than sufficient for a full 40 g/hr of ozone production from the RMU-DG4. The oxygen pressures, flows and general operation of the OG-20 will be a great fit with the RMU16-DG4. However, if you choose to use your own oxygen concentrator, simply contact our office and let us ensure it is the right fit for your application.
Double Quartz Corona Cell

The RMU-DG uses double quartz corona cell technology. The corona cell used in the RMU-DG is made of true quartz. See image below for example. The oxygen gas is plumbed inside the ozone generator via Teflon tubing. This oxygen will pass into the quartz corona cell and touch only quartz materials. The stainless steel electrode and cathode are placed on the outside and inside the quartz tube. The oxygen/ozone gas never touch any metal materials.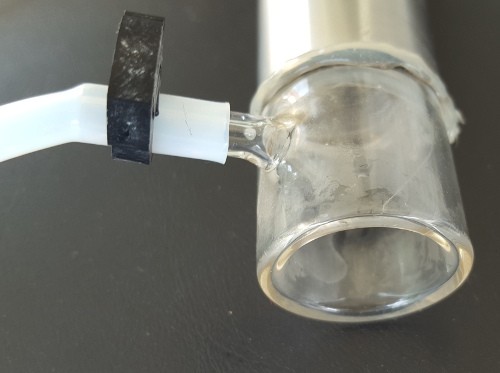 This double quartz design will completely eliminate leaks in the corona cell. This also dramatically increase the reliability of the corona cell. As the corona cell dielectric and construction are true quartz, not glass, they are rigid and strong, yet also completely impervious to ozone.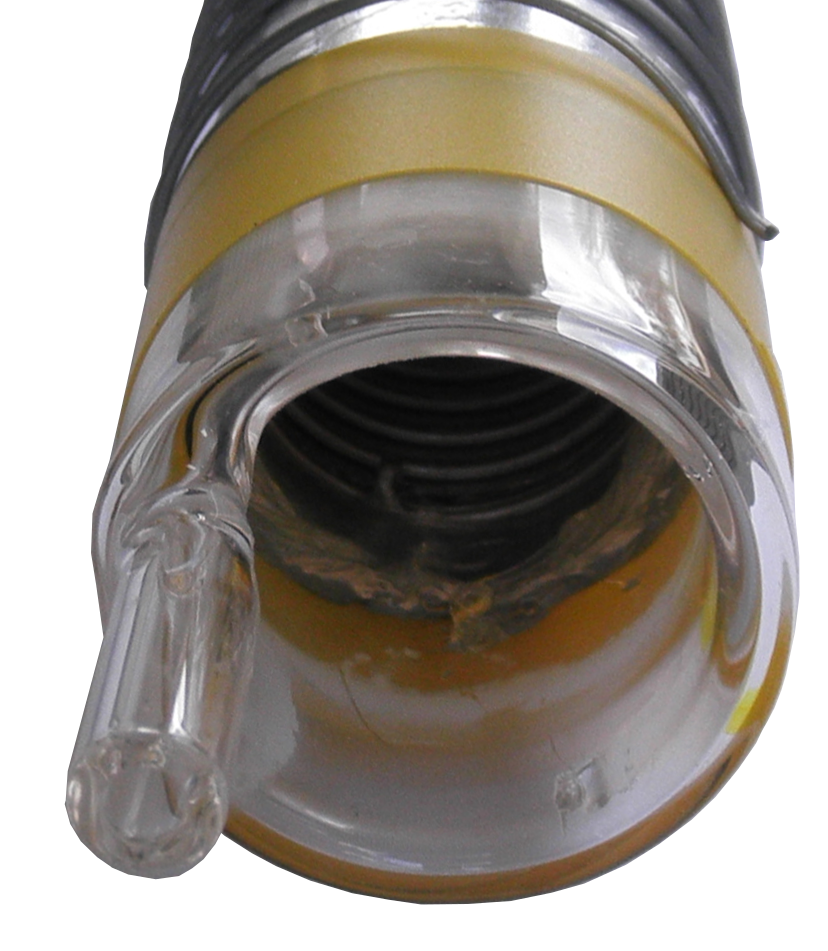 The Quartz dielectric uses aluminum cooling fins enclosing (and protecting) the quartz dielectric. This corona cell is air cooled via fans from the outside of the cell but is also cooled through the hollow tube inside the quartz dielectric. This allows the corona cell to be cooled both internally and externally. Better cooling reduces heat and allows ozone to be produced more efficiently.
The DG series of ozone generators will produce the purest possible ozone, yet offer the best reliability in any corona cell design.
Downloads:
More Information

| | |
| --- | --- |
| Call For Price | No |
| Ozone Output | 40 g/hr ozone from oxygen |
| Feed Gas | Oxygen |
| Nominal Gas Flow Rate | 8 LPM oxygen to produce 40 g/hr ozone |
| Operating Pressure | 1-10 PSI |
| Max Pressure | 10 PSI |
| Manufacturer | Azco |
| Cooling Method | Air Cooled |
| Corona Cell | Double Quartz |
| Gas Connections | 1/4" barbed fittings |
| Dimensions (LxWxH) | 14.5" x 19" x 7" |
| Operational Temperature Range | 35 - 95-deg F |
| Max O3 % | 10% + |
| Power Requirements | 120 VAC, 220 watts |
| Lead Time | 2-Weeks |
| Warranty | 2 Year |
| Country of Origin | Canada |
| Description | Enclosure Dimensions: 7-inch height x 19-inch width x14.5-inch depth Generator Weight: 27 lb |
We found other products you might like!