20 SCFH oxygen production at 20 PSI of delivery pressure. Nominal 90-93% oxygen purity.
TOX-20 is supplied with internal air compressors for a complete turn-key package.
The TOX-20 Oxygen Generator supplies 20 SCFH oxygen flow at up to 20 PSI continuous pressure. The TOX-20 includes all air filtration, air dryer to remove moisture, regulators and a compressor for a complete package.

Features:
Dependable:
The TOX-20 is built to provide thousands of hours of continuous, reliable service. With only one valving action, there are very few moving parts to fail. The zeolite sieve material used to adsorb nitrogen is sealed in aluminum cylinders and rarely need service or replacement.
Rebuildable:
The greatest advantage of the TOX-20 is the entire unit is rebuildable. This unit will serve you for many years with only minimal maintenance. The sieve beds are replaceable, and valves can be cleaned or replaced. The TOX-20 will serve in your application for as long as you choose to maintain it.
We offer each replacement part for the TOX-20, and keep each in stock.
Economical:
Due to the fact the TOX-20 can be rebuilt or repaired this unit will never be completely replaced with new. This saves costs long-term versus alternative models that cannot be rebuilt and are replaced when parts are worn or zeolite requires replacement. The TOX-20 is a very economical oxygen generator to operate over the long term.
Made in the USA:
The TOX-20 is manufactured, assembled, and tested entirely in the USA.
Internal Air Compressor:
The TOX-20 is equipped with an internal air compressor. One 1/3 hp oil-less compressor is built-in to provide compressed air required for oxygen production. Compressor is reliable and requires a rebuild after 8,000 hours of operation.
The standard internal compressed air also includes air coolers and a 2-stage air filtration system to maintain great quality compressed air for the oxygen concentrator modules. Air coolers remove heat from the compressed air prior to filtration with 2-state filters with moisture drains to remove condensed moisture from the compressed air. By drying and filtering the compressed air the oxygen concentrator modules will last longer and provide higher purity of oxygen in more humid environments. This feature is unique to the TOX-Series and not available in competitor models.
External Air Compressor Option:
The TOX-20 can be configured to use compressed air supplied by an external source. 4 CFM compressed air is required for operation at 50 PSI of pressure (or greater). Moisture is removed from compressed air reliably and efficiently when air is compressed to a higher pressure. Lower maintenance and lower power consumption is possible, as only the main plant compressor is operating rather than smaller compressors on the oxygen concentrator that also require electrical power and maintenance.
If external compressed air is available consider this option as an up-front and long-term cost reduction to your oxygen system.
What is Pressure Swing Adsorption (PSA):
Clean, dry compressed air is fed into the first molecular sieve bed. Nitrogen is adsorbed, while oxygen is allowed to flow through. When the sieve in the first bed becomes full of nitrogen, the airflow is then directed into the second bed. As the second bed separates the oxygen from the nitrogen, the first bed vents its nitrogen into the atmosphere. Compressed air is once again fed into the first bed, and the process is repeated continuously. A constant flow of oxygen is reliably produced.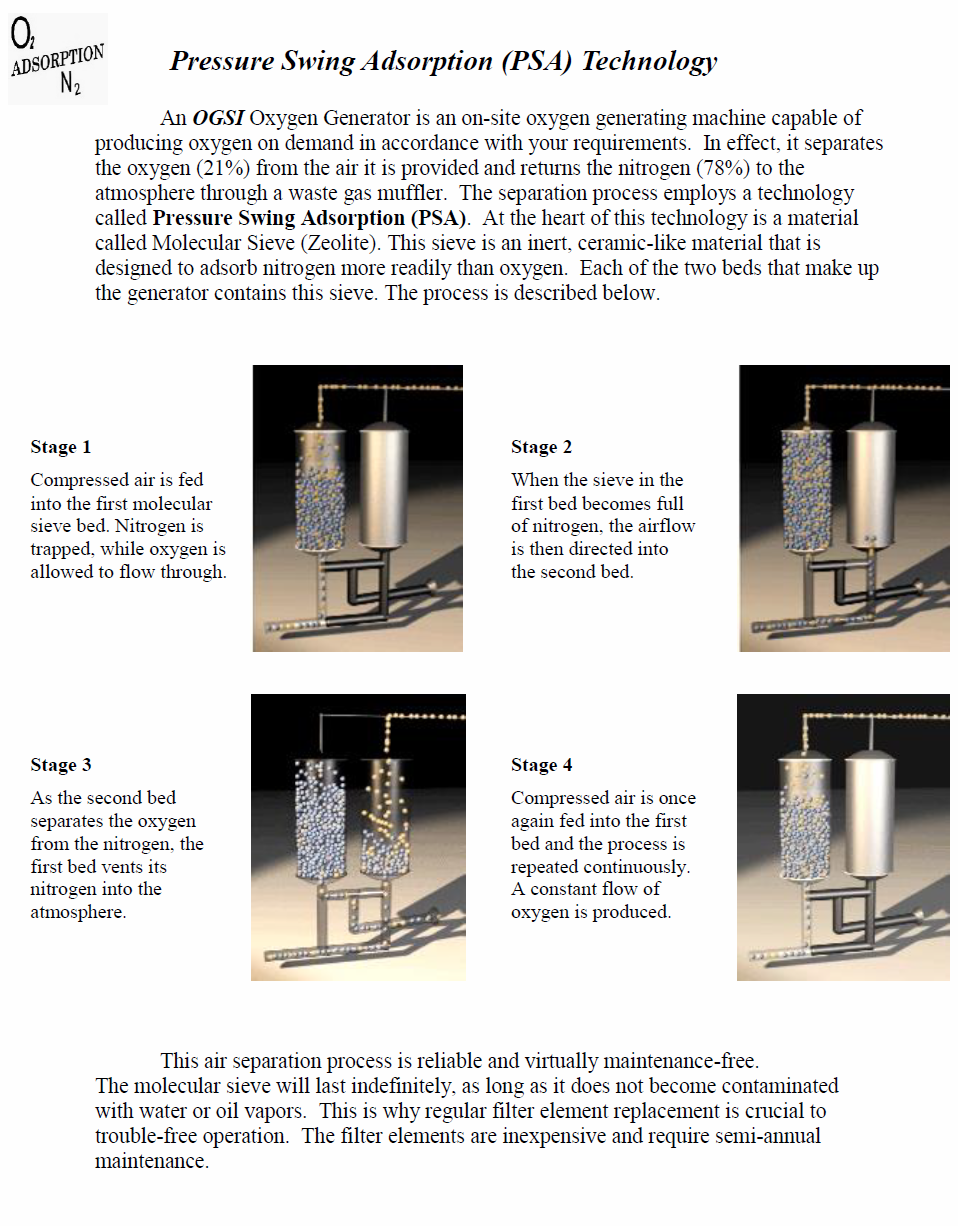 Downloadable Content:
More Information

| | |
| --- | --- |
| Manufacturer | Oxidation Technologies |
| Quickbooks Stock Level | 1.000000 |
| Call For Price | No |
| Listing Description | 20 SCFH O2 @ 20 PSI |
| Oxygen Production | 20 SCFH |
| Internal Compressor | Yes |
| O2 Delivery PSI | 20 PSI |
| Nominal Gas Flow Rate | 20 SCFH |
| Operating Pressure | 20 PSI |
| Max Pressure | 30 PSI (with external compressed air) |
| Gas Connections | 1/4" Female NPT |
| Dimensions (LxWxH) | 16" wide x 12" deep x 24" tall |
| Operational RH Range | NA |
| Operational Temperature Range | NA |
| Power Requirements | 120 VAC, 60 Hz, 1-phase, (220 VAC optional) |
| Lead Time | 1 week |
| Warranty | 1 Year |
| Country of Origin | USA |
| Description | Turnkey unit with built-in air compressor (standard) Available with external air supply of 4 CFM compressed air @ 50 PSI (optional) |
We found other products you might like!