Oxidation Technologies now offers used and refurbished ozone equipment for sale directly on our website.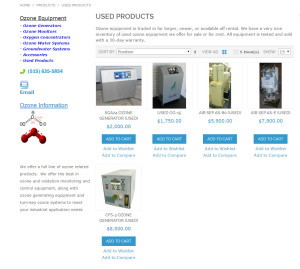 We have additional products available that will be added as we get them tested and ready for use.  If you are in the market for ozone equipment, and previously used equipment is acceptable for your application please contact us today.  We will review our current inventory and determine if we have equipment that will meet your needs.
All our used ozone equipment has been refurbished as necessary to bring operation to a like-new condition.  All ozone equipment can be repaired and refurbished to original specifications.  Provided the costs are reasonable we will refurbish and offer for sale at a discount to our customer.
We will offer a 30 day warranty on all our used ozone equipment to ensure that you have a chance to get the equipment operational and ensure that there are no lingering issues with the equipment.