Kynar, or PVDF (polyvinylidene fluoride), is an extremely durable material renowned for having an outstanding aging resistance. With more than double the strength of PVC, PVDF can withstand harsh and prolonged mechanical abuse and maintain its properties for several years. PVDF is abrasion, corrosion, and fire resistant having been given the highest rating in the Underwriter's test which indicates that it is both non-flammable and self-extinguishing. Fittings made from PVDF having a working chemical range of -40°F to 250°F and are FDA compliant meaning they are non-toxic and suitable for repeated contact with food products.
Another important feature of PVDF is its chemical resistance. This particular feature makes them the ideal companion for ozone-related systems because they will not easily be broken down by prolonged exposure to ozone. PVDF is resistant against strong inorganic and organic acids, aliphatic and aromatic hydrocarbons, and halogenated solvents. It is superior to all other thermoplastics in handling highly corrosive fluids and has the largest working chemical range.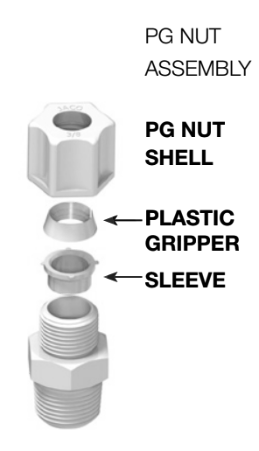 The Kynar fittings are equipped with a nut that uses a plastic gripper which is designed to ensure a solid grip around plastic tubing. The nut's internal components, a plastic gripper and a sleeve, tighten around plastic tubing as the fitting is screwed into place. This makes them ideal for use with FEP tubing. The nuts and their internal components are made out of the same Kynar material, guaranteeing a long life and high performance.
With the addition of Kynar fittings to our website we now offer everything you need for complete system setup. These fittings allow you to connect to injectors, and diffusers and other equipment. See the chart below for our full selection of Kynar fittings or check them out on our website.