Ozone Trailer for Groundwater Remediation applications. 20 lb/day (377 g/hr) ozone production for in-situ remediation. Turn-key ready to operate mobile remediation trailers are built to your specifications with a variety of options available to fit most every remediation application.
Standard system splits ozone and air sparge into 40 wells controlled by 8 solenoid valves.
Ozone remediation trailers are used for groundwater remediation applications. Trailer shown is built and designed for in-situ ozone remediation applications, but can also be set-up for pump-and-treat applications; call us for details on the best setup for your process.
Each trailer we build is custom built to our customer's specifications. We offer a variety of system sizes and options to fit most every application. Please review our products to get an idea of all that is possible, and how we can integrate a system that will meet your needs. When you are ready for a custom quote or simply to discuss how ozone can work in this application call our application engineers, we are here to help.
ORT-20 Ozone Remediation Trailer Specifications:
-20 lb/day ozone production (378 g/hr)
-175 SCFH oxygen production
-15 CFM additional sparge air flow
-Manifold with 40 ozone outputs controlled by 8 solenoid valves

-50 PSI continuous oxygen/ozone pressure
-65 PSI max oxygen/ozone pressure
-100 PSI max air sparge pressure (breakthrough pressure)
-Trailer size = 7' wide x 18' long trailer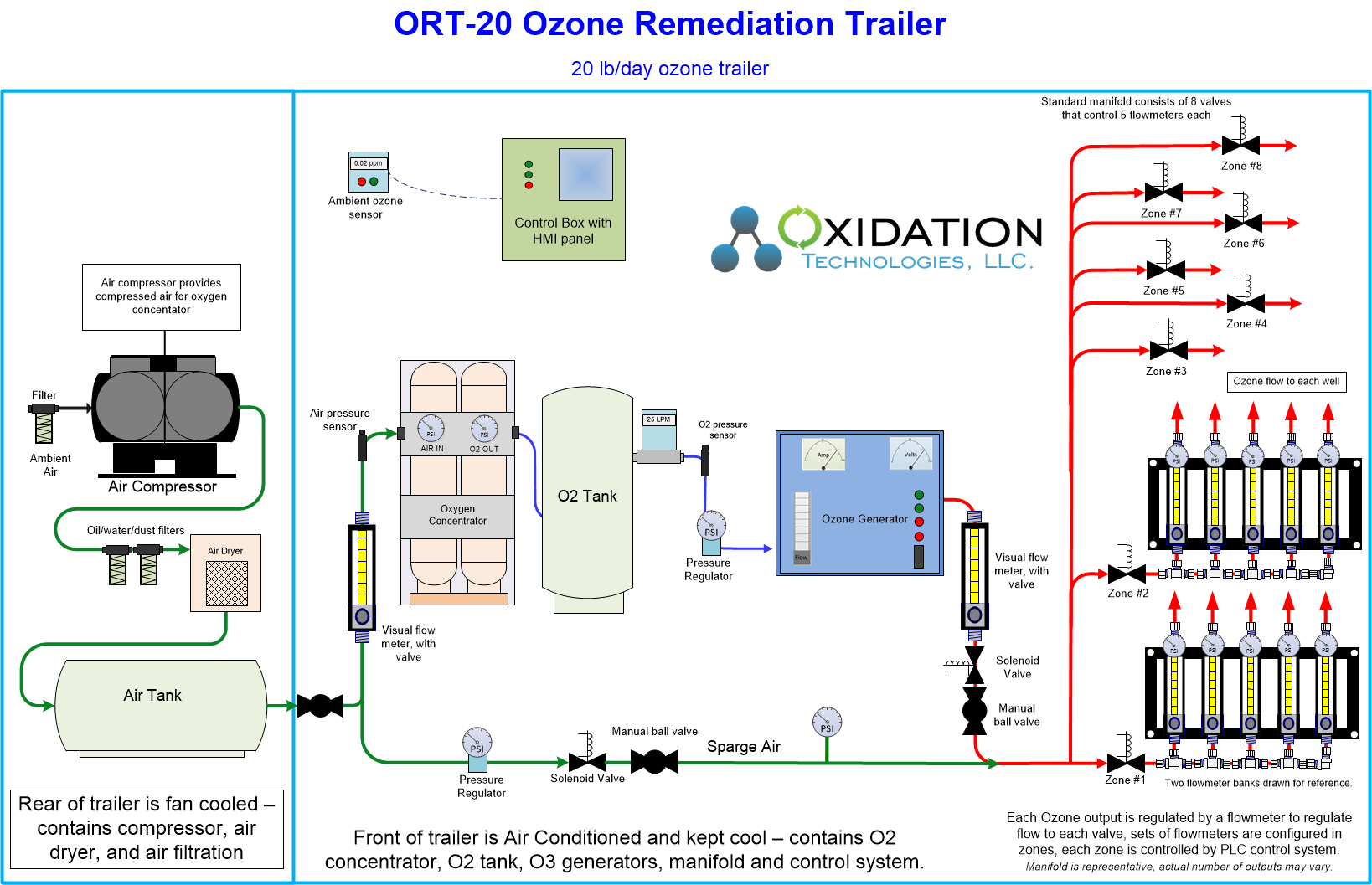 Ozone trailers provide the following standard equipment:
-Bumper hitch trailer with walk-in door and rear doors
-Rotary Screw Air compressor
-Refrigerant air dryer
-Air filtration system
-Oxygen Generator
-Oxygen storage tank
-Ozone Generator
-Ozone Distribution manifold
-Control system with touch screen HMI for valve timing
Ozone Trailer Design and Layout:
Ozone system is installed in trailer for mobility and portability. The trailer offers a secure location for equipment to be installed that will protect equipment from weather and damage along with providing a mobile enclosure that can be moved from site to site without major costs.
The ozone trailer will be separated into 2 rooms. The front room will be air conditioned to keep cool and dry. The Ozone Generator, ozone distribution manifold, and control system will be installed in this front room. A walk-in door on the side of the trailer allows entry into this room. The rear room will be fan cooled to keep temperatures slightly above ambient temps. The air compressor, air dryer, and air storage tanks will be located in this area. By separating these rooms the Ozone Generator and control equipment will be kept at ideal temperatures for operation keeping equipment reliable and maintenance free. The air compressor is designed for operation in warmer environments and will offer reliable operation when cooled to ambient temperatures. Electrical power consumption is kept low by not requiring an air conditioning system to cool the air compressor and other parts unnecessarily.
Ozone Generator:
The heart of any ozone system is the Ozone Generator. We have worked for years to develop Ozone Generators that can handle the rugged and demanding environments, pressures, and operating requirements found in remediation applications. This system uses an air cooled Ozone Generator to produce 377 g/hr of ozone from 175 SCFH oxygen at 5.4% by weight. Ozone generation is efficient and reliable from solid state electronics and two durable ozone generation cells.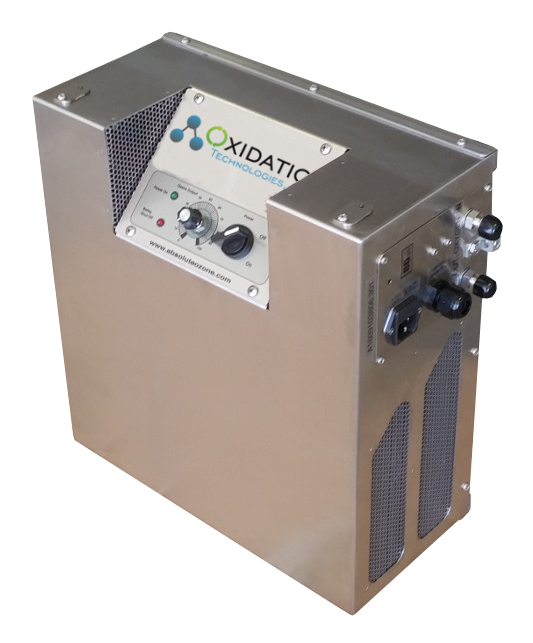 Ozone is produced under pressure. The Ozone Generation cell is rated for up to 100 PSI of pressure. Ozone generated under pressure is important as it eliminates the requirement to re-pressurize ozone with a secondary compressor or pump. Due to the high pressure capability of this Ozone Generator and single ozone outlet from a single cell ozone leaks are almost complete eliminated.
Ozone Manifold:
The ozone manifold will distribute ozone gas to multiple wells. The standard manifold supplied with the ORT-20 trailer provides 40 outputs with 8 solenoid valves to allow full control of each valve. Any number of valves can be open simultaneously or individual valves can be open and cycle through each consecutively.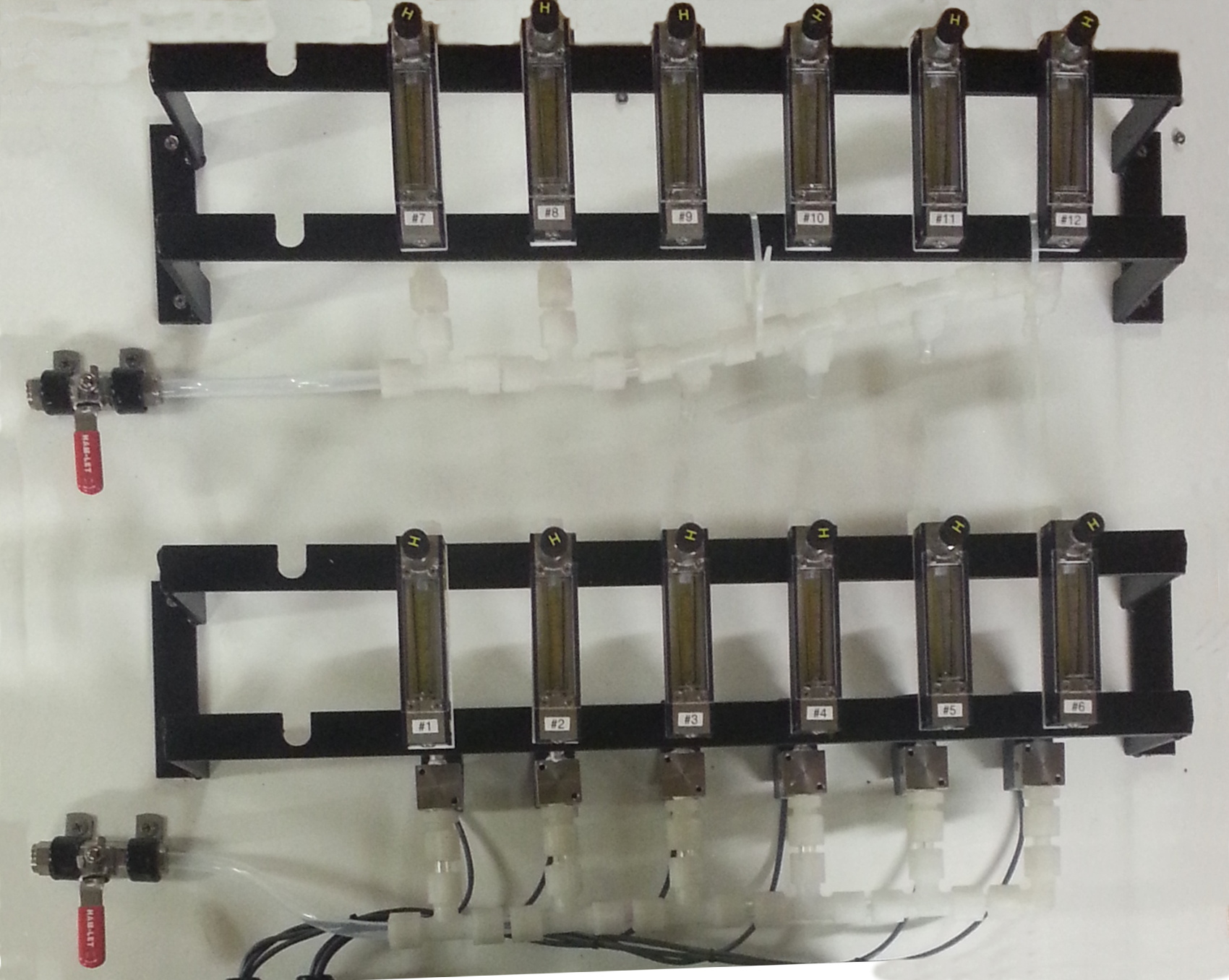 Custom configurations are available to add well output, or add flow-meters to outputs to create zones. Any configuration is possible and available with the same control from our easy to use touch screen interface.
Oxygen Generator:
The Oxygen Generator used in this system is an OGSI OG-175 industrial oxygen generator. This is an industrial type Oxygen Generator with large steel sieve beds and direct acting solenoid valves for valving. All components are of the highest quality, and each component can be rebuilt individually keeping your maintenance costs low for the long term.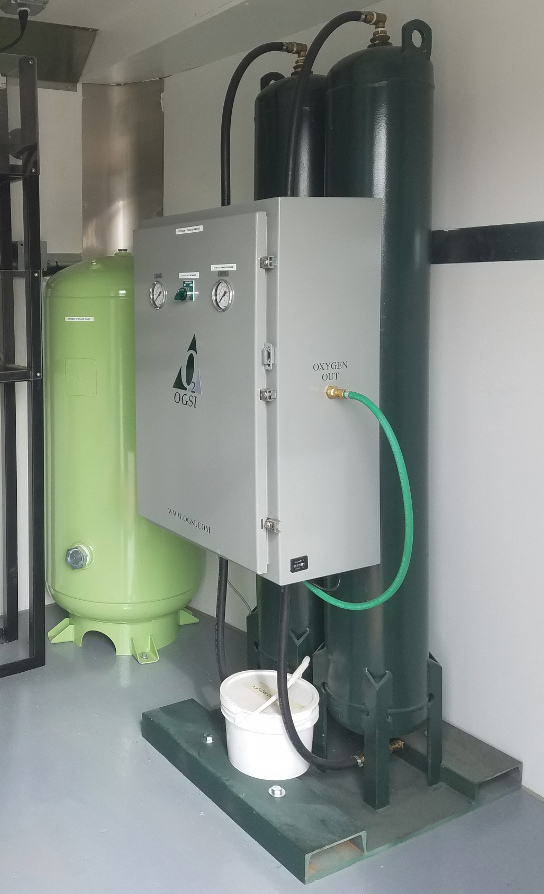 This Oxygen Generator provides oxygen at pressures of at least 45 PSI and up to 65 PSI. This ensures ozone gas can be generated under pressure and flow to the well without re-pressurizing the ozone gas. This is important as re-pressurizing ozone will generate additional heat and destroy ozone. This system eliminates the extra compressor needed when oxygen gas is produced at lower pressures.
Air Compressor:
Compressed air is required for oxygen production and for sparge air. The air compressor used is a rotary screw compressor designed for 100% duty cycle in harsh environmental conditions. The compressor is located in the rear of the trailer to keep the heat generated from the compressor isolated and vented to the outdoors efficiently to ensure reliable operation. A built-in refrigerant air dryer is used to remove moisture from air and ensure that both the oxygen generator can operate reliably, and the ozone manifold remains dry to eliminate nitric acid build-up.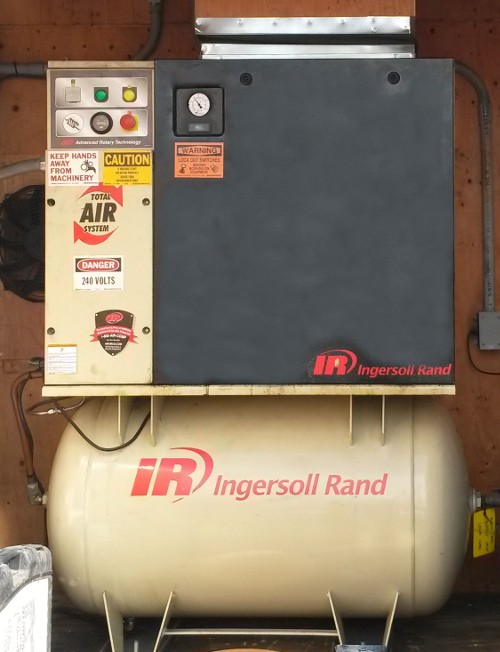 The air compressor is automated and energy efficient. Compressed air is provided at 90 PSI or greater, compressor will load and unload motor, and cycle if necessary to keep air pressure constant while using the least amount of electricity possible.

Ozone System Controls:
Ozone System will be controlled by one central control system. This will control all components automatically for reliable and safe operation. The operation of the system is performed with simple to use touch screen interface. All well timing, operation, and logging information is also performed on this touch screen panel for convenience.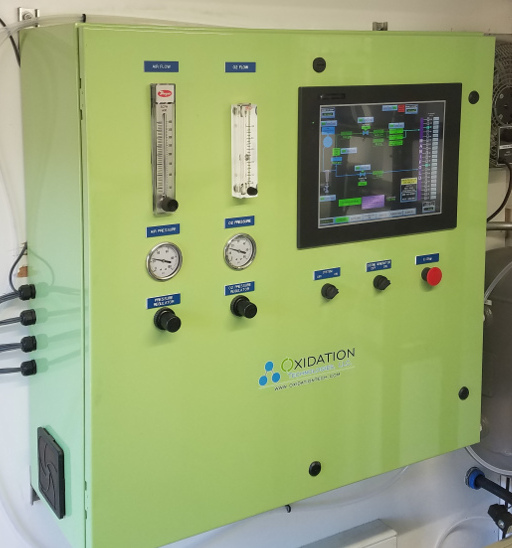 It is also possible to operate and monitor the system remotely via a telemetry system. The system can connect to the internet via wireless, wired, or cellular data connection. When operating the system remotely every operational parameter available while at the actual control panel is also available remotely. Logged data can also be downloaded remotely for reporting purposes. The system can be set-up to send e-mails for alarm conditions. Screens shown below are all visible and completly controllable via the remote telemetry.

HMI Main Screen - Main operation of HMI screen for system operation. All primary controls are controlled and viewed from this screen. Main components are turned ON/OFF on this screen.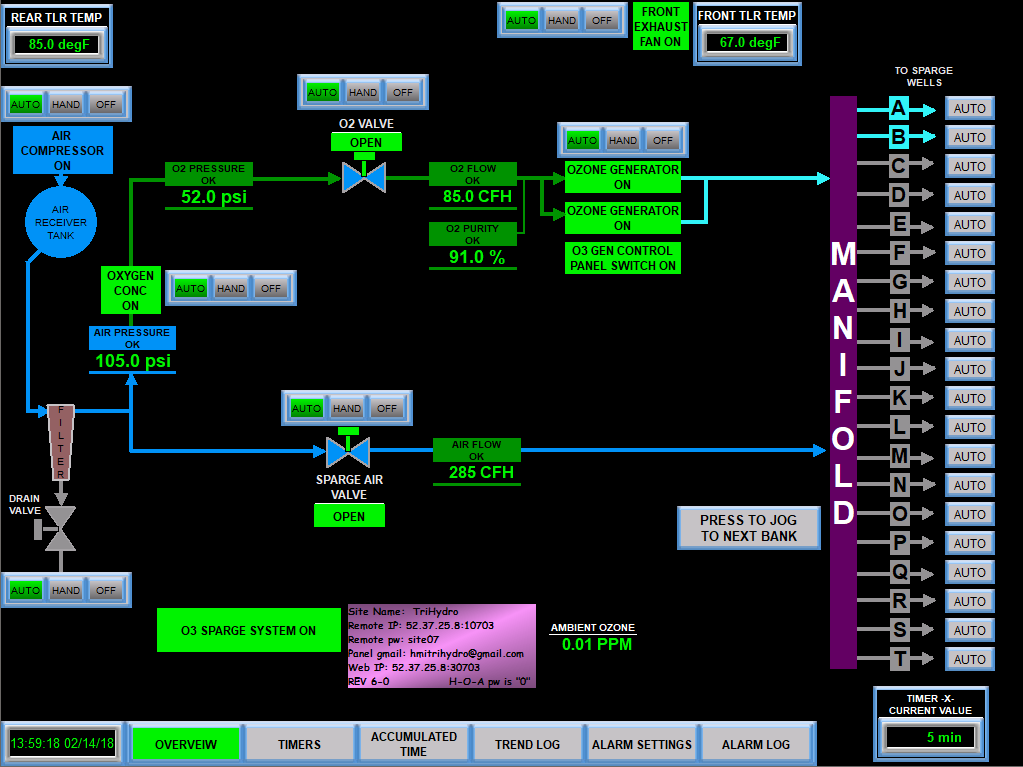 HMI Alarm Screen - Alarm screen for control system. Set operation limits and alarms using this screen: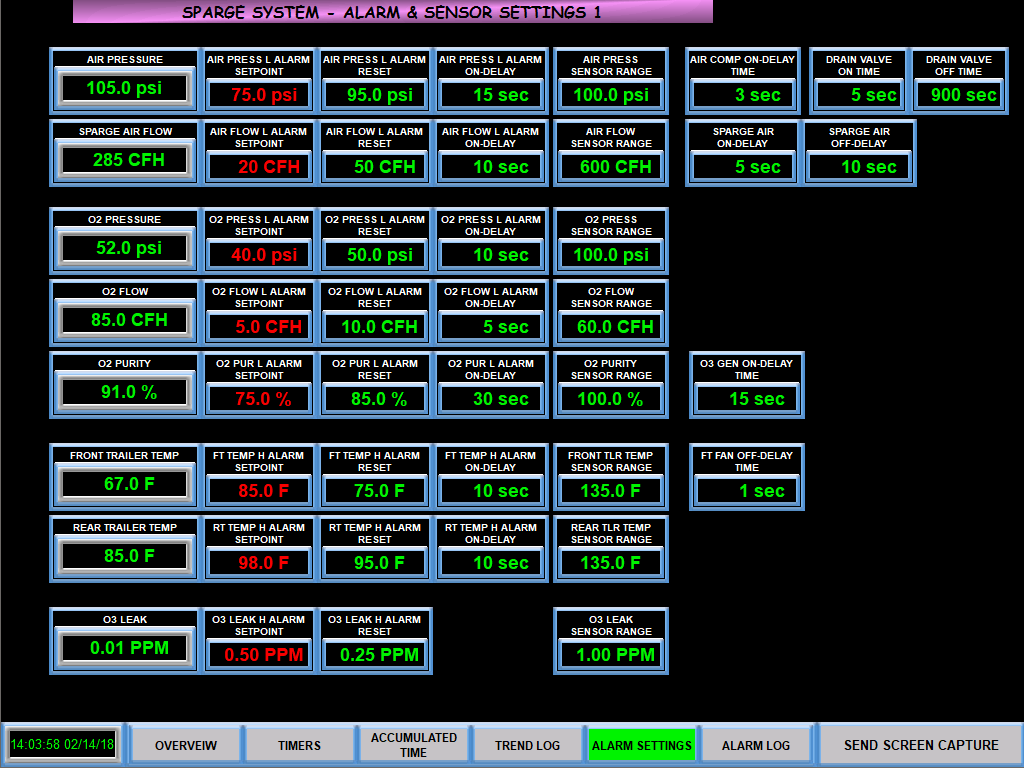 Well Timer Screen - Well timing is controlled on this screen. Any number of wells can be operated for any duration of time (set on another screen) using this matrix.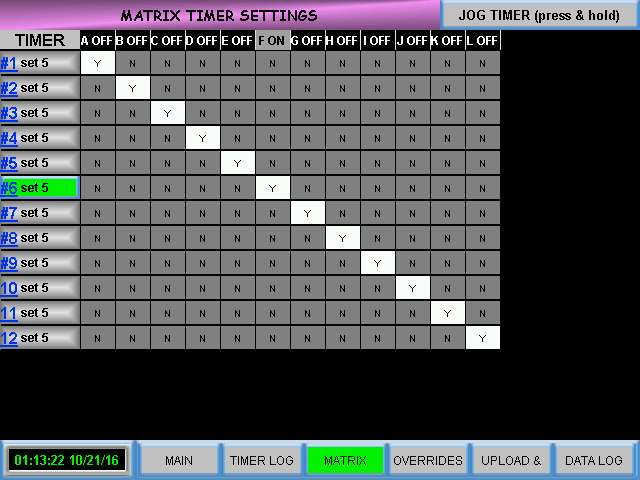 Alarm Log Screen - A log of past alarms is shown on this screen. This allows historica data to be viewed to identify and troubleshoot alarms.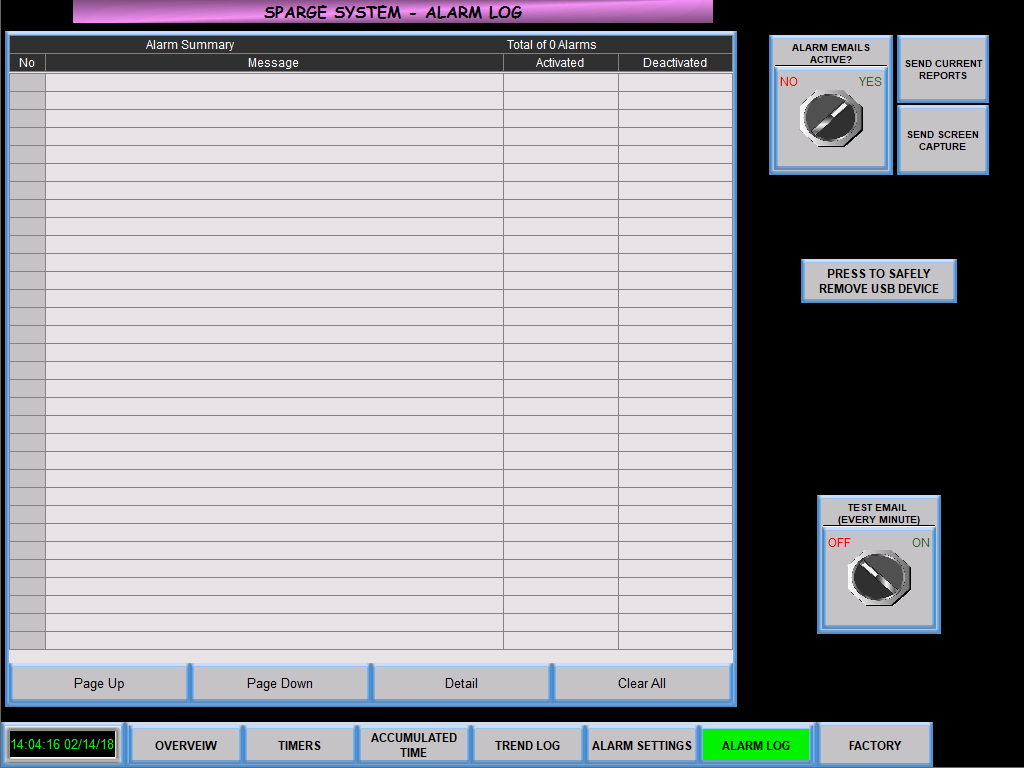 Trend Graph Screen - System operation trends are shown on the trend graph screen. This allows real-time data and past data on operational parameters to be shown. This allows quick viewing of past data.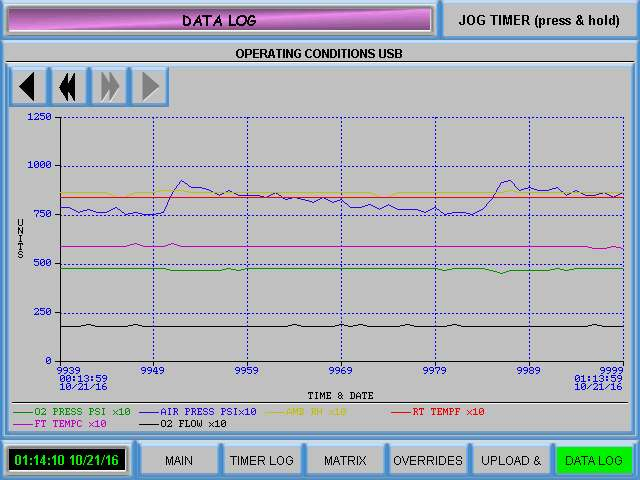 Ozone Remediation Trailer Options:

The Ozone Remediation Trailer is customizable to any requirements. We offer standard configurations in our marketing information and provide as much detail and information as reasonably possible. However, as each system is built when ordered, we have a great deal of customization possible. See details below for a few options
Inline Oxygen Purity Analyzer - Real-time oxygen purity can be measured and displayed on the HMI screen with the addition of an oxygen purity analyzer. This will provide a positive feed-back on the quality of oxygen used for ozone production.
Oxygen Mass Flow Meter - Oxygen flow can be measured and displayed digitally on the HMI screen to show actual oxygen/ozone flow into the soil formations. An oxygen mass flow meter provides actual oxygen flow information regardless of changing pressures making an easy check of actual oxygen flow. This information can also be logged for reporting purposes.
Air Mass Flow Meter - Sparging Air flow can be measured and displayed digitally on the HMI screen to show actual Air Sparging flow into the soil formations. An air mass flow meter provides actual air flow information regardless of changing pressures making an easy check of actual air flow. This information can also be logged for reporting purposes.
Inline Ozone Analyzer - To provide additional operational information an inline ozone analyzer can be added to the ozone system to measure the ozone production of the ozone generator in real time. When set-up with an oxygen mass flow meter the actual output of ozone can be measured and recorded real time. This is ideal for pilot tests, or applications were recording and reporting is critical. This information can also be logged for reporting purposes.
SVE (soil vapor extraction) System - SVE systems can be added to ozone sparge systems to treat contaminated soils. An SVE system can be installed in the rear of the ozone trailer and be integrated into the controls seamlessly. Review controls section above for examples of SVE system controls integrated with ozone system.
Manifold Configuration - Ozone Sparge flow is controlled by a flow manifold. The standard ORT-20 system is designed with 8 individual solenoid valves to direct ozone flow to 40 wells. These outlets can be configured with additional flowmeters or solenoid valves depending upon specific site requirements. Additional zones of flowmeters can be added, or ozone outputs can be added to existing zones. Any number of well outputs can be configured and controlled via the HMI control panel.
Pump and Treat System - The ozone system can be configured as a pump and treat system, or a small pump and treat ozone injection skid can be added to the ozone trailer. Either one of our standard ozone water systems can be integrated into the trailer, or a custom built, dedicated pump and treat system can be built for the customer's applications
Air Sparge Upgrade - Air is added to the ozone/oxygen air stream to increase the permeation of ozone in soil and groundwater and increase the radius of influence. The ORT-20 system is provided with a compressor sized for 15 CFM of additional sparge air. If additional sparge air is required a larger compressor can be provided to meet that need
H2O2 Addition - Hydrogen Peroxide dosage and injection system can be added to the standard ozone sparge system. This will create the ever coveted AOP reaction if done properly. When H2O2 injection is added a separate room of the trailer is added to the storage, dosage, and distribution panel for the H2O2 system.
Ozone Accessories:
Oxidation Tech offers a full line of accessoires that may be needed for your system installtion or operation.
Ozone Sparging Diffusers - Bubble ozone gas into water efficiently with stainless steel diffuser that creates 20-micron bubbles. Sintered stainless steel is a reliable choice for a sparge point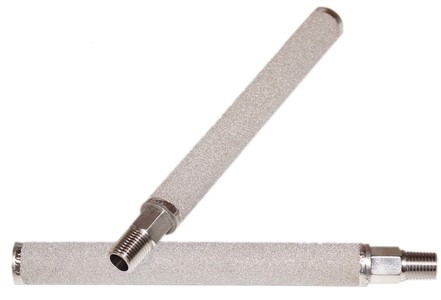 Ozone Delivery Tubing - We carry Teflon tubing in various sizes. Teflon tubing is the best choice for a long-lasting yet flexible tubing to deliver ozone to the wells.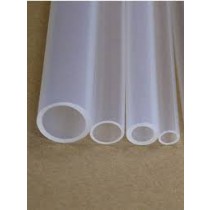 Well Components - Well components such as well caps, packers and riser pipes are available. Contact us for details on your configurations and equipment needed
Ozone Leak sensor – wall mount - Remote mount ozone leak sensor can be used and integrated into the ozone system. This is used when ozone lvels in an adjacent building or occupied space may rise due to ozone sparging in the groundwater below that area.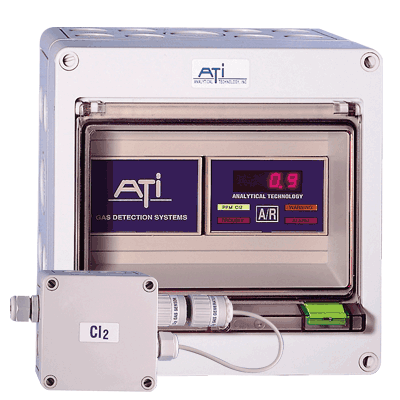 Ozone leak sensor – handheld - Handheld ozone monitor can be used for leak detection or personal safety.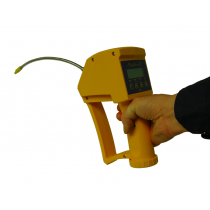 Downloads:
About Groundwater Remediation
ORT Brochure
ORT Trailer Components
Why Use Oxidation Technologies:
There are many ozone companies that will provide equipment or complete turnkey systems. So, what makes our systems better? Experience! Plain and simple we have been on-site and operated ozone remediation systems for many years.
Details matter, and we know what details are important what are not. Producing ozone is easy, however, building a reliable and effective ozone system is not easy. There are many parts that need to work together perfectly for many hours without human oversight. Our extensive experience allows us to make sure the details of your ozone system are right, to ensure maximum run-time and reliability.
Let us help you ensure your system will operate for many years reliably and effectively.
More Information
Manufacturer
Oxidation Technologies
Call For Price
No
Listing Description

20 lb/day ozone trailer (377 g/hr)

40 well outputs controlled by 8 valves standard

100 PSI max sparge pressure

45 PSI operational pressure

Ozone Output
377 g/hr
Feed Gas
Oxygen
Nominal Gas Flow Rate
20 CFM total oxygen/ozone/air flow to wells
Operating Pressure
45 PSI
Max Pressure
100 PSI
Gas Connections
3/8" compression fittings
Datalogging
Yes
Dimensions (LxWxH)
18' trailer

Operational Temperature Range
0 - 105-deg F
Power Requirements
220-VAC 3-phase power
Lead Time
6-8 weeks typical
Warranty
1 Year
Country of Origin
USA
We found other products you might like!