Sintered Stainless Steel Ozone Diffuser. 6" long x 0.75" diameter, 20-micron rating. Bubble ozone into water at flow rates up to 5 CFM
Buy 5 for

$166.50

each and save

10

%
Buy 10 for

$138.75

each and save

25

%
Sintered Stainless Steel Diffuser is an excellent choice for transferring ozone gas into water via bubble diffusion. 6" long, 3/4" diameter sintered stainless steel with 20-micron rating creates tiny bubbles across the entire length of the diffuser. Stainless Steel construction is both safe to use and provides excellent durability and longevity.
1/4" Male NPT connection provides a solid seal. A hex nut is provided with the threads to ensure a tight seal and easy to remove if necessary.
A 5 CFM flow rate at open flow provides maximum flow potential from a compact design. We do also offer custom lengths and can add length by the inch if necessary.
Our testing has shown that small bubbles are created and low and high flow-rates with the SS6. There is no compromise on the excellent mass transfer when using the SS6 at any flow-rate. The video below provides a great example of the SS6 in action at various flow-rates. Most interestingly at lower flow rates the diffuser still achieves some bubble creation along the entire length.

Common Applications:
-Groundwater remediation sparge point
-Bottled water ozone contact tank
-Municipal water treatment contact tank
-Wastewater treatment
Installation:
The SS6 diffusers use 1/4" Male NPT threaded connections. This offers a solid connection to ensure a leak free and long lasting connection. The SS6 can be installed directly to a fitting in a pipe to dissolve ozone into a pipe, or can be placed at the bottom of a tank. We have constructed manifolds for customers with multiple SS6 diffusers in the bottom of a tank to ensure ozone gas is distributed throughout the tank and diffusers are held firmly into place with stainless steel piping.
If used alone, we suggest using the CHK-4SV check valve to ensure water cannot back-flow to your ozone generator when turned OFF.
FEP Teflon tubing can be used to plumb ozone gas from your ozone generator to the SS6 diffuser.
Should you have any other specific install questions, please give us a call. We would be glad to ensure your project is a success.
We also offer a stainless steel protector for the SS6-7 diffuser. This is an excellent choice for use in groundwater wells, or wastewater applications where it may be possible to damage the diffuser during cleaning, repair, or service of the system. The protector will mount to the diffuser and provide protection against damage of the diffuser. The protector uses 1/4" Female NPT connections on both ends to connector your inlet fitting and the diffuser with a solid seal.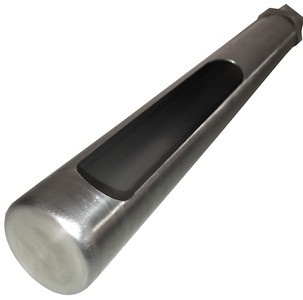 Additional Information
| | | |
| --- | --- | --- |
| | | |
| | | |
More Information

| | |
| --- | --- |
| Manufacturer | Oxidation Technologies |
| Quickbooks Stock Level | 130.000000 |
| Call For Price | No |
| Material of construction | Stainless Steel |
| Nominal Gas Flow Rate | 0 - 2.7 CFM |
| Operating Pressure | 1 - 125 PSI |
| Max Pressure | 125 PSI |
| Gas Connections | 1/4" Male NPT connection |
| Dimensions (LxWxH) | 7" x 3/4" |
| Operational Temperature Range | 0 - 100 deg C |
| Power Requirements | none |
| Lead Time | in stock |
| Warranty | 1 Year |
| Country of Origin | USA |
| Length x Diameter | 6" x 3/4" |
| Micron Rating | 20 |
| Max Water Flow Rate | 5 CFM |
We found other products you might like!