500 mg/hr ozone generator with integrated air pump, air dryer, tubing, and diffusers

Adjustable ozone output dial, and user selectable timer.

The OZX-300 Ozone Generator is an economical ozone generator for small applications. With an Ozone output of 500 mg/hr from dry air this ozone generator is great for many small applications and compact to fit where you need. Adjustable ozone output and digital timer make this ozone generator user friendly and a great value. The OZX-300 includes an integrated air pump and ships with ozone tubing, diffusers, and an air dryer. This generator will come with everything you need upon delivery to produce ozonated water.
The OZX-300 Ozone Generator is backed by a full 1-year warranty. This generator will ship from, and be serviced by Oxidation Technologies based here in the USA.
Features:
Great value in ozone generators

Integrated air pump


Adjustable ozone output

User selectable ozone timer

Ships with ozone tubing and diffusers

Includes rechargeable air dryer

Compact size and easy to use
This small ozone generator is perfect for the home user who desires pure drinking water, fruits and vetatables. By bubbling ozone into water at home you will remove contaminates from this water and increase dissolved oxygen in the water. Bubbling ozone into a pitcher with your purchased fruits and vegetables will remove bacteria, extend shelf life, and destroy pesticides from the surface of the produce. Achieve healthier living with the use of ozone.
We have used these ozone generators in small aquariums, and aquaculture applications. With the integrated air pump this ozone generator will bubble ozone directly into the tank, or in a water treatment tank to break down contamination and elevate oxygen levels in the water.
Use the OZX-300 to wash fruit, vegetables, or water in a glass container or the Ozone Chamber we provide. With the internal air pump and timer, the OZX-300 is a great tool to ensure your produce is free of bacteria, pathogens, and pesticides.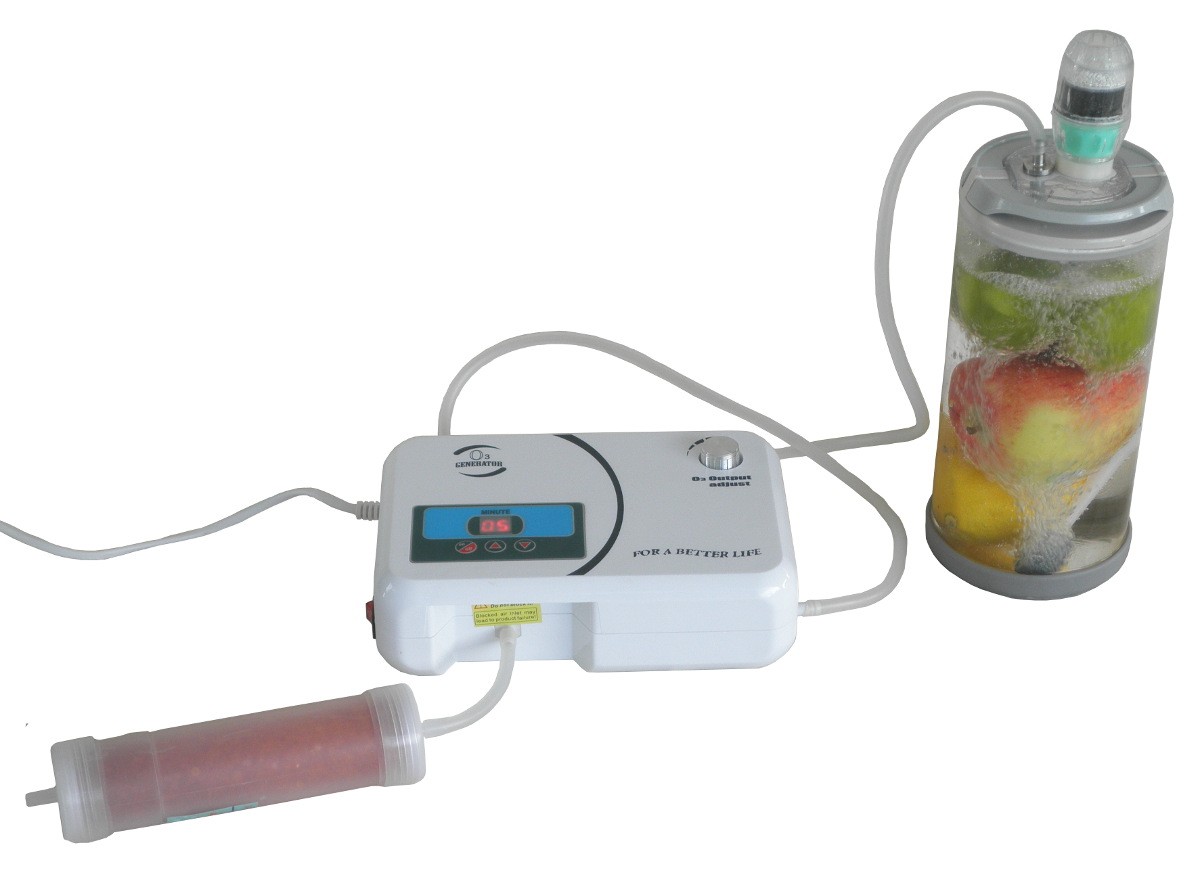 Specifications:
500 mg/hr ozone output


2 LPM air flow rate with integrated air pump

500 mg/hr ozone produced at concentration of 4.2 g/m3 (0.33%) at 2 LPM flow rate

3/4 PSI air pump pressure (about 1.5 feet of water depth)

1/4" barbed connection for inlet and outlet
What you get:
OZX-300 Ozone Generator with integrated air pump (110V power)


Rechargeable air dryer

Ozone Tubing

Two Ozone Diffusers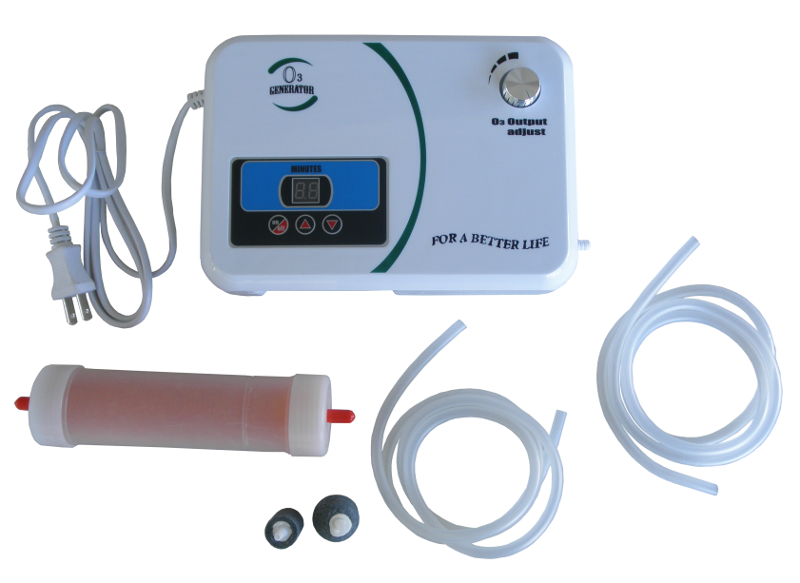 Operation of Ozone Generator:
The OZX-300 produced ozone via corona discharge ozone generating cell. Corona cell is constructed of glass dielectric and stainless steel shell. These components are the same as are used in much more expensive, industrial ozone generators, just smaller versions are used here. Operating frequency of ~500 hz from the power inverter and transforer. Great operating frequency to produce ozone efficiently from dry air.
Ozone generator operates with an integrated timer. Timer will allow ozone production for time intervals up to 90 minutes, along with a constant ON feature allowing the ozone generator to operate continously. Timer is operated with a digital display with easy to set buttons on the screen.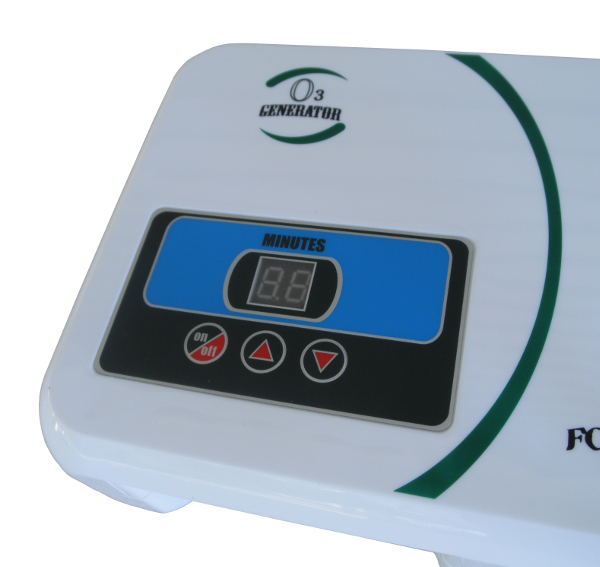 Ozone output can be adjusted via the adjustable ozone output dial from 0-100%. This will allow for lower ozone levels to be used if necessary.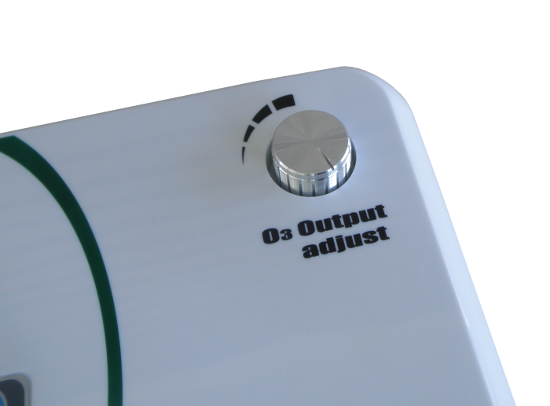 Common Applications:
Drinking water

Washing fruits and vegetables at home

Lab Applications

Pilot testing

Ozonated olive oil

Aquarium or small aquaculture application

Odor Removal

Spa water treatment

Swimming pools
Downloads:
OZX-300 Ozone Generator Manual
OZX-300 Silica beads Information
More Information

| | |
| --- | --- |
| Quickbooks Stock Level | 18.000000 |
| Call For Price | No |
| Ozone Output | 500 mg/hr from dry air |
| Feed Gas | Dry Air |
| Nominal Gas Flow Rate | 1-2 LPM with integrated air pump |
| Operating Pressure | 3/4 PSI |
| Max Pressure | 3/4 PSI |
| Manufacturer | Enaly |
| Cooling Method | Air Cooled |
| Corona Cell | Aluminum , Glass, Stainless Steel |
| Gas Connections | 1/4" barbed fittings |
| Dimensions (LxWxH) | 6" x 4" x 2" |
| Operational Temperature Range | 35 - 95-deg F |
| Max O3 % | Below 3% |
| Power Requirements | 120 VAC, 7 watts |
| Lead Time | 2-Weeks |
| Warranty | 1 Year |
| Country of Origin | China |
| Description | Enclosure Dimensions: 2-inch height x 4-inch width x 6-inch depth Generator Weight: 2 lb |
We found other products you might like!