The HTU-500 Ozone Generator provides pure ozone by means of a double quartz dielectric allowing oxygen and ozone to contact only Kynar, Teflon, and Quartz materials. At no time does oxygen or ozone come in contact with any metal surfaces.
1 g/hr ozone output from only 0.75 LPM oxygen.
The HTU-500 Ozone Generator is a reliable, industrial quality ozone generator in a compact size. Great for lab, or small industrial applications. Using the double quartz dielectric technology pure ozone is produced with no contamination. Oxygen and ozone gas come in contact with only Kynar, Teflon, and Quartz materials inside the HTU-500 Ozone Generator.
1 g/hr ozone output from only 0.75 LPM oxygen
The HTU-500 comes with a 10-position switch for adjustment of ozone output. Ozone inlet and outlet are 1/8" Female NPT connections with included Kynar barbed fittings to allow the use of 1/4" ID tubing. Any fittings of the customers choosing can be threaded into the 1/8" Female NPT connections. A powder coated aluminum chassis houses the ozone generator for long term reliability and ruggedness.
Key Features:
-Double Quartz Dielectric - pure ozone production
-Very flexible design can accommodate most operation modes
-Produce ozone from dry air or oxygen
-Integrated 10-position switch to adjust ozone output
-Can operate under vacuum or pressure
-Wall mount, or bench-mount
-Detachable power cord
-Easy to install and operate
-Powder coated Al. cabinet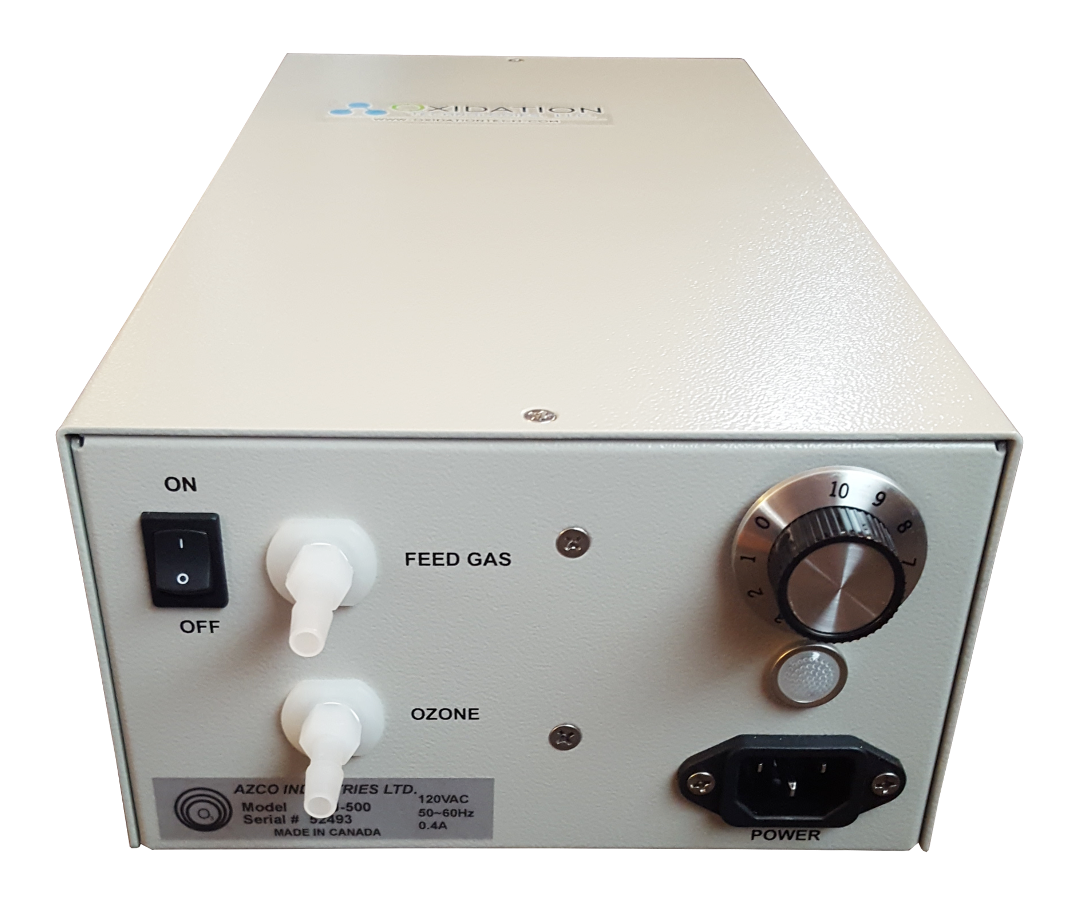 Adjustable Ozone Output
The HTU-500 uses an adjustable ozone output dial shown in the image above. This will allow setting the ozone output from 0-100% in 10% increments with detent settings for each position. This allows a firm set-point that can be used to maintain consistent ozone output for your application.
The ozone generator performance chart shown below shows the actual ozone output at various flow rates for each ozone set-point. This will give the user comfort in knowing exactly what the ozone production is during operation based on flow and setting on this dial.
Circuit Protection
The HTU-500 uses a sophisticated power inverter board that will protect the corona cell and/or transformer against failure. In the event, the corona cell does become contaminated with moisture, or dust the inverter will turn OFF ozone production immediately to protect against damage. Every 6 seconds this inverter will attempt to produce ozone and will restart automatically when conditions improve. While we hope our customers never flood, or contaminated the ozone generator corona cell, we know this is a possibility, this circuit protection will prevent potentially costly repairs.
Double Quartz Corona Cell

The HTU-500 uses double quartz corona cell technology. The corona cell used in the HTU-500 is made of true quartz. See image below for example. The oxygen gas is plumbed inside the ozone generator via Teflon tubing. This oxygen will pass into the quartz corona cell and touch only quartz materials. The stainless steel electrode and cathode are placed on the outside and inside the quartz tube. The oxygen/ozone gas never touch any metal materials.

This double quartz design will completely eliminate leaks in the corona cell. This also dramatically increase the reliability of the corona cell. As the corona cell dielectric and construction are true quartz, not glass, they are rigid and strong, yet also completely impervious to ozone.
The DG series of ozone generators will produce the purest possible ozone, yet offer the best reliability in any corona cell design.
Operation:
Dry Air:
The HTU-500 can produce ozone from dry air under pressure or vacuum. Ozone output is about 50% of that of output on oxygen. The optional air pump can be added to pull air through the HTU-500 at a rate of 3-4 LPM.
Oxygen:
The HTU-500 can produce ozone from oxygen at up to 10 PSI of pressure. Pure ozone is produced with no contaminates as the oxygen and ozone gasses never come in contact with stainless steel or any metals of any type.
Ozone Production from Oxygen:
| | | |
| --- | --- | --- |
| O2 Flow | O3 Concentration | O3 Production |
| 0.05 LPM | 70 g/m3 | 0.21 g/hr |
| 0.075 LPM | 69 g/m3 | 0.31 g/hr |
| 0.1 LPM | 56 g/m3 | 0.40 g/hr |
| 0.15 LPM | 45.2 g/m3 | 0.41 g/hr |
| 0.20 LPM | 41.1 g/m3 | 0.50 g/hr |
| 0.25 LPM | 38.9 g/m3 | 0.58 g/hr |
| 0.35 LPM | 35.0 g/m3 | 0.74 g/hr |
| 0.50 LPM | 29.9 g/m3 | 0.90 g/hr |
| 0.75 LPM | 23.8 g/m3 | 1.07 g/hr |
| 1.0 LPM | 18.3 g/m3 | 1.10 g/hr |
| 1.5 LPM | 13.8 g/m3 | 1.24 g/hr |
| 2.0 LPM | 10.6 g/m3 | 1.27 g/hr |
| 2.5 LPM | 9.1 g/m3 | 1.37 g/hr |
| 3.0 LPM | 8.1 g/m3 | 1.46 g/hr |
| 4.0 LPM | 6.2 g/m3 | 1.49 g/hr |
*Click on images below to see complete performance data for the HTU-500 ozone generator
HTU-500 Performance Chart showing maximum ozone production only

HTU-500 Performance Chart showing each ozone output set-point production.

Performance charts shown were created with an IN-USA ozone analyzer. The accuracy of the ozone analyzer is questionable at flow-rates below 0.15 LPM due to the method of ozone detection used by ozone analyzers. Values recorded were as reported. Ozone generator was operated for at least 1 hour prior to test to warm-up corona cell. Higher ozone concentration values would be possible with shorter run-times.
Internal Air Pump FAQ:
What's the purpose of the air pump?
-The air pump can be added to pull air through the HTU-500 at a rate of 3-4 LPM.
Does the air pump require additional accessories?
-There are no additional accessories that are required for the air pump.
What are common applications for the air pump?
-The optional air pump allows you to use ambient air instead of needing to supply the unit with oxygen. Any application where you don't have oxygen on-hand could benefit from the internal air pump.
Can an oxygen tank be used with the air pump?
-No, if the pump is installed then the unit is set up to only run from ambient air and oxygen cannot be supplied.
Are there disadvantages?
-A large disadvantage is the lack of good, clean, dry air or oxygen. Over time, the ozone generator cell will become contaminated using the internal air pump. The air pump should only be considered if no other feasible options are available.
Downloads:
Common Applications:
Ozonated olive oil production - can produce pure ozonated olive oil with no impurities!

Lab Applications - consistent ozone production at relatively high ozone concentrations

Pilot testing

Dental offices

Aquarium or small aquaculture application

Hydroponics

Aquaponics

Odor Removal

Spa water treatment

Swimming pools

Small cooling towers
Review from Oxidation Tech
The HTU-500 ozone generator is a great value in ozone generators. This machine offers the quality and reliability of industrial ozone generators at a price-point that is comparable to foreign made "disposable" ozone generators. The ozone production of the HTU-500 is great at flow rates below 2 LPM, so for small ozone applications, this is the best value in ozone generators on the market. Add to this fact this ozone generator is built with all high-quality replaceable parts, this could be the last ozone generator you ever need to purchase. This unit can be repaired and serviced for perpetuity, this is not a quality available from any other machine at this price point.
HTU-500 Ozone Generator Overview
HTU-500 Ozone Generator used with the PRO-5 Oxygen Concentrator
More Information

| | |
| --- | --- |
| Quickbooks Stock Level | 4.000000 |
| Quickbooks Stock Date Expected | 2023-07-07 00:00:00 |
| Call For Price | No |
| Ozone Output | 1.0 g/hr ozone from oxygen |
| Feed Gas | O2 or Dry Air |
| Nominal Gas Flow Rate | 1 LPM oxygen |
| Operating Pressure | 5 PSI |
| Max Pressure | 5 PSI |
| Manufacturer | Azco |
| Cooling Method | Air Cooled |
| Corona Cell | Double Quartz |
| Gas Connections | 1/4" barbed fittings |
| Dimensions (LxWxH) | 4" x 7" x 15" |
| Operational Temperature Range | 35 - 95-deg F |
| Max O3 % | 3% - 5% |
| Power Requirements | 120 VAC, 120 watts |
| Lead Time | 2-Weeks |
| Warranty | 2 Year |
| Country of Origin | Canada |
| Description | Enclosure Dimensions: 15-inch height x 7-inch width x 4 -inch depth Generator Weight: 8 lb |
We found other products you might like!