200 mg/hr ozone generator with integrated air pump, air dryer, tubing, and diffusers

Great ozone generator for home use and small ozone applications

The ZO-30 Ozone Generator is our smallest and most economical ozone generator for small applications. With an Ozone output of 200 mg/hr from dry air, this ozone generator is great for many small applications and compact to fit where you need. The ZO-30 includes an integrated air pump and ships with ozone tubing, diffusers, and an air dryer. This generator will come with everything you need upon delivery to produce ozonated water.
The ZO-30 Ozone Generator is backed by a full 1-year warranty. This generator will ship from, and be serviced by Oxidation Technologies based here in the USA.
Features:
Great value in ozone generators

Integrated air pump


Ships with ozone tubing and diffusers

Includes rechargeable air dryer

Compact size and easy to use
This small ozone generator is perfect for the home user who desires pure drinking water, fruits and vegetables. By bubbling ozone into water at home you will remove contaminates from this water and increase dissolved oxygen in the water. Bubbling ozone into a pitcher with your purchased fruits and vegetables will remove bacteria, extend shelf life, and destroy pesticides from the surface of the produce. Achieve healthier living with the use of ozone.
We have used these ozone generators in small aquariums, and aquaculture applications. With the integrated air pump this ozone generator will bubble ozone directly into the tank, or in a water, treatment tank to break down contamination and elevate oxygen levels in the water.
Specifications:
200 mg/hr ozone output

2 LPM air flow rate with integrated air pump

200 mg/hr ozone from 2 LPM at 2 g/m3 ozone concentration

3/4 PSI air pump pressure (about 1.5 feet of water depth)

1/4" barbed connection for inlet and outlet
What you get:
ZO-30N Ozone Generator with integrated air pump


Rechargeable air dryer

Ozone Tubing

Two Ozone Diffusers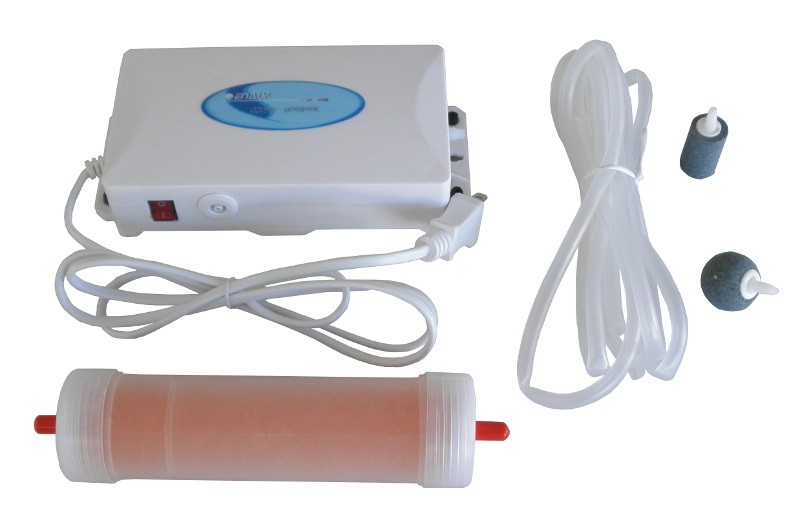 Common Applications:
Drinking water

Washing fruits and vegetables at home

Lab Applications

Pilot testing

Ozonated olive oil

Aquarium or small aquaculture application

Odor Removal

Spa water treatment

Swimming pools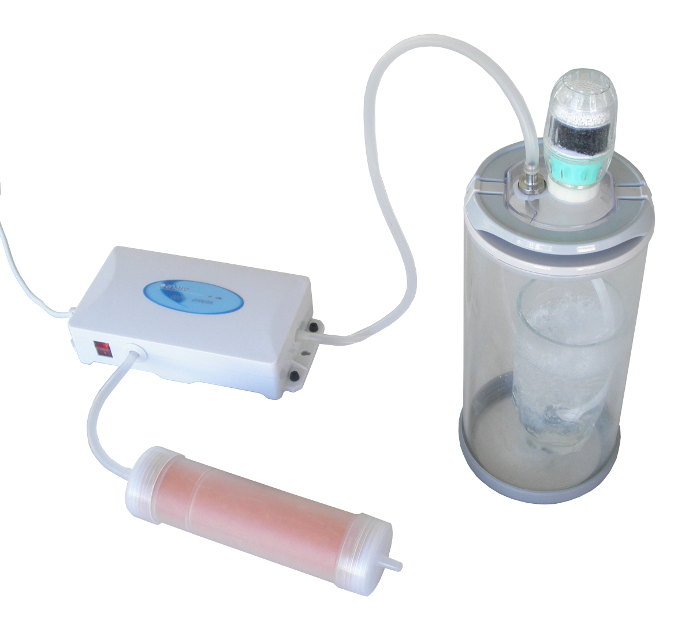 ZO-30 used to bubble ozone in a glass of water safely with the ozone chamber.
Downloads:
More Information

| | |
| --- | --- |
| Quickbooks Stock Level | 6.000000 |
| Quickbooks Stock Date Expected | 2024-01-01 00:00:00 |
| Call For Price | No |
| Ozone Output | 200 mg/hr from dry air |
| Feed Gas | Dry Air |
| Nominal Gas Flow Rate | 1-2 LPM with integrated air pump |
| Operating Pressure | 3/4 PSI |
| Max Pressure | 3/4 PSI |
| Manufacturer | Enaly |
| Cooling Method | Air Cooled |
| Corona Cell | Aluminum , Glass, Stainless Steel |
| Gas Connections | 1/4" barbed fittings |
| Dimensions (LxWxH) | 6" x 4" x 2" |
| Operational Temperature Range | 35 - 95-deg F |
| Max O3 % | Below 3% |
| Power Requirements | 120 VAC, 7 watts |
| Lead Time | 2-Weeks |
| Warranty | 1 Year |
| Country of Origin | China |
| Description | Enclosure Dimensions: 2-inch height x 4-inch width x 6-inch depth Generator Weight: 2 lb |
We found other products you might like!