D16 Ozone Monitor for rent by the week or month. Great option to determine what your current ozone levels are and what action steps should be taken for safety and permanant ozone detection.
*If multiple quantities are added to cart – this is additional months or weeks. If multiple units are needed, please make this comment in the checkout process.
The popular D16 Portable ozone monitor is available for rent. We keep this detector available with an ozone sensor for our customers who are unsure of what level of ozone they are detecting, or for short term applications.

There are additional sensors available for the D16, what we have available for stock will change, please call if you have a specific gas requirement to see if we can meet your needs.
Click here if you are interested in buying a new D16

We also offer used D16 monitors, click here for details
How the Rental Works:

-You place the order via website or phone with credit card for weekly or monthly rental
-We ship device to your location using your preferred shipping carier
-Rental period of 7 or 30 days begins when device arrives to your location
-Device is in use for either 7 or 30 days
-Rental period ends when you ship device back using your prefferred carrier
-When we recieve device we check over for proper operation, calibrate if necessary and get it ready for the next customer!
D16 Features:
-Interchangeable "Smart Sensors" for over 30 gases
-Internal sample pump and external sampling wand
-Standard "D" cell battery and rechargeable backup battery
-One-hand pistol grip design
-Easy to read back-lit graphics liquid crystal display
-Instantaneous and timed-sampling modes of operation
-Visual and Audible alarms
-Internal data-logger with RS-232 output
Summary:
The Series D16 PortaSens II portable gas leak detector is a versatile tool for performing regular leak checks in gas storage areas, around process equipment and piping, or in confined spaces prior to entry. Designed for easy one-hand operation, the detector contains an internal sample pump and a flexible sampling wand to allow pinpoint location of the source of leakage. A large character display insures that measured values are easily visible, and a back-light for the display insures readability in low or no light conditions.
A unique feature of the D16 detector is its ability to measure a variety of different gases by simply inserting the appropriate sensor for that gas. This means that one detector can be used to measure over 30 different gases or vapors, reducing the need to purchase individual detectors for each type of gas. And sensors can be changed quickly and easily, without the need for calibration when a sensor change is made.
Sensors used in the PortaSens II are ATI's newest miniaturized smart sensor modules. Each sensor module is actually a sensor, amplifier, and memory module in one compact package. Because of this design, sensor modules can be calibrated independently and simply plugged into any detector for immediate use. When installed in a detector, calibration data is loaded into the microprocessor so that no adjustments are needed. The result is that a detector can, for example, go from phosgene measurement to ammonia measurement in less than one minute.
PortaSens II Gas Detectors are supplied in a padded
carrying case for easy storage and transport. Space is
provided for an extra battery plus up to two sensor keepers,
which means up to 8 extra sensors ready for immediate use.
The following components are standard:
-PortaSens Gas Detector
-Spare Filters
-10" Teflon Lined Sampling Wand
-Flowmeter
-RS-232 Output Cable
-Battery Charger
-Spare "D" Cell Battery
-Sensor Keeper for up to 4 additional sensors
-Calibration "T" Fitting
Click HERE to add additional gas sensors to your order.
Changing Sensors in the D16:

Sensors in the D16 can be changed easily. See image below.
Remove 2 thumbscrews from the sensor cover, remove the sensor cover, and swap sensors. If you are using the sensor keeper (included with the D16) spare sensors can be kept warm and ready to use. Spare sensor keeper allows for use of a battery to keep power to the sensors. Therefore, after swapping sensors there is virtually no delay in measuring your new gas!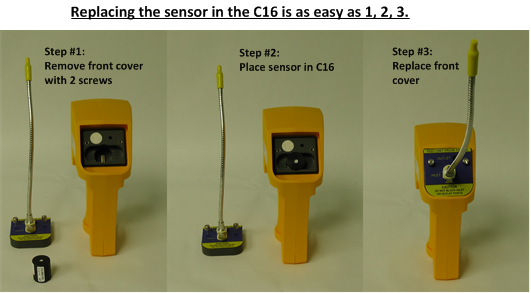 Datalogging with the D16:

The D16 is capable of onboard data logging of your gas measurements. All data logging cables and software are included with the D16. Datalogging is easy to set-up and easy to use.
The D16 is capable of storing 11,520 data points. Data logging intervals of 1, 5, 10, and 15 minutes are possible. The follwing data logging is possible
1 minute interval = 8 days of data
5 minute interval = 40 days of data
10 minute interval = 80 days of data
15 minute interval = 120 days of data
The screenshot below shows the datalogging set-up of the D16. A very simple interface is used to set-up your data logging software and downoald.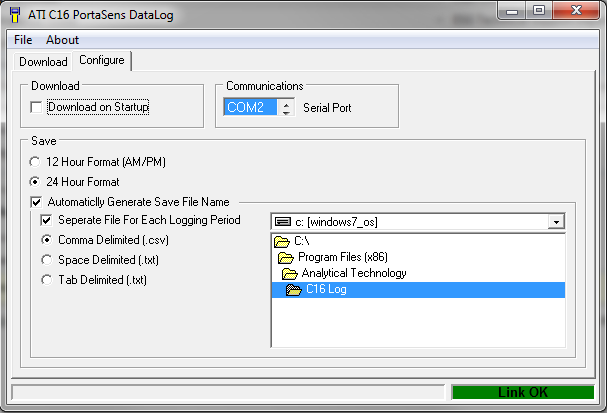 Data is logged with D16 and downloaded. All data is exported to a CSV file that can be graphed or shown as a table with common spreadsheet software on your computer.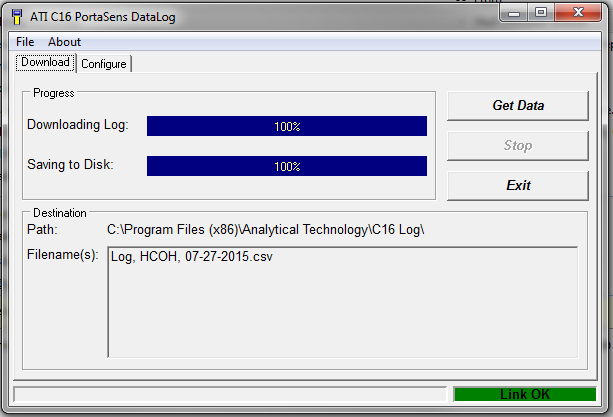 D16 Specifications:

Range

User adjustable within limits of selected sensor

Display

Back-lit graphics liquid crystal display


Accuracy

Sensor dependent but generally ± 5% of value (limited by cal. gas)

Repeatability

±1% (Electronic)

Sensitivity:

1% of sensor module range

Outputs


RS-232 output of stored gas values, 0-1 VDC analog (requires optional output cable)

Memory

12,000 data points

Storage Interval

Programmable for 1, 5, 10, and 15 minute intervals

Power:

D cell battery, alkaline recommended, 75 hours operation Internal rechargeable battery for backup power, 6 hours operation 115 or 220 VAC chargers available

Detector Material:

Glass filled nylon, PVC, and stainless steel

Alarm Relays:

Three SPDT, 5 A @ 230 VAC resistive

Alarms:

Three concentration alarms with adjustable setpoints.

Alarms may be set for high, low, or off. Low flow and low battery alarms Alarms displayed on LCD and indicated by audible beeper
Downloads:
More Information
Manufacturer
ATI
Call For Price
No
Gas
Ozone (O3)
4-20 mA Output
No
Field Replaceable Sensor
Yes
Auto Test Generator
None
Min, Max, Avg
No
Voltage Output
0-1 V
Power Requirements
D cell battery, alkaline recommended, 75 hours operation Internal rechargeable Nicad for backup power, 6 hours operation 120 or 220 VAC chargers available
Datalogging
Yes
Rechargeable
Yes
Field Replaceable Battery
Yes
Warranty
1 Year
Unit Features

- Rental Period: Weekly, Monthly

- Sensors to rent: Ozone Ranges
We found other products you might like!