Industrial Grade Remote Ozone Monitor and Controller
NEMA 4 case digital controller. Failure alarm digital display, precise adjustable max, min, fail points. RS-232 output, relays, analog output, 4/20mA with remote monitor and pre-calibrated field-replaceable sensor.
The OS-6 is available in 20.0 ppm or, 0-50 ppm Electrochemical sensor. Read full description below to learn more about what range may be right for you
The OS-6 is an industrial grade ozone controller and monitor. The OS-6 design has been optimized for accuracy, ease of installation, setup and operation.
Features:
-Industrial strength, water resistant enclosure.
-Large digital display, auto-ranging (2-20ppm) w/ backlight.
-Easy front panel access to set points and relays.
-Precisely adjustable max, min, and fail time set points.
-Failure alarm if ozone remains outside control range.
-Front panel generator control cutoff switch for easy maintenance.
-User selectable PPM ranges for analog output (4-20 mA and 0-2 VDC)
-OSHA 0.1 ppm safety limit light.
Specifications:
-Range: .03-20 ppm, or 0-50 ppm Electrochemical sensor.
-Enclosure: Wall mounted polycarbonate enclosure resists water spray and splash (NEMA 4X).
-Size: H = 6.3"/160mm, W = 6.5"/166mm, D = 4.6"/118mm.
-Power in: 12-24 VDC.
-Power out: +5 or +12-24 VDC to sensor.
-Data in: RS-232 serial data from remote sensor module (SM-4 or equivalent).
-Data out: RS-232, 9600 Baud 8N1 format.
-Analog out: 0-2 V and 4-20 mA, internal jumpers select full scale PPM range.
-Control in: Generator enable (contact closure).
-Control outputs: Relays, 10A @ 25VDC, 0.25A @ 250VDC, 2.0 KVA AC (resistor).
-Relay functions: Ozone generator control, >100 PPB safety limit, failure to control.
-User controls (internal): MAX set point, MIN set point, FAIL time, increase, decrease.
-Numeric display: Four digits, 0.5"/12mm, auto-ranging, with backlight.
-LED indicators: Sensor, above MAX, below MIN, >100 PPB, generator on, failure
-Calibration: Your sensor should be replaced annually
OS-6 Sensor Components:
The OS-6 consists of a base unit, the OS-6 itself. This is attached to the SM-7 remote sensor using a 3-wire cable up to 100 meters long. The SM-7 is a sensor module that detects the ozone and sends that signal back the OS-6 base unit. The OS-6 base unit includes relays, voltage outputs, and a display. The SM-EC sensor chip is installed in the SM-7 sensor module. The SM-EC is a replaceable sensor chip that is pre-calibrated and can be plugged in and out without any other modification.
Summary, there are three main components:
-OS-6 base unit includes the relays, voltage output, and display
-SM-7 Sensor module houses the ozone sensor and measures ozone
-SM-EC sensor chip is the replaceable sensor chip itself
All three of these pieces are included when you buy an OS-6.
The newest configuration uses the OS-6, with the SM-7 sensor module that uses the SM-EC sensor. This is now available to achieve the 50 ppm ozone detection range.
If you have the old SM-6 with an SM-X sensor you will need to purchase the new SM-7 which contains a SM-EC sensor.
Range Selection:
The OS-6 is available in a 0-20 ppm, or 0-50 ppm range sensor. Standard configuration is 0-20 ppm range. Each sensor is pre-calibrated with all calibration data contained on the sensor itself. Therefore, either sensor will work in the OS-6 and even existing OS-6's in the field can be configured with either range sensor without any negative consequences. The SM-EC sensor chip is used and is replaced at a very low cost when calibration is necessary for these applications
For many ozone control applications for odor, food, or other industrial applications the 0-20 ppm sensor will suffice and work well.
The OS-6 comes with the newest SM-EC sensor integrated into the SM-7 Sensor Module. This is an electrochemical sensor with a range of 0-50 ppm. This sensor has great advantages in high humidity environments, or areas where there may be high VOC's or other gasses. While the HMOS sensors can be extremely accurate, they are typically more cross-sensitive than an electrochemical sensor. The 0-50 ppm range will not be suitable for most human safety applications, but will be great for industrial ozone generator control.
Remote Sensor:
The OS-6 is shipped standard with a cable length between the OS-6 base and the SM-7 sensor of about 6 feet. This is sufficient to place the sensor in a room, and the base unit outside the door with the wire running up the wall, and back down again. For any other longer purposes longer wire will be required.
Simple telephone wire is used and shipped with the OS-6 sensor. This is sufficient and will work well for distances up to 100 feet.
We have tested the accuracy and capabilities of the OS-6 up to and beyond the manufacturer's suggested 100 meters (328 feet) max distance. In our testing cable lengths greater than 100 feet should use shielded cable with at least a 22 gauge wire. We have tested an 18 gauge 18-3 high quality shielded cable at distances up to 1,000 feet with good results. If you are looking at using an OS-6 remote sensor at lengths greater than 100 meters give us a call, we would be glad to help you with your application.
OS-6 Indicators and Lights: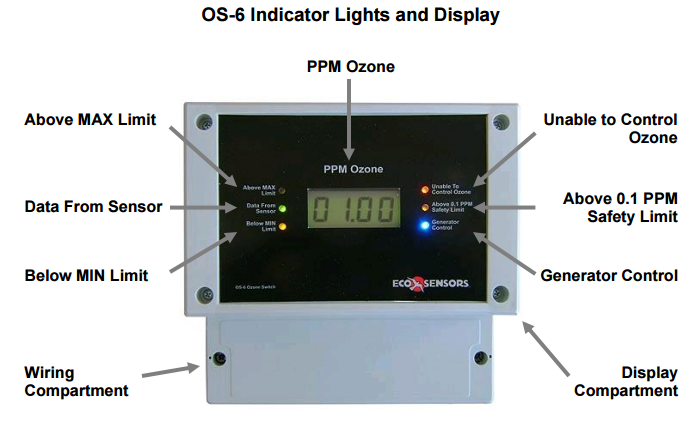 OS-6 Relay Operation:
The OS-6 includes 2 relays for control or alarm purposes, and 1 alarm relay.
-The Safety Relay is factory set to 0.1 ppm and cannot be changed. This is to ensure the OSHA limit is adhered to and reduces the risk of tampering.
-Control Relay can be set to any level the user chooses to control an ozone generator, or another alarm point.
-Alarm Relay is a timer that can be set to alarm after a certain period of minutes that the ozone level is above the control relay. This is to alert of a failure of the system, or alert that the ozone level in a room has been above the safe limit for more than the allotted time.
All of these alarms are set with pushbuttons that are easily accessible in the wiring compartment of the OS-6. Simply remove two screws and the cover to gain access. See image below: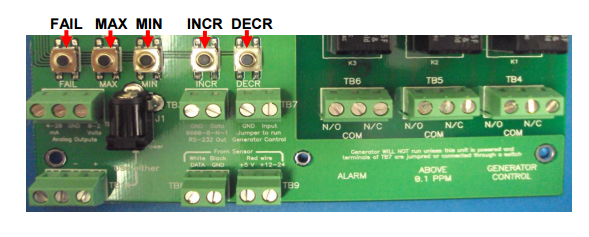 Wiring of the OS-6:
The OS-6 has 3 alarms, a voltage output, 4-20mA output, RS-232 output, and remote ozone sensor wiring. All of this wiring is done in the wiring compartment on the bottom of the monitor. See image below for details: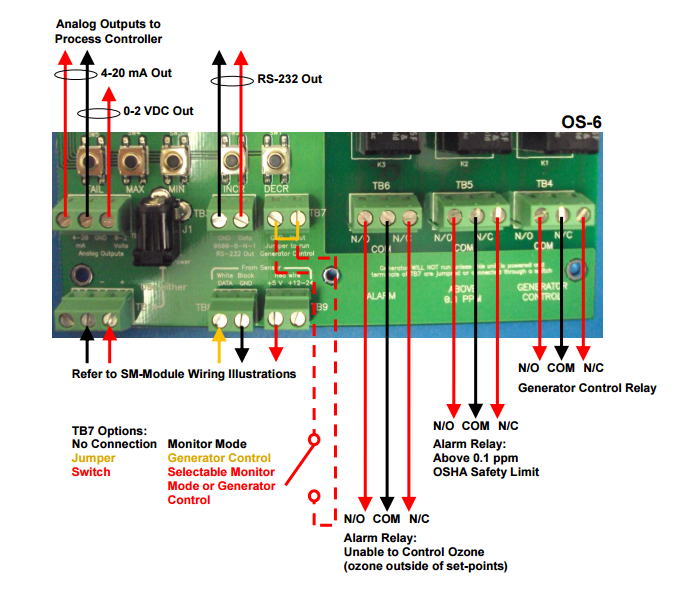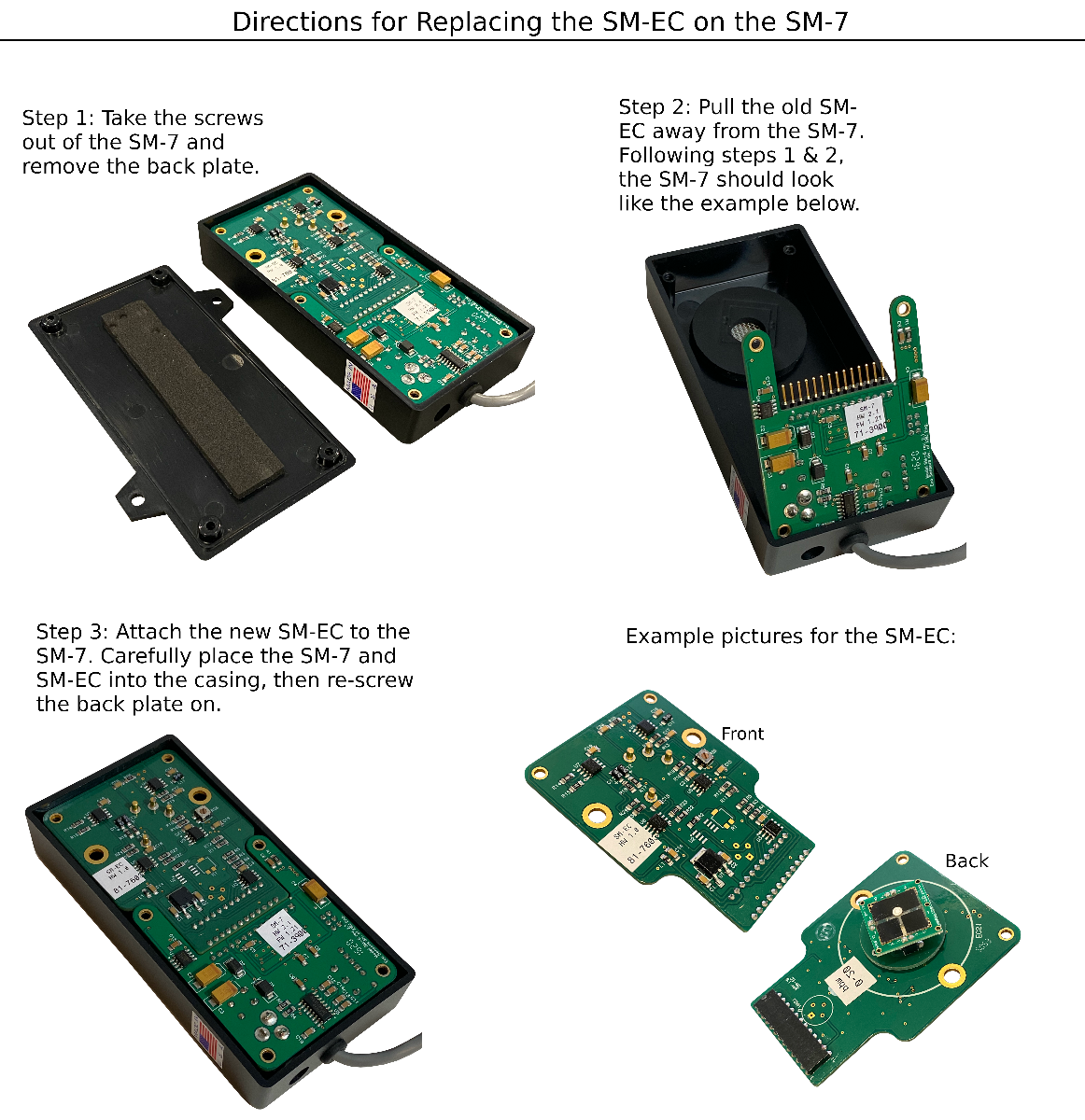 Calibration Information:
Calibration of the OS-6 consists of replacing the SM-EC sensor chip. This low cost sensor chip can be replaced annually (or more frequently) to keep your OS-6 Calibration up to date. Click here for more info on calibration.
The SM-EC is a mass produced, yet accurate ozone sensor that is considered disposable. There is no calibration option for this sensor. The expectation is that this $275 sensor chip is replaced annually with a new sensor chip. The SM-EC is available in two ranges, 0-20 ppm or 1-50 ppm, each device may use that data and display differently, however we keep it simple and can use the same sensor for each device listed above.
The SM-EC carries all calibration data, along with a humidity sensor for humidity compensation that is calibrated to work with the sensor. No calibration alterations are necessary or possible with the SM-EC sensor chip.
Each of these sensors calibration can be checked throughout the year, using the OG-3 Calibration Checker. The OG3 will easily and quickly verify that the SM-EC incorporated on your device is still accurate and reading ozone correctly.
Wireless Monitoring & Data Logging Kit
Use the Wireless Monitoring & Data logging Kit with your fixed mount monitor to connect it to the internet allowing access from anywhere. Receive Instant notifications with free text and email alerts. This is a great addition for your fixed mount gas detector.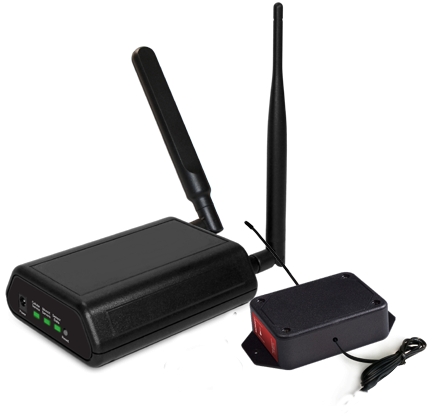 The SAT-1 is a signalling tower that indicates various states of operation. The interchangable stacking light module can be customized, as well as factory mounted or installed by the user.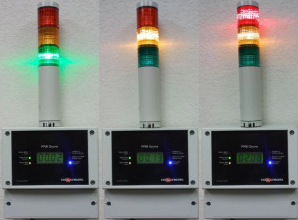 User Manual:
OS-6 Ozone Monitor User Manual
More Information
Manufacturer
Eco Sensors
Call For Price
No
Gas
Ozone (O3)
Resolution
0.01 ppm
Integrated Relays
Yes
Response Time
1 second
Sensor type
Heated Metal Oxide (HMOS)
Sampling Method
Fan
Alarms
No
Operational Temperature Range
35 - 100 deg F
Operational RH Range
0 - 85% RH
Power Requirements
12 VDC with supplied adapter
Size
H = 6.3"/160mm, W = 6.5"/166mm, D = 4.6"/118mm.
Field Replaceable Battery
No
Warranty
1 Year
Audible Alarm
No
Calibration
Replace with Pre-Calibrated Sensor Annually
Sensor Life
1 Year
Range
0-20 ppm, or 0-50 ppm
Unit Features

-Remote Sensor Standard

-Backlit LCD Display

-3 Inegrated Relays

Sensor Range

0-20 ppm

0-50 ppm

Sensor Range

0-20 ppm (O3)

0-50 ppm (O3)
We found other products you might like!