VMUS-4 O3 Generator for rent
10 g/hr ozone generator available for rent. Compact, easy to use ozone generator that can be rented by the week or month. Great ozone generator for pilot tests or short term testing of any kind.
*If multiple quantities are added to cart – this is additional months or weeks. If multiple units are needed, please make this comment in the checkout process.
VMUS-4 is a flexible and easy to use ozone generator producing ozone under vacuum or pressure, from oxygen or air. Great ozone generator for your application. Rent the ozone generator by the week or month.
See full details on the VMUS-4 HERE
Rental Terms:
-Pre-payment required for all rentals - payment can be made via credit card online
-Rental period is for term paid for, shipping time to and from customers location is not included in rental term and is not billed
-Shipping both to and from the customer is paid by the customer - Ground shipping is okay
-Equipment guaranteed to arrive in working order, any damage to equipment will be billed to customer
-Rental term can be extended at any time during the rental
-Discounts for longer term rentals apply, arrangements must be made up front
Key Features:
-Produces Up to 10 g/hr ozone efficiently
-Can also produce 4 g/hr ozone from dry air
-Wall mountable
-Flow meter is standard
-Adjustable output Standard
-Flow Switch Standard
-Detachable power cord
-Easy to install and operate
-Powder coated Al. cabinet
-Can operate under pressure or vacuum
-Circuit protection equipped
-Rebuildable ozone generator corona cell
Ozone Generator performance on both dry air and oxygen feed gas shown below.
Ozone Production from Oxygen:
| | | |
| --- | --- | --- |
| O3 Output | O2 Flow | O3 Concentration |
| 4.28 g/hr | 1 LPM | 5.36 % |
| 7 g/hr | 2 LPM | 4.43% |
| 10.3 g/hr | 4 LPM | 3.23% |
| 11.5 g/hr | 6 LPM | 2.4% |
| 12.8 g/hr | 8 LPM | 2.0 % |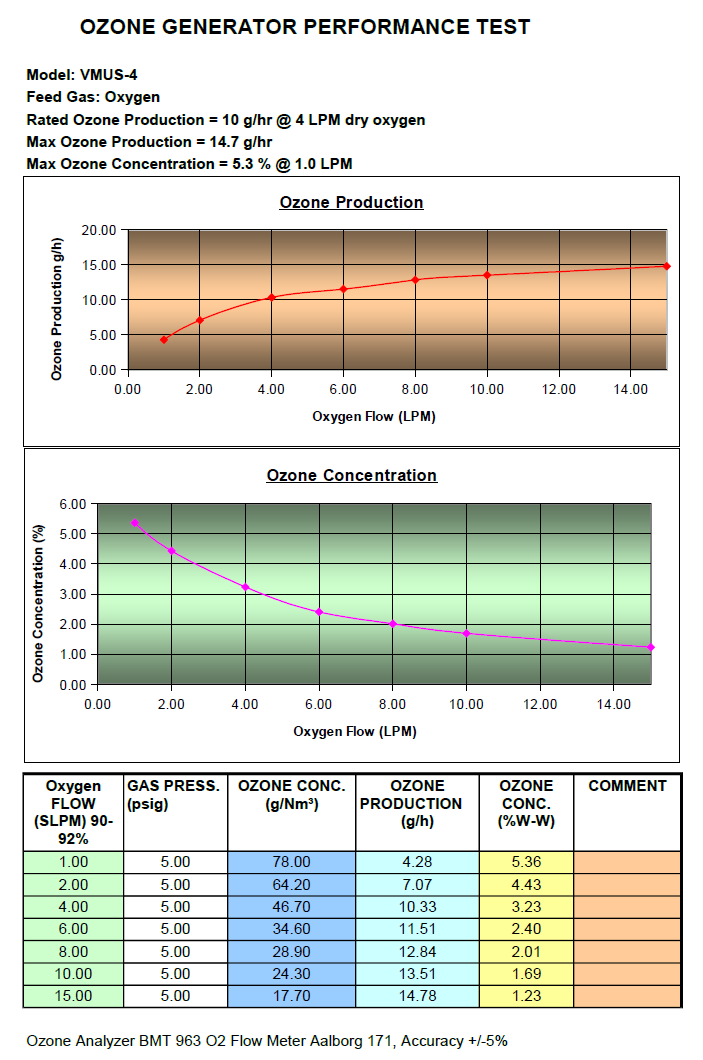 Click on image for larger view
Ozone Production from Dry Air:
| | | |
| --- | --- | --- |
| O3 Output | Air Flow | O3 Concentration |
| 1.28 g/hr | 2 LPM | 0.8 % |
| 2.19 g/hr | 4 LPM | 0.68 % |
| 2.88 g/hr | 6 LPM | 0.6 % |
| 3.3 g/hr | 8 LPM | 0.52 % |
| 4.0 g/hr | 10 LPM | 0.5 % |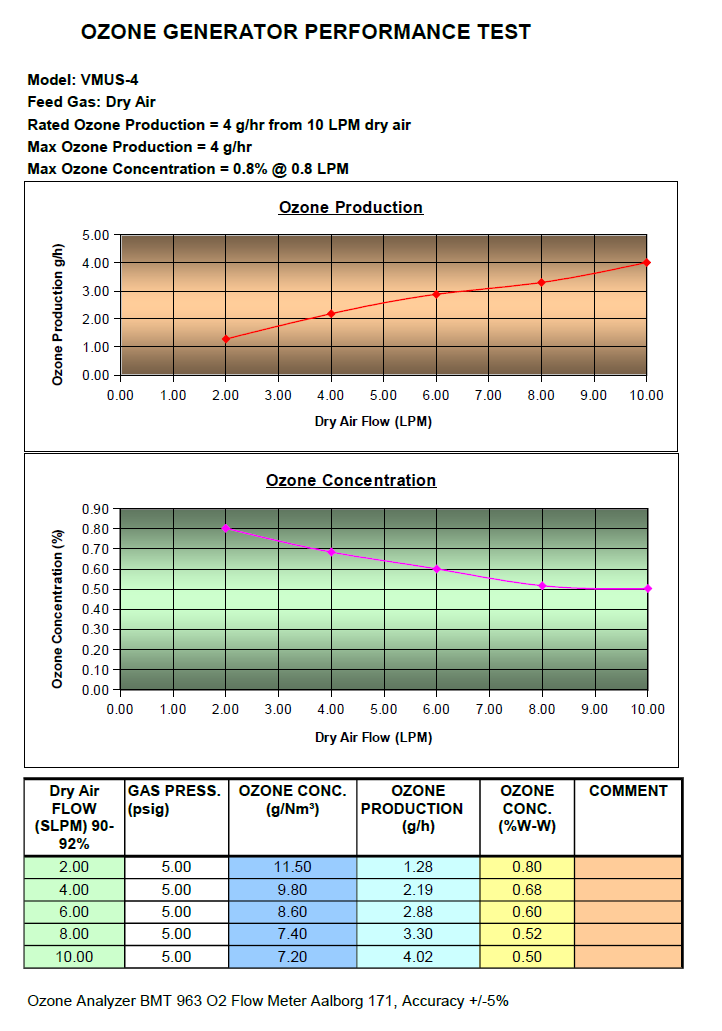 Click on image for larger view
Using the VMUS-4 with Oxygen:
We provide a variety of oxygen concentrators that could be used with the VMUS-4. Our recommendation would be the Aerous-8 Oxygen Concentrator. The Aerous-8 will produce 4 LPM of oxygen, this is sufficient for a full 10 g/hr of ozone production from the VMUS-4. The oxygen pressures flows and general operation of the Aerous-8 will be a great fit with the VMUS-10. However, if you choose to use your own oxygen concentrator, simply contact our office and let us ensure it is the right fit for your application.
Keep in mind that ozone generated from oxygen will be generated at a high concentration, and will therefore dissolve into the water more efficiently. Therefore, if using ozone to be dissolved into water consider using an oxygen concentrator first.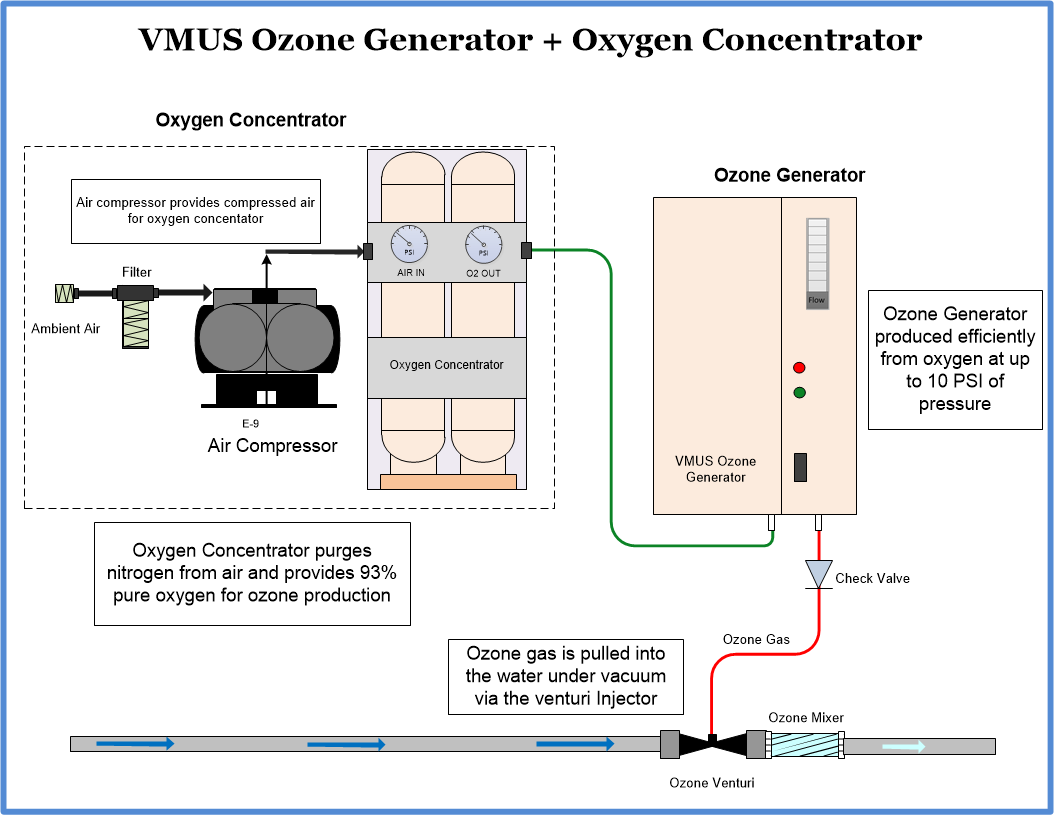 Click on image to enlarge
Using the VMUS-4 with Dry Air:
The VMUS-4 Ozone Generator can operate under vacuum. Using the VMUS-4 with the VMD-8 vacuum-driven air dryer is a simple method of dissolving ozone into water. A venturi injector can be used to create a suction of gas into a water stream. The ozone generator and air dryer can be plumbed in series so that the dry air is pulled through the ozone generator and into the water via the venturi injector. There will be no major moving parts and simple, reliable operation.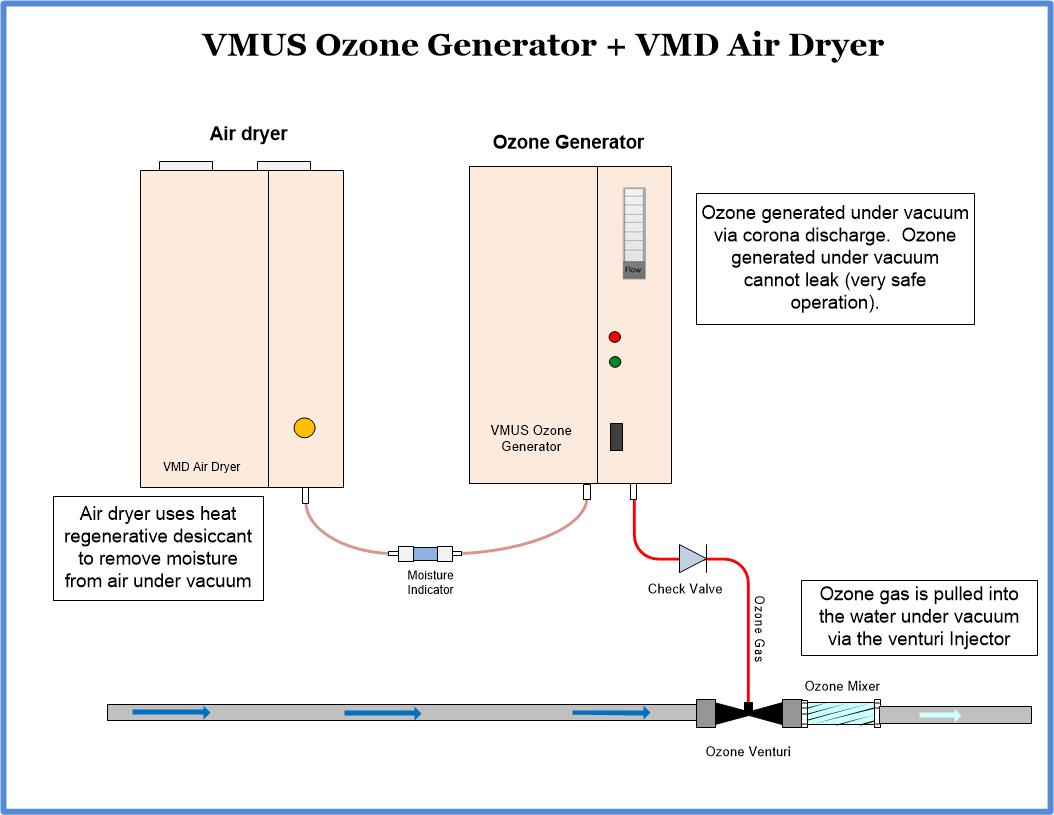 Click on image to enlarge
Common Applications:
-Ozone in water application for water treatment
-Laboratory applications
Due to the flexibility of the VMUS-4, it can be used in most any ozone generation application. This is one of the few ozone generators available that can efficiently produce ozone from dry air, or oxygen, at pressure, or vacuum. This flexibility along with the wall mounting configuration make this a great ozone generator for many applications.
More Information
Manufacturer
Azco
Call For Price
No
Unit Features

- 10 g/hr Ozone Generator

- 4.0 LPM from Oxygen or 4 g/hr from Dry Air

Size
Enclosure Dimensions: 17-inch height x 10-inch width x 5.5-inch depth Generator Weight: 15 lb
Max Pressure
5 PSI
Model
VMUS-5
Operating Pressure
-5 - 5 PSI
We found other products you might like!