15 SCFH oxygen production from an OEM oxygen concentrator module. Oxygen flow up to 15 SCFH at 12 PSI of pressure. Great for OEM applications.
The OG-15-OEM is an OEM oxygen concentrator module designed for OEM applications. Use this compact oxygen concentrator module in your ozone generator, or on your skid. Great for when compressed air is available on-site.
Oxygen flow of 15 SCFH is available at 12 PSI of delivery pressure.
Requires 4 CFM compressed air 30 - 35 PSI. Compressed air can be supplied from on-site compressed air source, or from oil-less compressor. The OG-15-OEM is ideal for applications where ambient air quality may be questionable, but plant compressed air is available. This will allow filtered, clean plant compressed air to be used eliminating the concern for oxygen concentrator contamination.
The OG-15-OEM uses the same main components as the OG-15 Oxygen Generator. The sieve beds, timer, and most plumbing is shared. The OG-15-OEM is provided with built-in pressure relief valve and oxygen check valves. This ensures a simple install in your system.
Features:
Dependable:
The OG-15-OEM is built to provide thousands of hours of continuous, reliable service. With only one valving action, there are very few moving parts to fail. The zeolite sieve material used to adsorb nitrogen is sealed in aluminum cylinders and rarely need service or replacement.
Rebuildable:
The greatest advantage of the OG-15-OEM is the entire unit is rebuildable. This unit will serve you for many years with only minimal maintenance. The sieve beds are replaceable, or rebuildable, valves can be cleaned or replaced. The OG-15-OEM will serve in your application for as long as you choose to maintain it.
We offer each replacement part for the OG-15-OEM, and keep each in stock. We also offer a rebuild program. If you prefer, we will ship you a rebuild OG-15-OEM and a return shipping label to return your unit. We charge one flat fee for a complete rebuild of the entire unit.
Economical:
Due to the fact the OG-15-OEM can be rebuilt or repaired this unit will never be completely replaced with new. This saves costs long-term versus alternative models that cannot be rebuilt and are replaced when parts are worn or zeolite requires replacement. The OG-15-OEM is a very economical oxygen generator to operate over the long term.
Made in the USA:
The OG-15-OEM is manufactured, assembled, and tested entirely in the USA.
Component Diagram: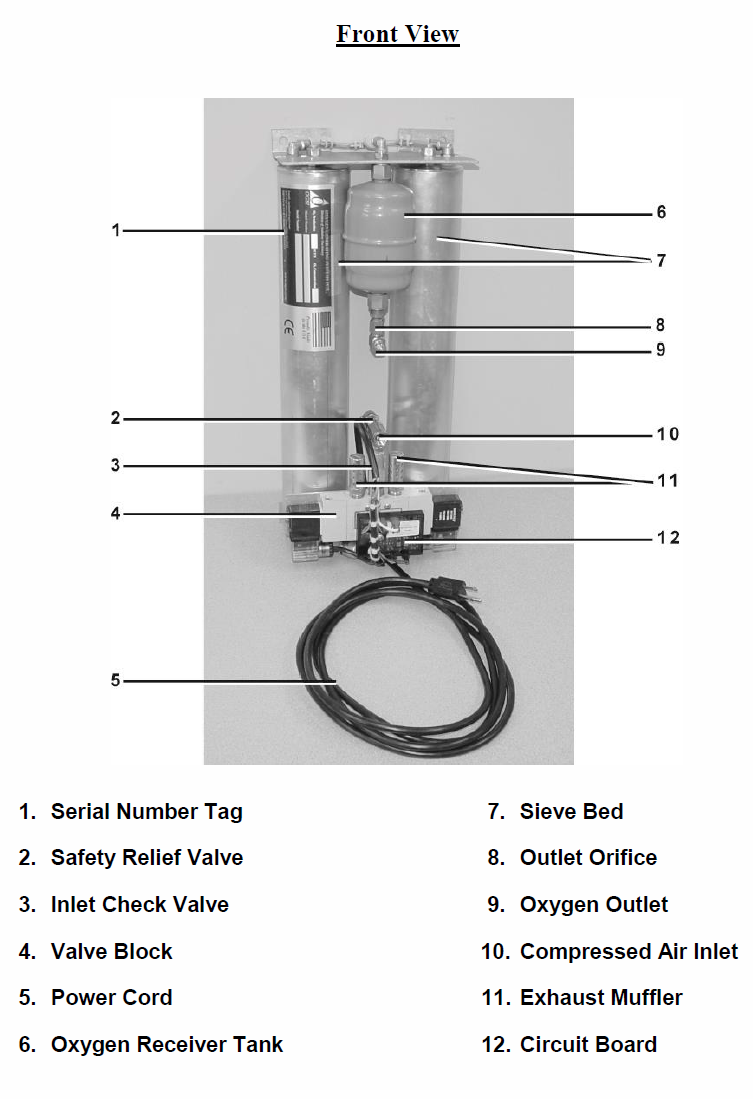 What is Pressure Swing Adsorption (PSA)
Clean, dry compressed air is fed into the first molecular sieve bed. Nitrogen is adsorbed, while oxygen is allowed to flow through. When the sieve in the first bed becomes full of nitrogen, the airflow is then directed into the second bed. As the second bed separates the oxygen from the nitrogen, the first bed vents its nitrogen into the atmosphere. Compressed air is once again fed into the first bed, and the process is repeated continuously. A constant flow of oxygen is reliably produced.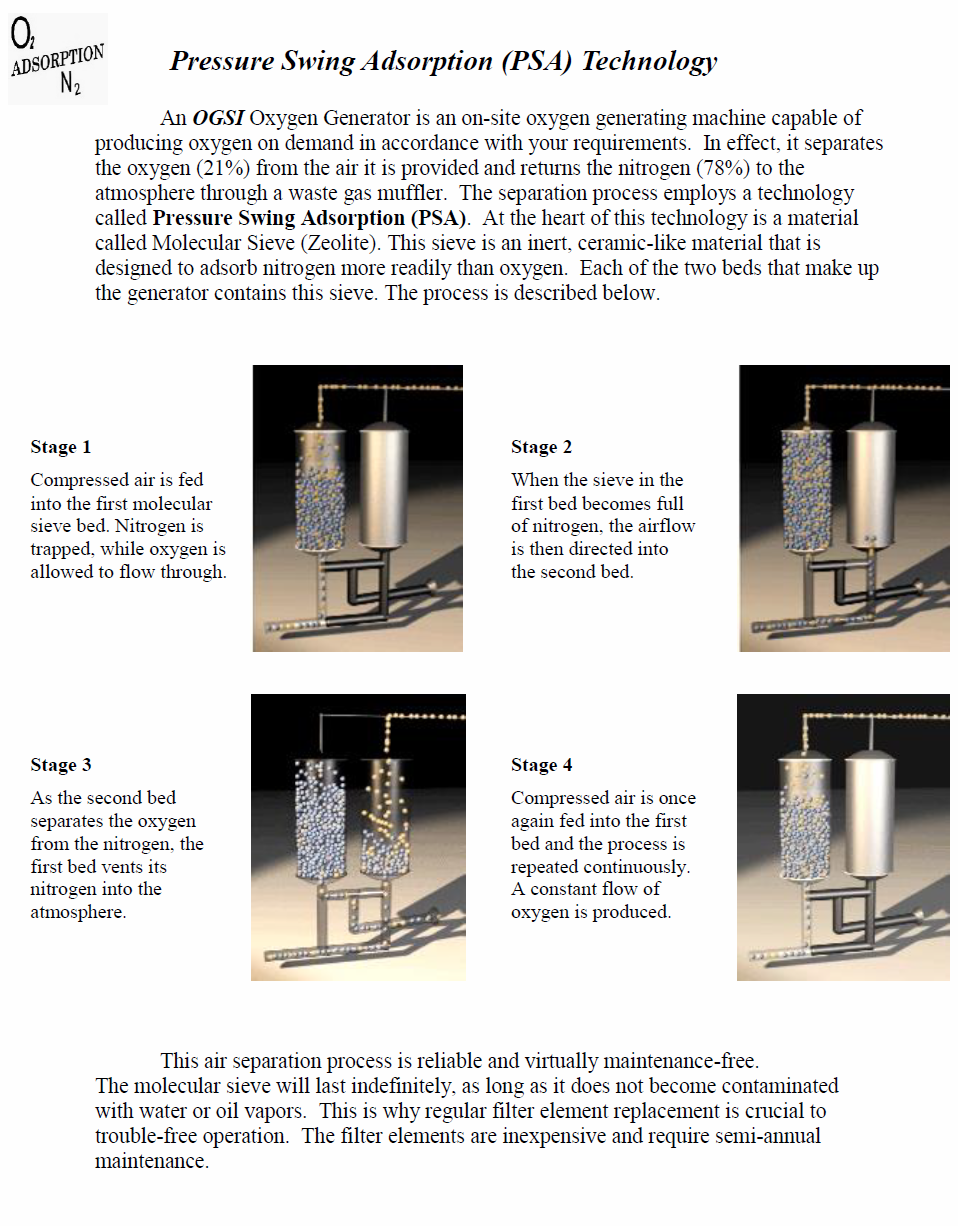 OG-15-OEM Dimensions:
Installing the OG-15-OEM is simple. 4 bolt holes are provided on the baseplate. The OG-15-OEM can be installed on a wall, rack, or inside an enclosure.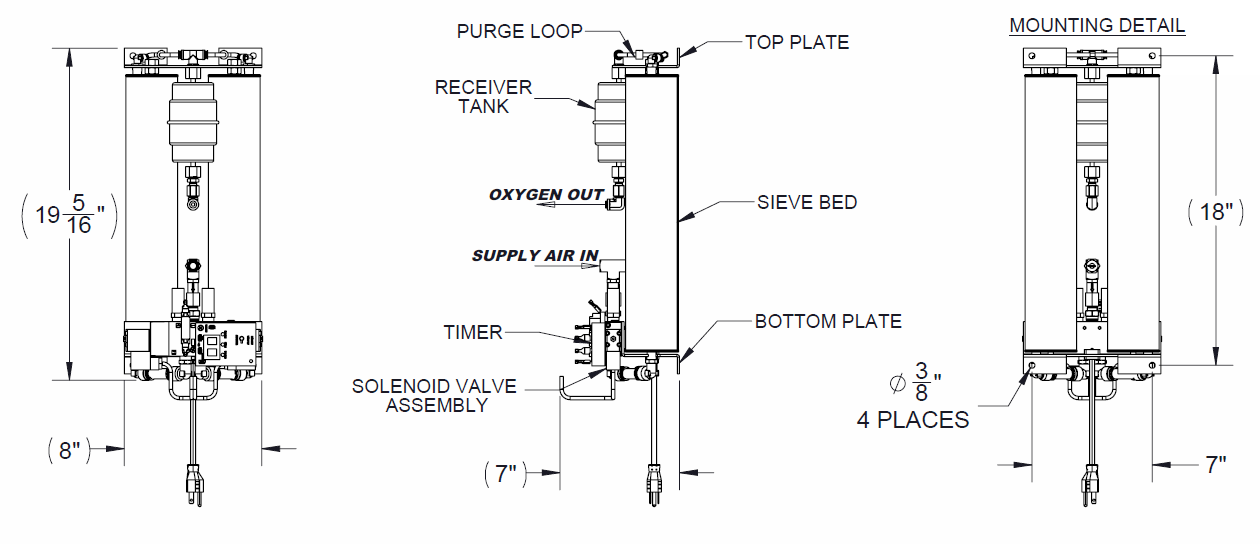 OG-15-OEM Replacement Sieve Beds:
You can purchase replacement sieve beds on our website - both New and Rebuilt OG-15-OEM sieve beds are available.
Downloads:
Installation and Operation Manual
More Information

| | |
| --- | --- |
| Manufacturer | OGSI |
| Quickbooks Stock Level | 2.000000 |
| Call For Price | No |
| Listing Description | 15 SCFH @ 12 PSI |
| Oxygen Production | 15 SCFH |
| Internal Compressor | No |
| O2 Delivery PSI | 15 PSI |
| Nominal Gas Flow Rate | 15 SCFH |
| Operating Pressure | 12 PSI |
| Max Pressure | 20 PSI |
| Gas Connections | 1/8" Female NPT |
| Dimensions (LxWxH) | 8" wide x 7" deep x 19.3" tall |
| Operational RH Range | NA |
| Operational Temperature Range | NA |
| Power Requirements | 120 VAC, 60 Hz, 1-phase, 10amp (220 VAC optional) |
| Lead Time | In Stock |
| Warranty | 1 Year |
| Country of Origin | USA |
| Description | Requires 4 CFM air @ 30 PSI |