Dissolved Ozone Meter, Measure ozone in water from 0-10 ppm directly inline at water pressures up to 65 PSI. Integrated relays, and 4-20 mA output signals.
The AquaSensors AV88 Ozone Meter will measure ozone directly in water in a process or piping system. This sensor can be placed directly into a TEE in a piping system that is exposed to up to 65 PSI of pressure.
AV88 Ozone Meter Features:
-0-10.00 ppm range -Measure ozone accurately up to 10 ppm with 0.01 ppm resolution

-High pressure sensor-Sensor capable of operating under pressure up to 65 PSI

-Simple install in process - Sensor can be placed directly into a piping system with no flowcell required.

-Clear Display - Back-lit LCD display provides clear visibility in any lighting conditions
AV88 Ozone Meter Specifications:
| | |
| --- | --- |
| Sensor Type | Polargraphic Sensor with replacement membrane cap |
| Range | 0-10.00 ppm |
| Response Time | 90% in 90 seconds |
| Accuracy | 2% of full scale |
| Max Pressure | 65 PSI |
| Resolution | 0.01 ppm |
| Analog Output | Two 4-20 mA outputs |
| Enclosure | Universal 1/4 DIN |
| Weight | 0.5 lbs |
| Sensor Material | PEEK |
| Sensor Electrode | Clark cell; gold cathode, silver anode, silver reference |
| Membrane cap | PFA Teflon |
| O-rings | Viton |
| Approvals | Meets CE requirements for heavy industrial use |
| Sensor Cable | 10-feet standard, optional 20 or 30 foot cable lengths |
| Sample Temperature | 0-50° C |
Notes:
All systems are supplied with one bottle of electrolyte solution

The AV88 Ozone Meter is mounted in a standard 1/4 DIN enclosure that is simple to install. This meter can be panel mounted or wall mounted with minimal labor. See image below for example of the AV88 Dissolved Ozone Meter installed on an ozone water system: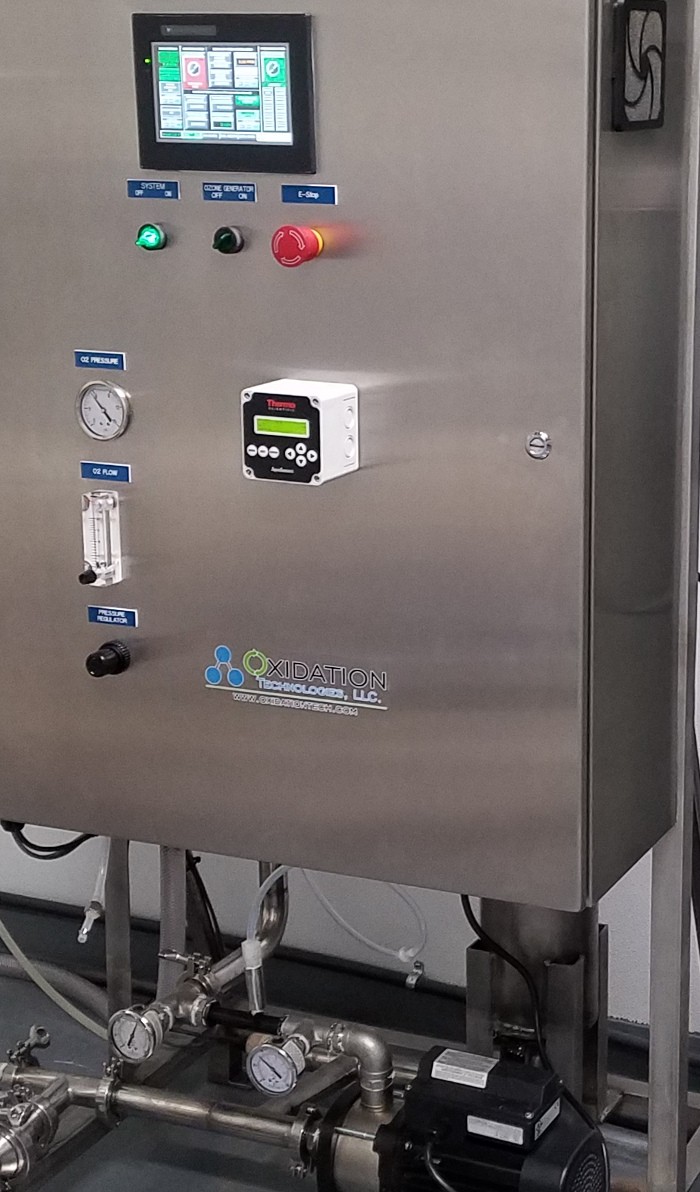 The AV88 Dissolved Ozone Sensor Probe can be installed directly into the piping of your ozone system with no flowcell or other equipment required. A simple tee in a pipe will also suffice to install the AV88 Sensor Probe. See image below for example of the AV88 Dissolved Ozone Probe installed: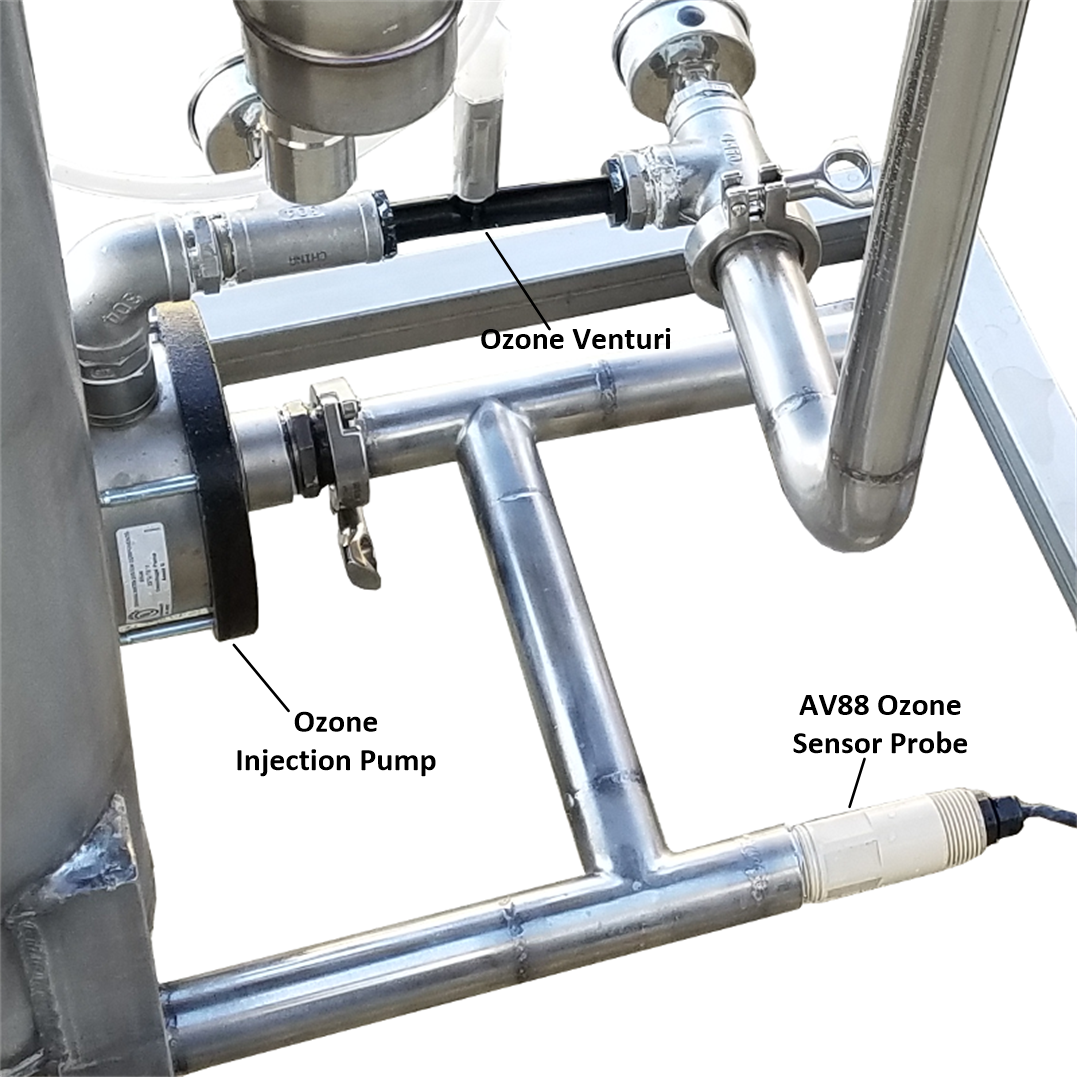 Calibration:

The AV88 Ozone Sensors must be calibrated on-site with the customers' water in process. As pressure and water flow will affect the calibration it is important to perform the calibration in the specific process the sensor will be used to measure ozone in.
Calibration frequency will depend upon ozone concentration in the water and water quality. Higher dissolved ozone levels will consume the electrolyte solution and membrane quality quicker than low levels of ozone. At ozone levels below 2.0 ppm we find the AV88 can maintain stable readings for 6-months at a time between calibrations. However, at ozone levels greater than 20 ppm calibration should be performed at least monthly and ozone levels greater than 100 ppm will require weekly or even daily calibration.
A bottle of electrolyte solution and a pack of 10 membranes is shipped with each AV88 Dissolved Ozone Meter.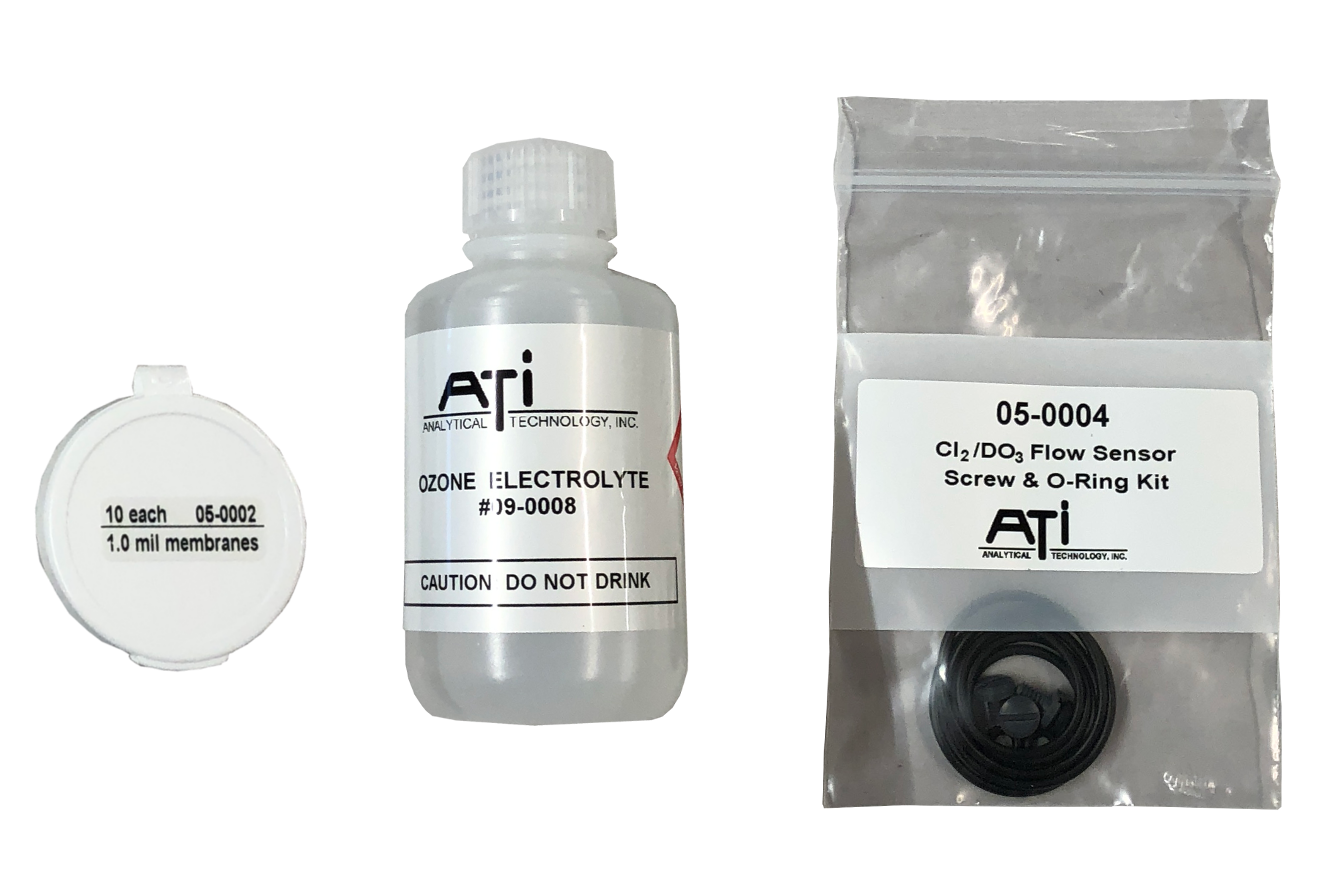 Calibration should be performed with a colorimetric dissolved ozone test kit. Below are a few kits we suggest and the potential applications for each.
I-2019 SAM Dissolved Ozone Meter
Best for high level detection of ozone, direct read to 5.0 ppm

When measuring ozone levels above 0.75 the I-2019 dissolved ozone meter is the best option. This is a digital handheld ozone meter using the DPD method of measuring ozone in water. Simple manual grab-sample vacu-vials are used to indicate ozone levels in water.
The I-2019 will measure ozone in water directly up to 5.0 ppm (highest of any packaged ozone test kits) and can be diluted with the sample cup to read ozone levels up to 25 ppm with reasonable accuracy.
K-7404 Dissolved Ozone Kit
Low cost option to measure ozone from 0 - 3.0 ppm

The K-7404 kit is a lower cost, visual indication option for calibrating the dissolved ozone meters. The same DPD measurement principle as the I-2019 test kit is used, with a simple color comparator to use to visually indicate ozone levels in water. Two comparators are provided, one to indicate ozone levels from 0-0.6 ppm, and another with a range of 0.6 - 3.0 ppm.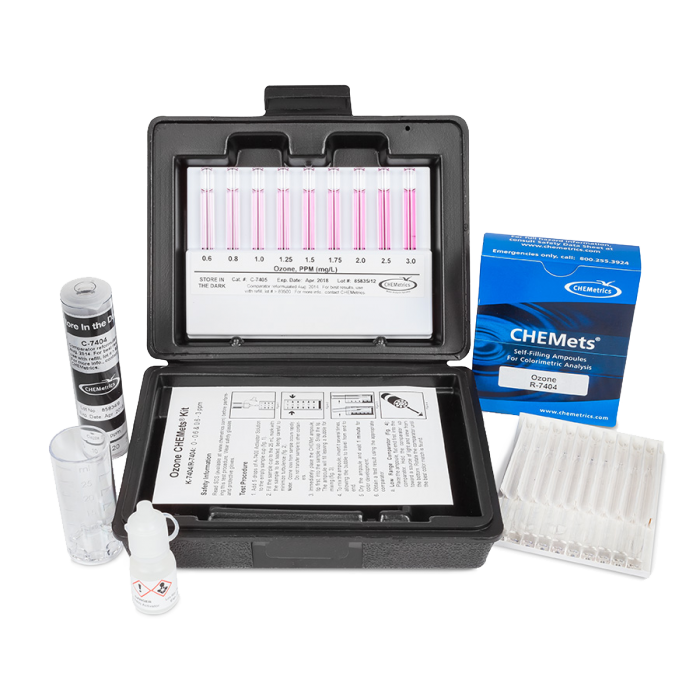 Downloads:
More Information

| | |
| --- | --- |
| Manufacturer | ThermoFischer Scientific |
| Call For Price | No |
| Gas | Ozone (O3) |
| 4-20 mA Output | Yes |
| Relays | 2 Alarm Relays + 2 Control Relays |
| Voltage Output | None |
| Power Requirements | 12-30 VDC, 120 VAC or 220 VAC 50/60 hz. please specify desired voltage when ordering |
| Datalogging | No |
| Warranty | 1 Year |
We found other products you might like!