Configurable F12 Ozone Monitor (Intrinsically Safe)
The Series F12 Ozone Transmitter is an Intrinsically Safe (IS) version of the explosion proof D12 transmitter. Choose between 4 different ozone sensor ranges, in addition to ozone, it is designed for detection of a variety of toxic gases in hazardous area applications. The F12 is highly custimizable to suit almost every fixed mount toxic gas application.
*Please Note* the F12-is currently has a lead time of approximately 3 weeks. However, we do have several pre-configured F12-is's in-stock.
-F12-is with Integral Sensor Holder
-F12-D with Sensor Holder & 6 Foot Cable
The Series F12 Ozone Transmitter is an Intrinsically Safe (IS) version of our explosion proof D12 transmitter. There are 4 different ozone sensor ranges to choose from. See below for details.
There are 4 available ozone sensors to choose from:
0-1000 ppb
0-1000 ppb standard range

0-500 ppb minimum range

0-2000 ppb maximum range

Units of measure = ppb (parts per billion)

1 ppb resolution
0-2 ppm
0-2 ppm standard range

0-1 ppm minimum range

0-5 ppm maximum range

Units of measure = ppm (parts per million)

0.01 ppm resolution
0-20 ppm
0-20 ppm standard range

0-5 ppm minimum range

0-200 ppm maximum range

Units of measure = ppm (parts per million)

0.1 ppm resolution
0-1,000 ppm
0-1,000 ppm standard range

0-200 ppm minimum range

0-1,000 ppm maximum range

Units of measure = ppm (parts per million)

1 ppm resolution
In standard form, the F12 is designed for ozone gas detection in hazardous area applications requiring IS devices. In addition, it is also well suited for all general purpose applications where toxic gas measurement is required. For IS installations, this transmitter is also available with a Hart communication option.
F12 Transmitters use ATI's standard smart sensors for maximum flexibility. Sensors are easily exchanged and contain all calibration constants in sensor memory, eliminating the need for field calibration of transmitters. Sensors may be calibrated separately on the bench and then simply plugged into the trasmitter. Calibration data is read into the transimtter automatically and no other adjustments are normally required. In addition to ozone, there are over 30 other gas sensors available to be used with the F12. See below or click here for full list.
For gernal purpose gas detection applications, the F12 transmitter is also available in Non-IS version. One version provides for easy interfact to RS-484 networks using a standard MODBUS communication protocol. A second version provides a complete AC powered instrument with 3 alarm relays (SPST) availbale for exteral alarming.
F12 Options (how to order)

Note: The F-12 is highly customizable to fit your every need. Please review the options closely to ensure you choose the right configration for your application. Please call if you have any questions or need help configuring the right sensor for your application.
Sensor Module: Choose the gas and range of detection required for your application
Transmitter Type: Intrinsically Safe model is standard. It is only loop powered and provides a 4-20 mA output for gas detection. No relays, control, or heated sensor options are available.
Sensor Holder Style: The sensor of the F12 can be mounted in a variety of ways
-Integral sensor is standard and contains the standard sensor holder integrated into the enclosure of the F12 out the bottom of the enclosure
-Remote sensor holder with 6 foot cable provides a remote mount sensor in a pre-wired 6'cable, this cable length is fixed and cannot be changed
-Remote Sensor holder with Junction box allows for a remote mount sensor at a max length of 100 feet. Standard option includes 100 feet of cable, if shorter cable length is preffered custom lengths can be provided.

-Duct mount sensor holder provides a duct mount sensor for duct, or pipe mount application and a duct mount adapter. Also includes 25 feet of cable for remote mounting ability.

-Heated sensors are optional - please contact us to configure as they are very customizable.
Digital Output:
-Standard 4-20 mA output is provided with all sensors

-HART interface is available for all sensors
-Modbus interface is only available for RS-485 sensors, and 115 VAC sensors.
F12 Features
Intrinsically Safe Design: Transmitters are designed for use in applications requiring intrinsically safe devices for safety purposes.
Interchangeable Sensors: Every transmitter will accept up to 45 different sensor modules, greatly reducing the need for multiple transmitter models.
Sensor Auto-Test: ozone generators permanently installed on the sensor verify sensor operation by providing a "bump test" of the sensor from daily to once a week.
Smart Sensor Modules: Plug-in sensors store calibration data, allowing sensors to be calibrated separately from the transmitter. This allows bench calibration (or factory calibration) of sensors to reduce the necessity for carrying calibration gas around the plant.
Alarm & Relay Option: A non-IS version of the transmitter provides 3 integral alarm relays. Relays are programmable for setpoint, hysteresis, on-delay, off-delay, and other variables. Systems with alarms are available for operation from 12-30 VDC supplies or from 115 or 230 VAC power.
Serial Communication Interface: The IS version of the transmitter is available with HART™ communications. The HART protocol supports the HART Universal and Common Practice Commands at 1200 baud using the Bell 202 FSK modem standard. The non-IS versions of the transmitter are available with MODBUS™ communications. The MODBUS protocol supports 9600 baud access to concentration and status information, and supports alarm setup and many other functions.
LCD Graphics Display: ozone Concentrations are displayed in large, easy to read numbers. The display also provides alarm indication and complete menus for setting up operating parameters.
Internal Data Logger: Measured ozone values are stored at user definable intervals and can be recalled when needed on the LCD display. Data can be downloaded using a HART™ or MODBUS™ interface.
Sensor Calibration History: Each time a sensor is zeroed or calibrated, the data is stored in memory. Calibration history can be recalled and sensor condition reviewed by operating personnel whenever necessary.
Non-Intrusive Operation: Operating functions such as calibration, alarm setup, alarm reset, data view, and setup options are all available using sealed front panel switches on the face of the Nema 4X transmitter enclosure.
Heated Sensor Option: For use in applications where condensation is a problem, this heater option keeps the sensor above the dew point to eliminate loss of sensitivity due to moisture blockage on the sensor face.
Output Simulation: Transmitter analog output can be set to user definable values and relay outputs can be set to specific states for complete simulation of detection system operation. Output and alarms may also be inhibited for maintenance and calibration.
Click HERE to add additional gas sensors to your order.
F12 Accessories
Calibration Adapter: The F12 can be calibrated by performing a zero calibration, and then the calibration adapter is required.
Flowcell Assembly: Allows the F12 to measure a sample gas flowing past the sensor. Sealed flowcell assembly is safe to use and provides accurate gas measurement of sample gas. Use in sample stream with a sample pump or sampler (example: A21 Gas Sampler)
Sensor Module Keeper: Can hold up to 4 sensors and keeps them ready for operation so complete sensor changes and sensor warm-up can be made in less than 1 minute.
Duct Sensor Adapter: Allows the sensors to be held in this adapter, and then secured to a duct or pipe. It has a 1 1/2" MNPT connection.
Panel Mount Bracket: Can be used to panel mount the F12. NOTE: this comes with the standard F12.
RAP-1: Alarm panel that offers visual and audible alarms to indicate gas levels that are unsafe.
RAP-2: Alarm panel that offers visual and audible alarms to indicate when Ozone levels are unsafe.
F12 Specifications
Sensor Type

Electrochemical Cell

Range

User adjustable within limits of selected sensor

Response Time

Sensor dependent

Accuracy

Generally ±10% of value, but limited by available calibration gas accuracy.

Repeatability

±1% (Electronic)

Linearity

±0.5% (Electronic)

Zero Drift

Less than 2% full scale per month

Span Drift

Dependent on operating environment but generally less than 3% per month

Analog Output

4-20 mA, 600 ohms max. at 24 VDC

Power Requirements

(Standard and HART™ Option) Powered from 4-20mA loop, 12-30 VDC, 25 mA max.
(Modbus Option) Requires regulated 10-28 VDC to power RS232/485. May be same supply as 4-20mA loop if not connected to loop receiver.

Alarm Relay Board Option

Powers transmitter, relays, and RS232/485 port; Requires Deep Case Three SPST relays (two with N/O contacts, one with N/C contacts) Each relay: 5A @ 230 VAC resistive; 5A @ 30 VDC resistive Coils are programmable as normally energized or normally de-energized

Additional Power Requirements

AC version powered from 115/230 VAC, 1W nominal
DC version powered from 12-30VDC, 1W nominal

Enclosure

NEMA 4X, polycarbonate with stainless steel hardware. Weatherproof and corrosion resistant (Standard) HWD: 4.4"(112mm) x 4.4" (112mm) x 3.5" (89mm), (w/Optional ) HWD: 4.9"(124mm) x 4.9" (124mm) x 5.5" (139mm)

Display

Graphics LCD, 96w x 32h, backlit, transflective

Controls

Four, dome-type push buttons; Remote alarm reset input (w/optional alarm relays only)

Calibration

Replace your sensor after the sensor fails - Sensor life is 2 years
Ozone Sensor Cross Sensitivities
-Chart below shows the gasses that are cross sensitive and will create a false response to the H10 Ozone Sensor.
-Note: 0-1000 ppm low range ozone sensor (H10-14) may exhibit low response to certain other gases not listed. When applying this sensor to specific applications, it is good practice toverify whether or not any of these potential interferences are present and might present interference issues.
-Cross-sensitifity data is approximate and based on exposure under 100 ppm.
| | | |
| --- | --- | --- |
| Gas | Symbol | Response to 1 ppm |
| Hydrogen Sulfide | H2S | -0.1 |
| Nitrogen Dioxide | NO2 | 0.15 |
| Sulfer Dioxide | SO2 | -0.01 |
| Methyl Mercaptan | CH3SH | -0.03 |
| Chlorine | CL2 | 1 |
| Hydrogen Cyanide | HCN | -0.5 |
| Ethanol (alchohol) | C2H6O | None |
| Ammonia | NH3 | None |
| Hydrogen Chloride | HCL | None |
| Carbon Monoxide | CO | None |
| Carbon Dioxide | CO2 | None |
| Nitric Oxide | NO | None |
| Hydrogen Fluoride | HF | None |
Downloads:
Links to more info:
ATI Specific Calibration Information
Auto-test Generator

The Auto-test option verifies the serviceability of the transmitter on a prescribed schedule by exposing the sensor to a small amount of ozone, and verifying a minimum response. Three attempts per test are made, and if the sensor does not respond on the third attempt, a fault alarm is triggered (may be optionally disabled).
The test is performed at a specific time of day, and may be scheduled to repeat every 1 to 14 days. The date and time of the next test is available for editing, and the test may be triggered manually at any time, without affecting the preset schedule.
The Auto-test option requires a E18 ozone generator, which must be compatible with the installed sensor's gas type, and full-scale range. Table below lists gas compatible generators and sensors.

| | | |
| --- | --- | --- |
| Auto-test Generator | Generator Type | Compatable Sensors |
| 00-1538 | Chlorine (Cl2) | Bromine (Br2) |
| | | Chlorine (Cl2) |
| | | Chlorine Dioxide (ClO2) |
| | | Flourine (F2) |
| | | Ozone (O3) |
| | | Hydrogen Flouride (HF) |
| | | Nitrogen Dioxide (NO2) |
| | | Iodoine (I2) |
| | | Acid Gas |
| | | |
| 00-1539 | Ammonia (NH3) | Ammonia (NH3) |
| | | Dimethylamine (DMA) |
| | | |
| 00-1540 | Carbon Monoxide (CO) | Carbon Monoxide (CO) |
| | | |
| 00-1541 | Hydrogen Sulfide (H2S) | Hydrogen Sulfide (H2S) |
| | | Hydrogen Chloride (HCl) |
| | | |
| 00-1542 | Sulfer Dioxide (SO2) | Sulfer Dioxide (SO2) |
| | | Hydrogen Cyanide (HCN) |
Sensors

We provide each sensor with a standard detection range. However, for specific applications each sensor can be calibrated to custom ranges. See list below for min, and max range options for each sensor, along with standard range.

Please contact us with any questions on what sensor might be right for you, or if other sensors are available for your application.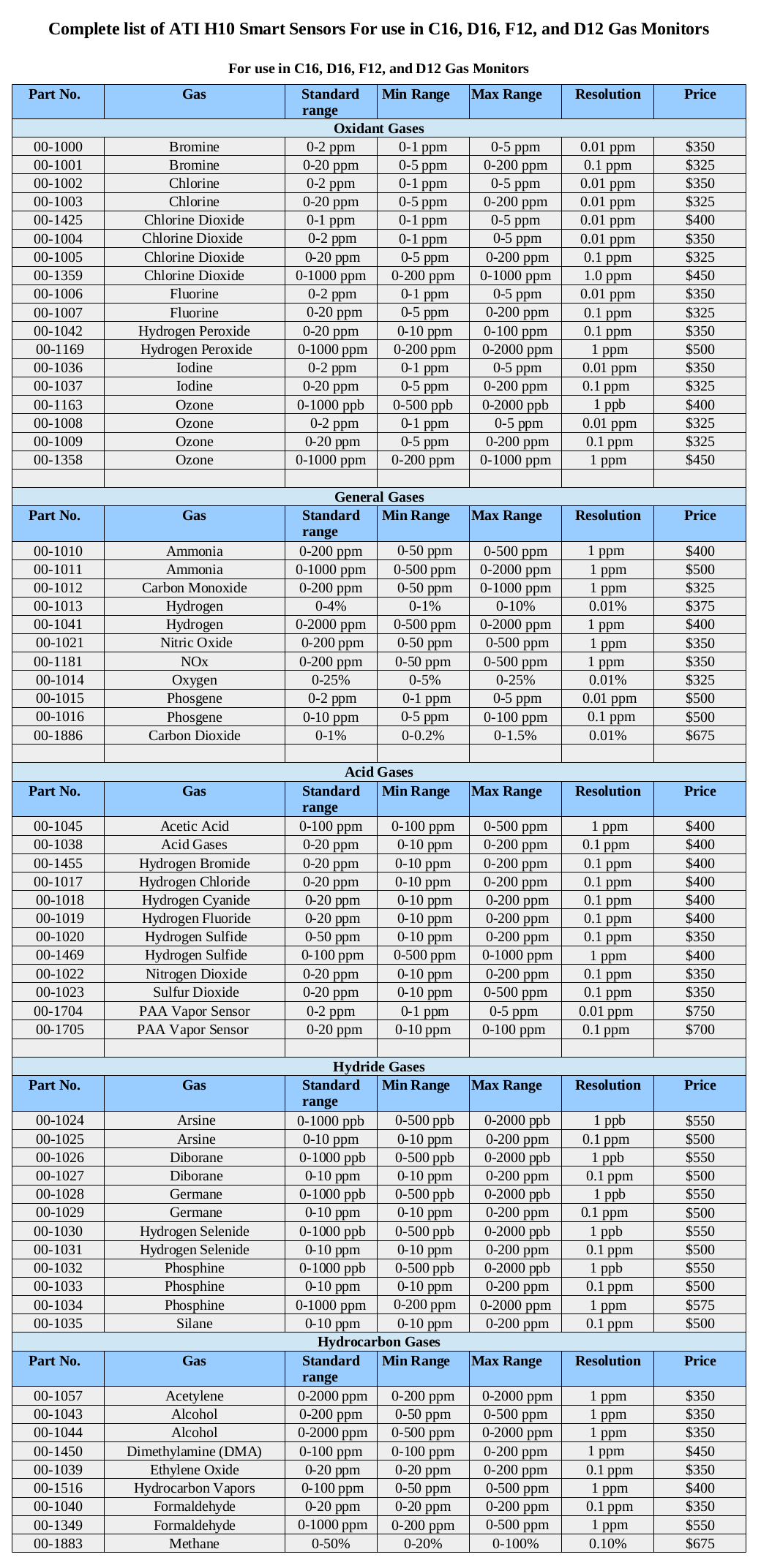 Click on image to expand
View a list of the F12 accessories
More Information
Manufacturer
ATI
Call For Price
No
Gas
Acid Gases, Acetic Acid, Acteylene (C2H2), Alcohol, Ammonia (NH3), Arsine (AsH3), Bromine (Br2), Carbon Monoxide (CO), Chlorine (Cl2), Chlorine Dioxide (ClO2), Diborane (B2H6), Dimethylamine, Ethylene Oxide (ETO), Fluorine (F2), Formaldehyde (CH2O), Germane (GeH4), Hydrocarbon (HC), Hydrogen (H2), Hydrogen Bromide (HBr), Hydrogen Chloride (HCl), Hydrogen Cyanide (HCN), Hydrogen Fluoride (HF), Hydrogen Peroxide (H2O2), Hydrogen Selenide (H2Se), Hydrogen Sulfide (H2S), Iodine (I2), Nitric Oxide (NO), Nitrogen Dioxide (NO2), Nitrogen Oxides (NOx), Oxygen (O2), Ozone (O3), Peracetic Acid, Phosgene (COCl2), Phosphine (PH3), Silane (SiH4), Sulfur Dioxide (SO2)
4-20 mA Output
Yes
Relays
2 Relays
Field Replaceable Sensor
Yes
Auto Test Generator
None
Min, Max, Avg
No
Voltage Output
None
Power Requirements
loop powered
Datalogging
No
Rechargeable
No
Field Replaceable Battery
Yes
Warranty
1 Year
Audible Alarm
No
Calibration
6 Months
Sensor Life
2 Years
Sensor Features

-Intrinsically Safe Design

-4-20 mA Output

-Can be Loop Powered

-Remote Sensor Options

-Optional Auto-Test Generator

-Digital Communications

Sensor Range

0-1,000 ppb

0-2 ppm

0-20 ppm

0-1,000 ppm

Resolution
Range Dependent
Integrated Relays
No
We found other products you might like!