ATL-100 Ozone Generator is an extremely efficient air cooled ozone generator.
100 g/hr ozone from only 24 LPM Oxygen
The ATL-100 Ozone Generator is an air-cooled ozone generator designed to produce 100 g/hr ozone from only 24 LPM of oxygen. This extremely efficient ozone generator is great for water treatment due to the high ozone concentration.
When high ozone concentrations are required for high dissolved ozone levels the ATL-100 is a great option. No other air-cooled ozone generator on the market can provide as high of ozone concentrations as the ATL-100 Ozone Generator.
Features:
Low oxygen requirements for ozone generation, very efficient

High-pressure cell produces ozone under pressures up to 100 PSI

Variable ozone output with onboard dial, or remote control options

Remote control safety shut-off

Low operating costs with low power requirements and oxygen requirements

Stainless steel enclosure

Optional bench mount or rack mount enclosures to best fit your application
Materials of Constructions:
Enclosure: Brushed Stainless Steel/Aluminum

High Precision Machined Ozone Generator Cell tested at up to 150 PSIG for leaks

O3/O2 Gas Tubing: PTFE/304 Stainless Steel/Brass
Ozone Generator Performance Chart: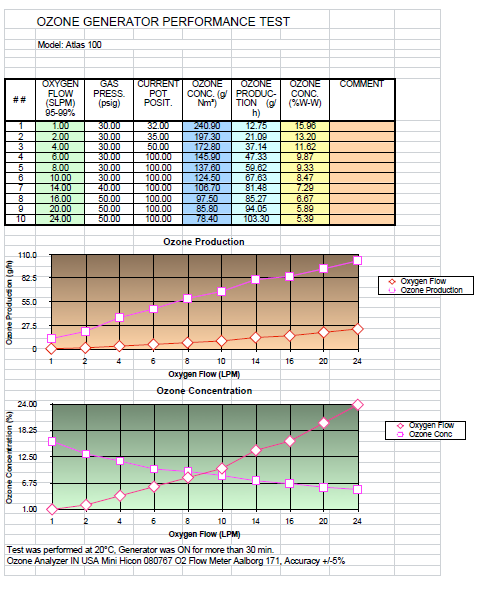 12.7 g/hr @ 12.7% by weight from 1 LPM O2 flow
21.1 g/hr @ 13.2% by weight from 2.0 LPM O2 flow
37.1 g/hr @ 11.6% by weight from 4.0 LPM O2 flow
47.3 g/hr @ 9.8% by weight from 6.0 LPM O2 flow
59.6 g/hr @ 9.3% by weight from 8.0 LPM O2 flow
67.6 g/hr @ 8.4% by weight from 10.0 LPM O2 flow
81.4 g/hr @ 7.3% by weight from 14.0 LPM O2 flow
85.2 g/hr @ 6.7% by weight from 16.0 LPM O2 flow
94.1 g/hr @ 5.9% by weight from 20.0 LPM O2 flow
103.3 g/hr @ 5.4% by weight from 24.0 LPM O2 flow
Common Applications:
Water Treatment

Groundwater Remediation

Bottled water

Aquaculture

Cooling Tower

Grain Treatment

Odor Removal

Wastewater Treatment

Pharmaceutical

Food Processing
Downloads:
More Information
Call For Price
No
Ozone Output
80 g/hr @ 5.6% by weight
Feed Gas
Oxygen
Nominal Gas Flow Rate
18 LPM oxygen flow to produce 60 g/hr ozone. Higher flows produce more ozone.
Operating Pressure
20 - 50 PSI nominal (higher pressure units available)
Max Pressure
50 PSI standard, up to 100 PSI optional
Manufacturer
Absolute Ozone
Cooling Method
Air Cooled
Corona Cell
Aluminum , Ceramic Plate
Gas Connections
1/4" compression fittings
Dimensions
Enclosure Dimensions: 14-inch height x 19-inch width x 7-inch depth
Generator Weight: 32 lbs.
Shipping Weight: 38 lbs
Shipping Dimensions: 19-inch x 24-inch x 11-inch
Operational Temperature Range
35 - 95-deg F
Max O3 %
10% +
Power Requirements
120 VAC 9-amp 50/60 Hz. (220 VAC 7-amp 50/60Hz power optional)
Lead Time
2-weeks
Warranty
5 Year
Country of Origin
Canada
We found other products you might like!